Meet The Man Who Launched The Nashville Hot Chicken Craze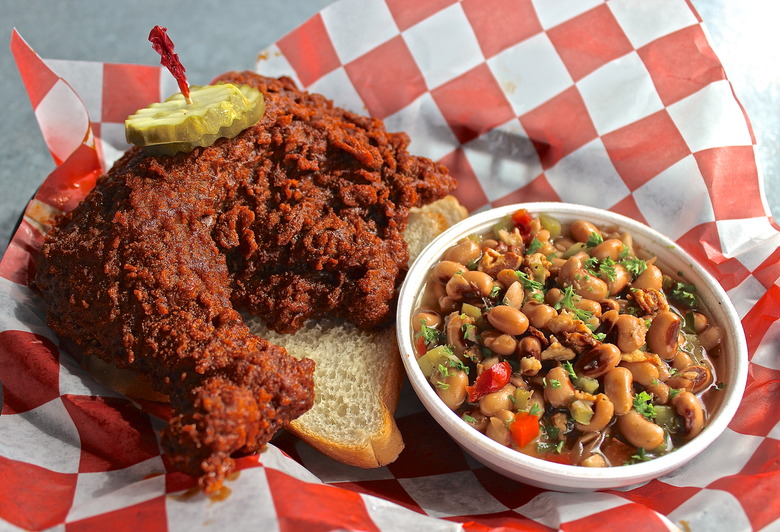 Hattie B's hot chicken with homemade black-eyed peas salad. (Photo: Joseph Wo
John Lasater never expected to be at the forefront of a national hot-chicken movement. Nashville hot chicken is a storied city tradition that stretches all the way back to the 1930s, after all, and the executive chef of Hattie B's Hot Chicken — which opened in 2012 — recently turned 30. Sure, Lasater started cooking when he was just ten years old, designing three-course menus based on a strict budget laid out by his mother, but his graduation from culinary school led to stints in the kitchens of fine-dining establishments; frying up mass amounts of chicken was simply not on the horizon.
Let's take a step back and discuss the beloved dish at hand. In case you haven't had the pleasure, Nashville hot chicken consists of a chicken breast, thigh and/or wing marinated in buttermilk, breaded, deep-fried and sauced with a heavily spiced, cayenne pepper–based paste before being served with pickles over white bread. Biting in yields a burn quite unlike any you've ever experienced. Somehow, despite the full-body discomfort, you always crave more. More than two dozen places in Music City currently specialize in renditions of the dish, each serving it with a slightly different recipe (and always refusing to divulge exact specifications).
Back to Lasater and the integral role he's played in helping an original Nashville dish take off and become one of the nation's "it" foods of the moment. (Just take a look at this map to see where hot chicken can be found across the U.S.) The story really begins on a kickball field (pitch?), where Lasater met his wife, Brittany Bishop. Her family — specifically her father Nick and brother Nick Jr. — owns and operates Bishop's Meat and Three in nearby Franklin, Tennessee, and had, by 2012, experimented with serving hot chicken as a weekly special. Sales took off, and the family quickly signed a lease on a space for a hot-chicken restaurant in the heart of midtown Nashville, right at the same time the city was experiencing the first wave of its rapid food-destination ascension.
Long story short: Owners open hot-chicken restaurant, owners name daughter's fiancé chef of restaurant, owners and chef create own hot-chicken recipe, chef marries owners' daughter, restaurant is an instant hit, everyone lives happily after.
---
In 20 years, I think all 50 states will have hot chicken.
---
Today, Hattie B's has two Nashville locations, in addition to one in Birmingham, Alabama, with plans to expand throughout the Southeast. Lengthy lines — packed with locals, tourists and celebrities alike — regularly stretch down the block during peak times. Prince's Hot Chicken Shack may have created hot chicken in the 1930s, and institutions like Bolton's Spicy Chicken & Fish may have helped preserve the tradition over the years, but Hattie B's has made hot chicken cool.
Before Hattie B's opened, there was plenty of hot chicken in Nashville, but the emphasis was always on the "hot" part. Lasater put more focus on the chicken, using high-quality birds. That, combined with a central location, an outdoor patio, pairing the chicken with sweet options like waffles and offering local beers on tap, changed the hot-chicken experience. All have proved vital to Hattie B's sustained success, cementing its place among the city's staples.
We caught up with chef Lasater during his recent "Hot Chicken in the City" dinner at New York City's esteemed James Beard House to discuss the formula behind the restaurant's — and dish's — overwhelming popularity.
Would you say growing up in the Nashville area played a role in knowing about hot chicken?
Absolutely. I knew what it was, and it was right in our backyard. No one had really developed a concept in a good area.
You come from a fine-dining background, so what convinced you to do it?
I saw that our concept was really simple. Everything was made from scratch, but we still had an amazing price point. It could really reach every single demographic of person. I never knew that you could make a simplified menu with great prices and still have homemade sides and all that. And we proved that with Hattie B's — it took off right in front of our eyes.
Why do you think it took off so quickly?
One of my biggest goals when I first came to Hattie B's and I looked at everything was, like, "Everywhere you go for hot chicken, it's just hot, hot, hot, hot." I was like, "How can we make this more pronounced but also rounded in flavor and just have that umami bomb?" That's what we were really gearing on, so I started playing with cayenne and my other components so they would balance out.
And of course, you're not going to tell me the other components.
[laughs] Well, you know the basis of hot chicken is cayenne, paprika, garlic, salt and brown sugar — we've got to release some of that heat and round it with either vinegar or sugar. The higher heat levels get ghost pepper.
Do you think your being located in midtown makes a big difference?
We have a location on this side of the river, in the heart of Nashville, which serves local beers on tap and has great prices. Where else can you get a $10 meal in midtown?
Why hadn't someone else done it?
It's crazy! It really is. It's just so simple. Our menu doesn't have a lot of things — hot chicken and seven sides. We do a seasonal cobbler, and banana pudding is always our mainstay. It's just been this thing where people come in and know their orders — it feels good. From the back to the ambience, it's a fun energy at Hattie B's.
How would you say this evolved from a Nashville dish to a dish that has national recognition?
I think it has a lot to do with [Hattie B's]. On the front end, Nashville has grown at such a rapid pace. Then you have our location, the price, the right timing, the local beers, our amazing staff — it's a hodgepodge of a perfect storm.
What are some of the reactions you've gotten from first-timers?
We'll start a lot of our first-timers off at a medium heat level. A lot of those people who come from the hot-wing world and normally go "hot" aren't going to be able to go with our "hot" right off the bat. Buffalo wings are hot sauce and butter, and that's what America is generally used to. With Nashville hot chicken — I mean, most first-timers think that our medium is hot.
---
One time a lady came in and she was super-pregnant. She had our "damn hot" chicken at night and had her kid in the late hours of the night, into the early morning. She named her kid Hattie! She's become a real big regular now.
---
And now a lot of chefs nationwide are doing their own spins on it.
Absolutely. Carla Hall [from Carla Hall's Southern Kitchen in Brooklyn] flew in and talked to us. Johnny Ray [from Howlin' Rays in Los Angeles] flew in and talked to us. I had some in Birmingham at Gordon's. I've had hot chicken in Philly at Kevin Sbraga's the Fat Ham. It wasn't bad for Philadelphia. I was just like, "Wow." I appreciate that he put his own touch on it.
Dare I ask your thoughts about KFC's take on Nashville hot chicken?
Hot chicken has become so popular, and so many people are putting their own spin on it, that when KFC came around and did it, I kind of laughed at first. We all went over there and tried it the day it came out — I was like, "Oh, it's going to taste like KFC chicken with a little bit of spice," and that's exactly what it was. It was still a KFC fast-food product. At the end of the day, people recognize that.
What's the future of hot chicken?
In 20 years, I think all 50 states will have hot chicken. We're going to try to grow Hattie B's in the Southeast — that's really our target right now. In the future, you're going to see us anywhere from Memphis to Knoxville, maybe Atlanta. Hattie B's doesn't belong on every corner. We're not McDonald's. Big cities and high volume is really our target.
Will we ever get you to open in New York?
I'm not going to say no! Not anytime soon, but I definitely have it on the bottom of my list.
Any funny stories from people trying it for the first time?
One time a lady came in and she was super-pregnant. She had our "damn hot" chicken at night and had her kid in the late hours of the night, into the early morning. She named her kid Hattie! She's become a real big regular now.
How do you order your hot chicken?
I go with hot — Hattie B's hot.
How would you compare Prince's hot to Hattie B's hot?
I'd give Prince's the heat crown for sure. I ate an extra-hot half bird there in house, by myself. I'm sitting at the table, a skinny little white boy, and I'm just in tears. I made sure I finished that whole plate of chicken before I left.
So you still eat at other hot chicken restaurants in Nashville?
Oh, absolutely. We have a lot of community love here in Nashville. I love popping into Bolton's. We have the Hot Chicken Festival every July 4, and on July 3, while we're loading in, I'm eating a hot fish sandwich from Bolton's. We'll take trips to Bolton's, Prince's, Pepperfire and 400 Degrees. I love trying everybody's chicken. We love supporting Nashville hot chicken in its entirety, and that's how we originally started — Prince's is the godfather of hot chicken, and we can only tip our cap to them and pay them a visit here and there.