It's Time You Got On The Shrub Bandwagon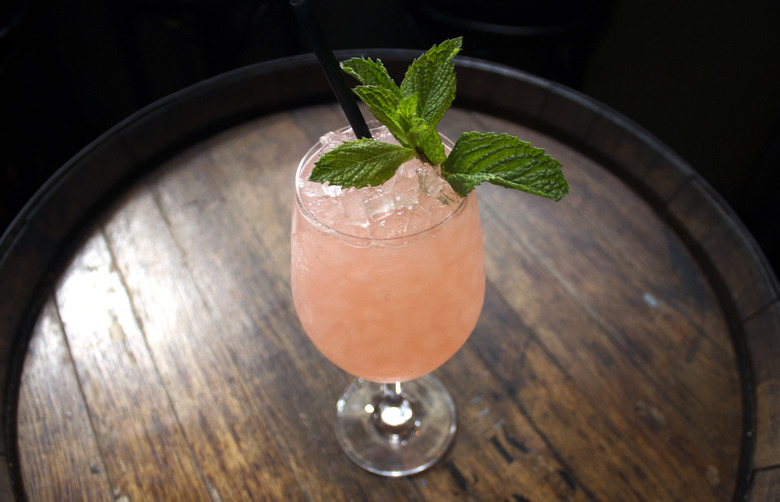 The apricot gin daisy is an ideal place to start for those looking to include homemade shrubs in their cockta
Finding vinegar in your cocktail may not sound appealing in theory, but when it comes to capturing a fruit or vegetable picked at its peak and bringing that flavor to the glass, few techniques can compare to the shrub. For most bartenders, translating this sort of long-winded explanation across a loud bar is seldom an option, and with the masses still assuming that fruit vinegar will be unpalatable in cocktails — despite their prevalence since the 1600s — the use of shrubs can still be an uphill battle.
At the TriBeCa bar Distilled NY, the take on a classic gin daisy, a precursor to the margarita, is one of the most popular drinks on the menu and not shy about its use of an apricot shrub. "Shrubs make for great cocktail ingredients and bring both acidic and sweet elements to a drink," notes beverage director Scott Kennedy. "Our recipe adds a concentrated flavor of apricot and a delightful sour note." In this case, the bar uses dried apricots for its shrub, which leads to a more concentrated depth of flavor and is also more consistent.
Experimenting with summer fruits and vegetables in shrubs, even if they are bruised or on the verge of going bad, can extend the life of these flavors well into the fall when well sealed. Recipes can vary based on the produce, as can the vinegars: Apple cider is a standard choice, though white, wine or balsamic vinegars can be used depending on the fruit or vegetable. Just like jams, it's easy to add other complementary ingredients to the mix, such as peppercorns and herbs, before simmering or steeping.
For implementing in a cocktail, less is more when it comes to shrubs, as the vinegar's sourness can overpower a drink quickly. Usually a quarter- to a half-ounce is all that is needed to impart the right amount of flavor. Though shrubs may seem unconventional, when their purpose is demystified, it's clear they can be a far more effective way to infuse flavor into a cocktail than adding fruit to a spirit directly, and if desired, they can even create a far superior non-alcoholic drink. Enjoy.
Apricot Gin Daisy
Servings: 1 cocktail
Ingredients
2 ounces Tuthilltown Spirits Half Moon gin
1/2 ounce fresh squeezed lemon juice
3/4 ounce house-made raspberry syrup
1/4 ounce house-made apricot shrub
Directions:For the raspberry syrup:
Bring 16 ounces water and 1 pound sugar to a boil until sugar is dissolved.
Add 1 quart raspberries and stir to macerate and combine.
Strain through a chinois, pressing pulp to remove excess liquid and store for later use.
For the apricot shrub:
Combine 32 ounces (by volume) of roughly chopped dried apricots, 24 ounces apple cider vinegar, 16 ounces (by volume) granulated sugar, and 1/2 ounce vodka in a sauce pan. Stir well and heat to a simmer, stirring occasionally.
Let simmer for 10 minutes. Remove pan from heat and allow to lower to room temperature. Add the vodka to preserve.
Transfer the shrub into a sealable container, and keep refrigerated. Strain out solids after 48 hours.
For assembly:
Combine ingredients in a shaking tin and shake with ice.
Strain over a wineglass filled with crushed ice.
Garnish with a generous mint sprig and straw.
Prep Time: 2 minutes, not including shrub and syrup
Difficulty: Easy