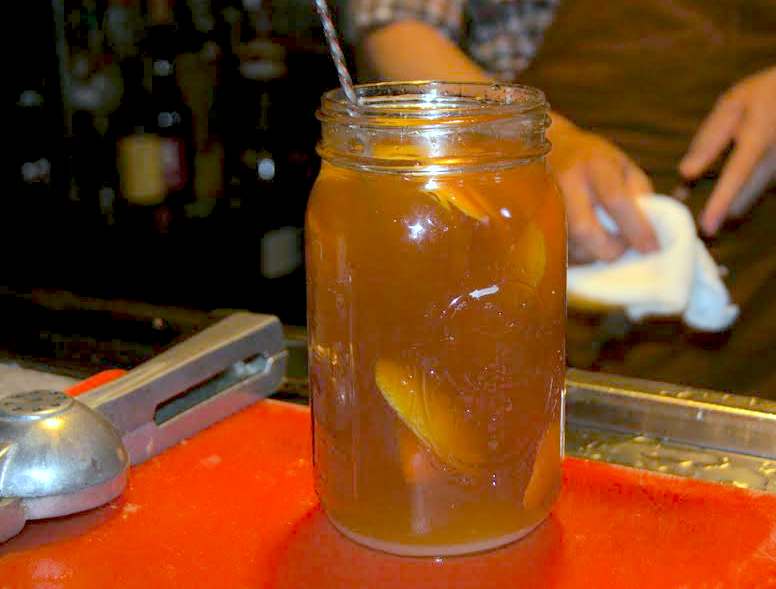 The summer cocktail party has waylaid new spirit enthusiasts: as a host, you want to please your guests, but the labors of quality bartending can easily take over your evening. To maximize time with guests and avoid getting stuck behind the stick, batching and chilling a round or two of drinks before the event can showcase your adept drink skills while still allowing time to socialize. Your preparation and organization is key: creating a thoughtful sequence of drinks and mixing them in advance makes things easier on you.
To kick off your summer menu, we asked head bartender Michael Phillips of Austin's lauded Midnight Cowboy for a distinctive summer punch recipe. His answer is as unique as is it simple: a sherry and tequila punch with minimal work and sizable originality and flavor. 
"Shrub punch is nothing new," says Phillips. "It was popular during the late 1600s. The idea was to dress up sullied barrels of booze that were ditched on the coast." While a classic shrub punch usually uses two parts of booze to one part sherry, Phillips inverted the ratios for this adaption. "This showcases the sherry and is more cost-effective for a batched drink," he says.
When preparing the drink, employing a few easy tips should optimize your end result. Phillips recommends the use of firm citrus, neither hard nor spongy, but something that shows a bit of give when you squeeze it. Don't cut too deeply when peeling the grapefruit and lemon — the citrus pith can bitter the whole punch, so aim for the peel only, using a wide peeler if available. As a final tip, Phillips likes to press and muddle the citrus and sugar prior to resting the batched cocktail: "Mudding these gently will assist in extracting the essential oils, which the sugar will help soak up. Press them until the citrus becomes moist with oil. This kickstarts the oleo-saccharum."
The resulting cocktail imparts flavors of oaky agave with nutty and floral undertones. The drink is medium-bodied with light bitterness and should appeal to a wide range of cocktail fans.
Montilla Shrub Summer Punch (from Midnight Cowboy, Austin, TX)
Serves 4-6 guests comfortably
18 ounces Tio Diego Amontillado Sherry

9 ounces El Tesoro Anejo Tequila (Siembra Azul Anejo will also work well)

5 ounces white sugar

1/4 grapefruit peel and juice

1 lemon peel and juice

Grated cinnamon (to taste)
Directions:
Peel the grapefruit wedge and lemon with a wide peeler, peeling as little pith as possible, then juice the remainder.

In a bowl muddle the citrus and sugar until moist.

Combine all ingredients in large Mason jar, adding in the peels. Grate in cinnamon to your taste preference.

Secure with a sealed lid and allow to rest for 48 hours in a cool place, with a quick stir after 24 hours.

Strain before serving. Serve in a chilled glass over ice. 
Options:
For those who don't drink tequila, a bourbon or rye will also work well with the sherry.

For those who prefer a more bitter drink, add 2 dashes of Angostura bitters.
More craft cocktails on Food Republic: