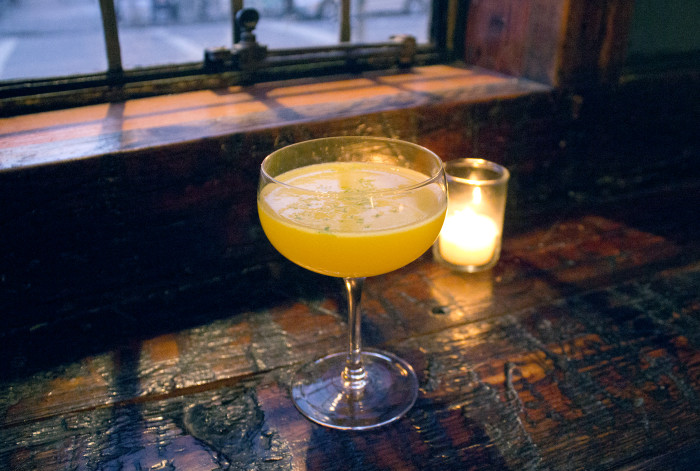 Weighing in at just three ingredients, it's impressive that the classic daiquiri can be as complex and satiating as it is. For bartenders, while this rum sour is an ideal framework for forging new creations, it also carries an iconic profile that demands the highest-quality modifiers. For bartender Jesse Cason at Brooklyn's June Wine Bar, however, his current cold-weather daiquiri variation all started with a trip to the local greenmarket in Carroll Gardens.
"I found a bin full of fresh turmeric root and young ginger. They were fresh out of the earth, and the fragrance was amazing," says Cason. Inspired by his discovery, Cason started by blending the fresh roots with raw honey to capture this flavor in a syrup. Though he knew he wanted to create a sour with lime, the first spirit Cason reached for was the unconventional and pungent Indonesian Batavia Arrack rum, before adding the agricole Rhum JM to balance and improve mouthfeel.
The name for this concoction, Girl from '62, came from a song by the British garage-rock band Thee Headcoats. Though hardly as sharp as that track's guitar sound, the bite of ginger and earthy turmeric notes come through clearly in the glass. It's incredibly refreshing and retains the integrity of its daiquiri base, only accentuated by the use of an overproof rum and lime-zest garnish. With the winter winds blowing outside, this drink ticks all the boxes and brings just the right amount of seasonal goodness. Enjoy.
Girl from '62 Cocktail
Servings: 1 cocktail
1 ounce Rhum JM 100 proof
1/2 ounce Batavia Arrack
3/4 ounce ginger-turmeric syrup*
3/4 ounce fresh lime juice
For the ginger-turmeric syrup:
Combine 1 cup raw honey and 1 cup hot water to create a basic syrup.
Add 1/2 cup peeled and coarsely chopped ginger root (using the edge of a soup spoon works best), 1/2 cup peeled and coarsely chopped turmeric root, 1 teaspoon citric acid (preserves both color and shelf life) and a pinch of salt. Allow to steep for at least 20 minutes.
Using a blender or food processor, pulse the mixture until it has a small, pebble-like consistency. Blending it too much will lead to sediment in your finished syrup. This may cause it to become more bitter over time.
Strain through mesh or chinois, and refrigerate for later use. It keeps for two weeks.
Directions:
Combine ingredients in a shaker tin with ice.
Shake and double strain into a chilled coupe.
Use a microplane to apply a lime-zest garnish.
Difficulty: Moderate
Prep time: 3 minutes, not including syrup