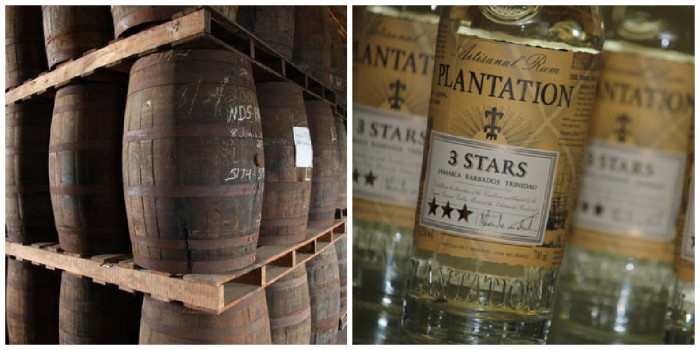 Anyone who has every participated in a Secret Santa exchange knows one simple truth about gift giving: you cannot go wrong with booze. So, to ensure that you're everyone's favorite person at the holiday party this year, best to stock up on a few choice bottles. Sure, it's a safe bet. But it's also pretty darn smooth, if you're looking to win points with the recipient. If you're lucky, you might even get a sip as a thank you.
Rum. They say it's the party spirit. And given that it's the base ingredient for so many communal punches and festive umbrella drinks, it's difficult to deny. Rum is sweet, of course, for the obvious reason: it's made from sugar cane. But also because it can be clear and bright or dark and brooding and, occasionally, something in between. On the light side, there's Five Banks ($33), a blend of rums from five different islands – including Java, in Indonesia, which contributes a dose of spicy Batavia Arrack – aged between three and 12 years, then filtered crystal clear for a complex, herbaceous result. Plantation 3 Stars ($25), from Cognac producer Pierre Ferrand, is another one named for the number of islands that have participated in its production. In this case, it's aged and unaged cane spirit from Barbados, Trinidad and Jamaica, finished in France, in Cognac barrels and refined back to clarity.
You might think that the Caribbean is the only place that makes rum, but you'd be wrong. Ragged Mountain Rum ($36) was the first product made by Berkshires Mountain Distillers, in the Berkshires of Massachusetts. Aged a little bit longer, there's Flor de Caña ($18), a four-year-old rum from Nicaragua. And even longer than that there's Angostura 1919, blended from rums aged at least eight years, in Trinidad (yes, where they make that Angostura.) Mount Gay Extra Old ($46) hails from the oldest operating distillery in the New World, a dark molasses spirit with a nice spice to it. To take the spice to the extreme, opt for Cruzan 9 Spiced ($16), filled with nutmeg and clove. Looking to splurge? Black Tot "Last Consignment" British Royal Naval Rum ($1,000) is a bona fide navy-proof rum from the last of the rations the British army stopped dispensing to its sailors in 1970. Even crazier is the very limited-edition Appleton Estate 50 Year Old Jamaica Rum "Jamaica Independence Reserve" ($5,000), deemed the world's oldest.
More Gift Guides: 20 Ways To Splurge On Your Favorite Home Cook | American Whiskey and Beyond | Tequila and Mescal | Vodka and Gin| Rum | Cooking Gear And Books | Great Things To Eat and Drink