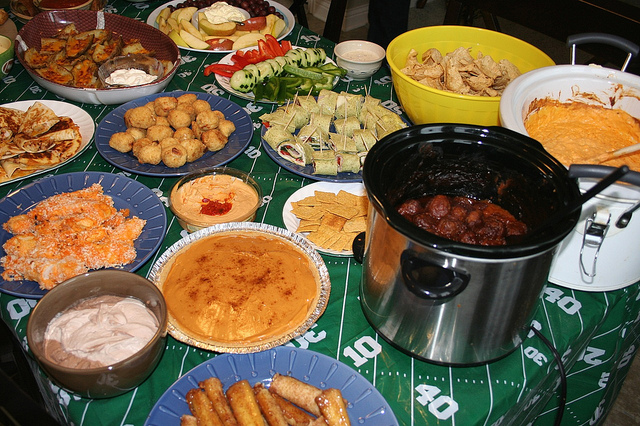 If there's anything that Southerners care about more than their regional cuisine, it's gotta be SEC football! To celebrate the 2015-16 college football season, Food Republic is launching a new series, SEC FoodBall. Each week, we'll profile a Southeastern Conference town, and more importantly tell you where you should eat and drink if you're fortunate enough to attend a game there. We'll also solicit advice from some locals to make sure you have the benefit of home team advantage.
Week 14: SEC Championship Game, University of Alabama vs. University of Florida at Atlanta, Georgia; Dec. 5
Well, it's been a great season of football and eating! With any luck, you've found at least a couple of can't-miss eating and drinking spots in each SEC city over the course of this series. (Except for Nashville, because I live here and write about our dining scene all the time, and, well, Vanderbilt.) We've solicited excellent advice from a host of local experts, including James Beard Award–winning chefs, winsome sideline reporters and a woman who claims to have eaten in every single restaurant in Columbia, Missouri.
But even with all of this professional advice, we've probably missed a few winners along the way, so we figured we'd finish the season with one more list for you to keep in your virtual back pocket as you travel around the South. For the most part, these are my picks of a little lagniappe of advice for each SEC town. And, yes, we'll even include a spot in Nashville for visiting fans to celebrate at after whipping up on Vanderbilt.
Alabama: Tuscaloosa, AL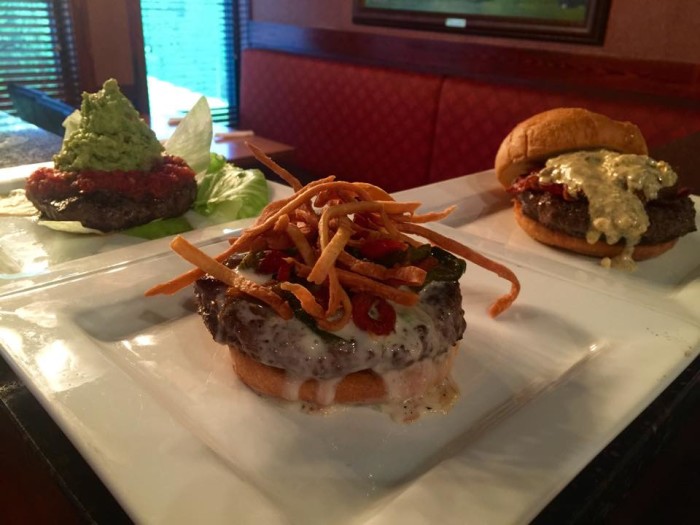 First alphabetically and in the conference standings, Alabama is always a dangerous place for visiting teams, but their fans can find plenty of spots to at least enjoy some fine food and drink after watching their alma mater get beat up on the field. If you're looking to drown your sorrows in some fine beer, drop by the Southern Ale House for a pint from the excellent selection of regional craft drafts and one of the restaurant's famous pickle burgers. This half-pound patty topped with "Slap Yo' Mama" sauce, bacon, cheese and fried pickles is more than a handful. Southern Ale House also features live music on the back patio, and the odds of hearing "Sweet Home Alabama" are better than even. Southern Ale House, 1530 McFarland Blvd. N., Tuscaloosa, AL 35406; 205-248-7500
Arkansas: Fayetteville, AR
Pig should definitely be on the menu when you visit Razorback country, and Penguin Ed's is the most beloved barbecue in Fayetteville. When Ed Knight first started cooking barbecue in 1993, he didn't even have a building. Instead he served his wares out of a tent. He eventually moved up to a trailer and finally three brick-and-mortar locations around town. Now his pork shoulder, brisket, pulled chicken, sausage and burgers make Penguin Ed's a popular stop on game days for an easy tailgate option. Note: There is no penguin on the menu. Penguin Ed's Bar-B-Que, 2773 E. Mission Blvd., Fayetteville, AR; 479-857-8646
Auburn: Auburn, AL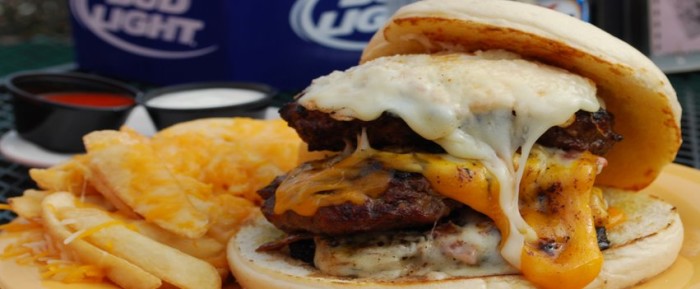 'Bama fans tend to look down their collective nose at Auburn, calling it a "cow college" and referring to their fans as "Barners." We're not going to pile on the Tigers here (unlike some folks), because Auburn is a damn fine place to visit for a ballgame, especially if you drop by Niffer's Place for massive drinks served in fishbowls and one of the signature Niffasaurus Burgers served with a side of crispy fried corn nuggets. Niffer's Place, 1151 Opelika Rd., Auburn, AL 36830; 334-821-3118
Florida: Gainesville, FL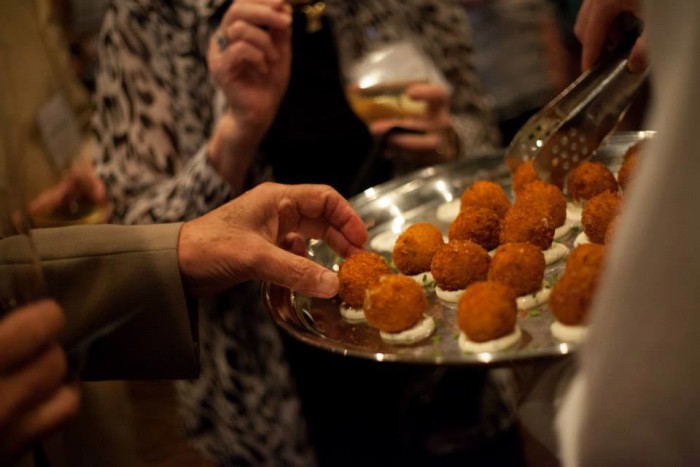 Although the Florida Gators have made the SEC Championship game after winning the conference's eastern division, they're kinda backing into the playoffs after a 25-point loss to their in-state rivals from Florida State. Coming off of a performance where the team scored a whopping two points, Gator fans probably need a little pick-me-up right about now. Embers Wood Grill is the cure for sure. It's all about meats cooked on a wood-fired grill at Embers, so go for some sort of steak or chop. Unless you're a Florida fan with odd cannibalistic tendencies, in which case you can go ahead and order the Crispy Florida Gator Tail with zesty remoulade sauce. We won't judge. Embers Wood Grill, 3545 SW 34th St., Gainesville, FL 32608; 352-380-0901
Georgia: Athens, GA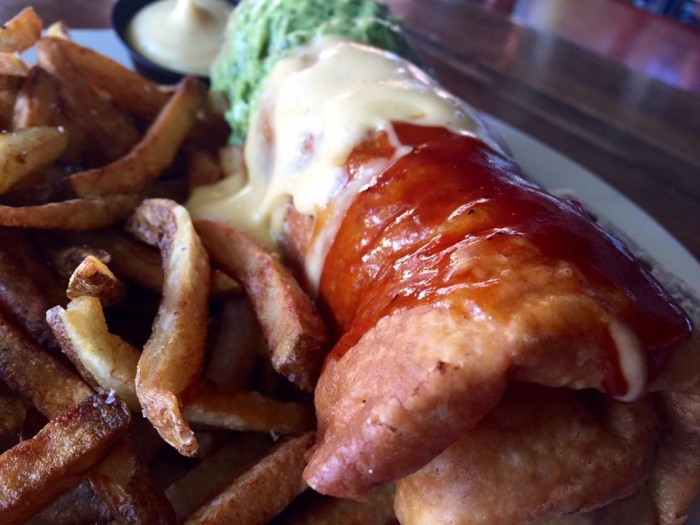 UGA is looking for a new coach, having just kicked the top Dawg, Mark Richt, to the curb. If the athletic director wants to soften up a prospective coaching hire before offering a contract, he might want to take him to the oddly spelled Trappeze Pub. With an unrivaled selection of craft beers in town, including some rare Belgians, plus a menu of gastropub classics, Trappeze could be the key factor in locking down a new coach soon. Trappeze Pub, 269 N. Hull St., #6, Athens, GA 30601; 706-543-8997
Kentucky: Lexington, KY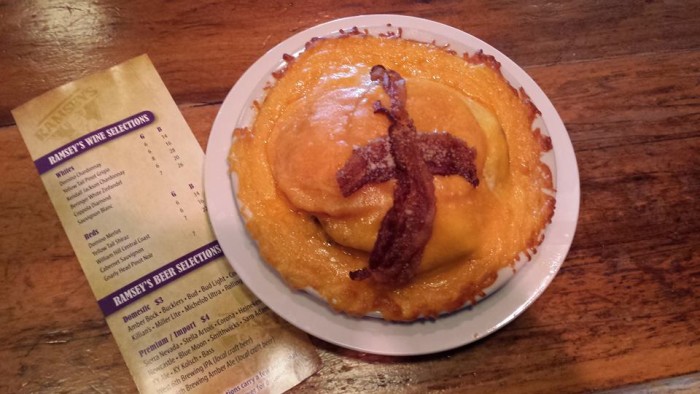 They may have invented the Hot Brown Sandwich in Louisville, but Lexington's Ramsey's Diner may just have perfected the dish. A monster of a turkey and ham sandwich covered with an obscene amount of cheesy béchamel and topped with bacon, Ramsey's Hot Brown is a cardiologist's nightmare. (Or perhaps his dream, if he has a boat payment due.) The diner is a cozy and unpretentious spot to enjoy some of the cheapest drinks in town along with an eclectic menu of Southern meats and veggies. The place also serves up a mean breakfast if you're hunting for pregame sustenance. Ramsey's Diner, 3090 Helmsdale Pl., Lexington, KY 40509; 859-264-9396
LSU: Baton Rouge, LA

The LSU Tigers may occasionally come up on the short end of the score, but their fans never lose a party. So that's why they love a spot like Bogie's Bar, with its unparalleled drink specials. And by "special," we mean "free drinks." That's right, Bogie's features an open bar on several nights a week, and on other nights you won't have to dig too deep in your pocket to come up with the cash to buy penny pitchers or $2 shots of your favorite challenge beverage. The spot may also serve some food. It just never occurred to anyone to ask. Bogie's Bar, 705 E. Boyd Dr., Baton Rouge, LA 70808; 225-766-4241
Ole Miss: Oxford, MS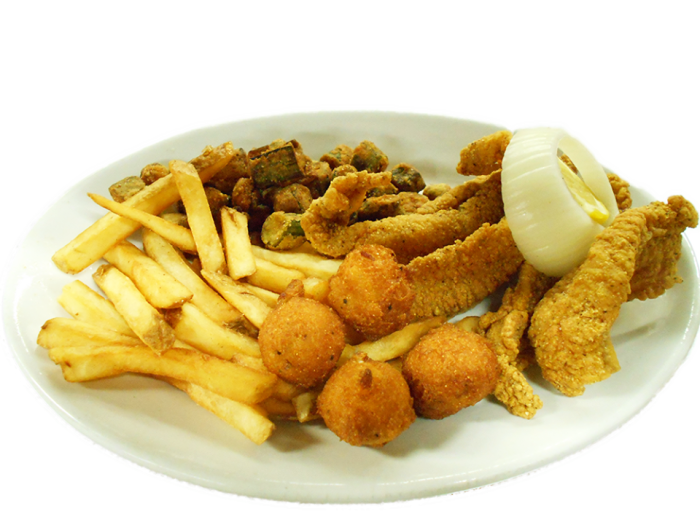 While it's hard to come up with a valid reason to stray far from the tailgaters' mecca that is the Grove, or the hopping town square in Oxford, when you're in town for an Ole Miss game, Taylor Grocery offers a pretty compelling argument for making the 15-minute trip out of town with some of the South's most remarkable fried catfish. Served with hush puppies and two additional sides, the catfish at Taylor Grocery is fried to crispy, golden perfection and sets the bar for the regional specialties. While the place doesn't technically serve alcohol, the staff will be happy to sell you a cup of soda with a little room left on top for "customization." Taylor Grocery, 4 First St., Taylor, MS 38673; 662-236-1716
Mississippi State: Starkville, MS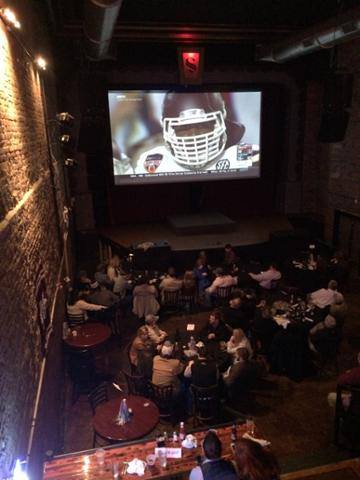 Admittedly, StarkVegas might not have the most vaunted reputation as a culinary destination, but at least there's the Dawg House Sports Grill to offer up some decent burgers and beers in a rollicking atmosphere. With an upstairs balcony that overlooks Main Street so you can make sure not to miss any of the action downtown, the Dawg House also features two dozen televisions, including a 25-foot behemoth of a big screen to show MSU ballgames and other premier sporting events. Add in some pretty respectable po'boys and cheap drinks, and you've got a spot to camp out on game days. The Dawg House Sports Grill, 217 E. Main St., Starkville, MS 71270; 662-323-4550
Missouri: Columbia, MO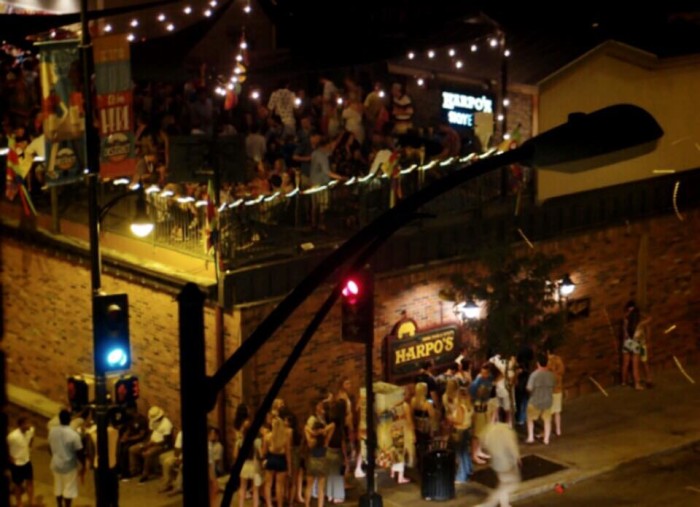 Since 1971, Harpo's has been the place for current students and Missouri alumni to gather on game days or on any day that they are looking for a good time. This multilevel entertainment complex boasts several different bars and a nightclub where DJs keep the party pumping until the wee hours. A fairly typical menu of burgers and bar food isn't necessarily the high point of a visit to Harpo's, but the wriggling mass of coeds on the dance floor certainly is. Harpo's, 29 S. 10th St., Columbia, MO 65201; 573-443-5418
South Carolina: Columbia, SC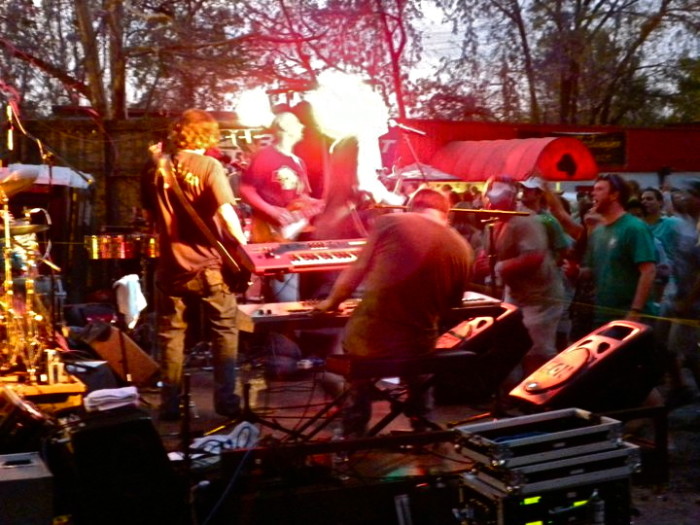 You've got to love a place that describes itself as "the most glorious dive bar on the planet." That's how Pavlov's rolls in Columbia, and the place has got legions of fans to back up the boast. Little more than a glorified trailer wrapped around beer pong tables and a rockin' jukebox, Pavlov's is the place to get down and dirty when the Gamecocks are playing. The party also often spills outside when live bands are playing to rowdy crowds. Pavlov's, 2000B Greene St., Columbia, SC 29205; 803-771-2262
Tennessee: Knoxville, TN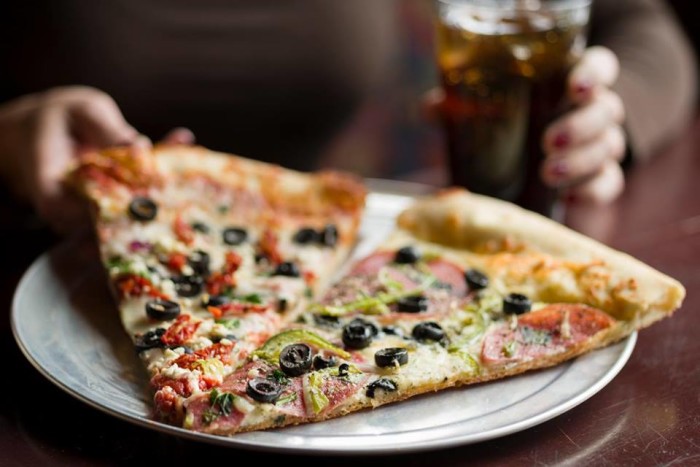 A prototypical college bar, Barley's Taproom & Pizzeria understands the value of cold beer, hot pizza and straight pool cues. With almost a hundred beers on tap, Tennessee Vol fans could go several seasons without repeating their brew order. Pair a few of those beers with a hearty Black Angus Pub Burger and settle in for a night of live music or just a few games of eight ball. Barley's Taproom & Pizzeria, 200 E. Jackson Ave., Knoxville, TN 37915; 865-521-0092
Texas A&M: College Station, TX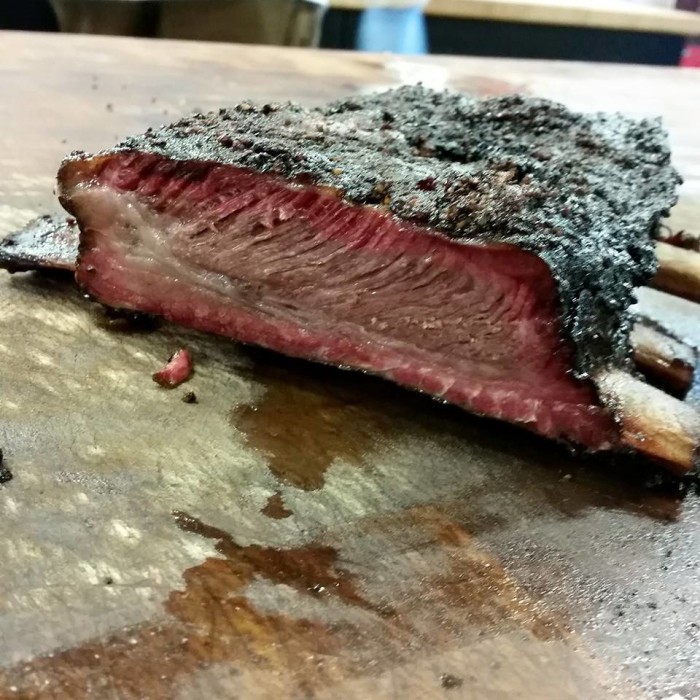 OK, I'll admit that we screwed up a little bit on our original drinking and dining recommendations for a visit to Texas A&M. Perhaps depending on crowdsourcing from the "12th Man" of the student body wasn't as effective as going straight to the source. Fortunately, none other than the BBQ editor of Texas Monthly magazine, Daniel Vaughn himself, came to our aid by listing two outstanding barbecue joints in the adjoining town of Bryan, Texas. Fargo's Pit BBQ is legit Texas barbecue with tender smoky beef brisket surrounded by just the right amount of crusty bark. Vaughn also tipped us off to a fairly recent addition to the local barbecue scene with a new outpost of the legendary Kreuz Market. When oak smoke meets meats in a brick pit under the talented auspices of a pitmaster, you know something special is gonna happen. At Kreuz, the staff smokes beef brisket, pork ribs and chops, turkey and sausage to perfection. Order it market style by the pound and prepare for a life-changing experience. Fargo's, 720 N. Texas Ave., Bryan, TX 77803, 979-778-3662; Kreuz Market, 768 N. Earl Rudder Fwy., Bryan, Texas; 979-704-6147
Vanderbilt: Nashville, TN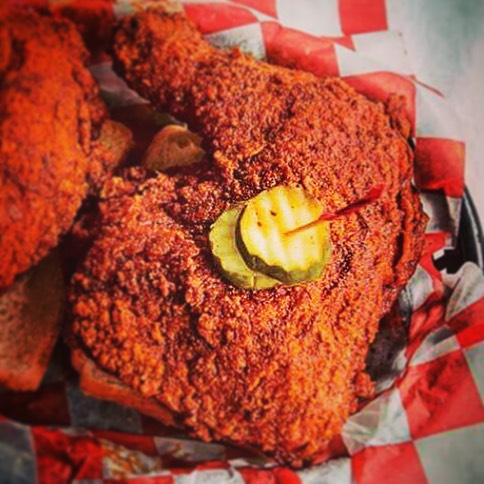 Similar to (but the exact opposite of) Alabama, Vandy finds itself at the bottom of any alphabetical listing of SEC schools and usually mired near the bottom of the football standings, too. But Vandy has something that no other conference school can brag about: hot chicken. This incendiary culinary specialty is infamous for triggering diners' "fight or flight" response as their brain rejects the infernally hot spices of the secret recipe at the same time as the body and soul beg for further punishment. While Prince's may be the classic original, Hattie B's has emerged as the people's choice for several reasons. First off, it's some damn fine yardbird, available in spice levels from the mild "Southern" to "Shut the Cluck Up," a designation demanded by hot chicken freaks who complained after the restaurant opened that its previous hottest level wasn't insane enough. That'll teach them to taunt the kitchen at Hattie B's. Secondly, the convenience factor at Hattie B's can't be beat, with online ordering available and a location within walking distance of Vanderbilt Stadium. But please heed my standard hot chicken advice, and don't consume any of this fiery fowl within 24 hours of air travel. Trust me on this one. Hattie B's Hot Chicken, 112 19th Ave. S., Nashville, TN 37203; 615-678-4794