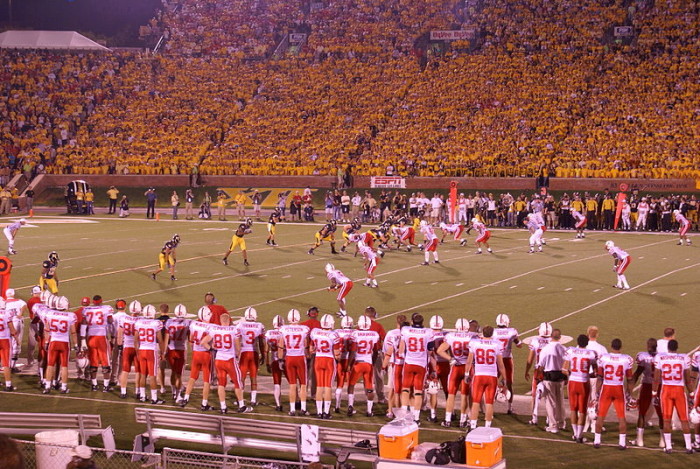 If there's anything that Southerners care about more than their regional cuisine, it's gotta be SEC football! To celebrate the 2015-16 college football season, Food Republic is launching a new series, SEC FoodBall. Each week, we'll profile a Southeastern Conference town, and more importantly tell you where you should eat and drink if you're fortunate enough to attend a game there. We'll also solicit advice from some locals to make sure you have the benefit of home team advantage.
Week 6: Florida at Missouri, Columbia, Missouri; Oct. 10
Along with Texas A&M, the University of Missouri is one of the newest members of the Southeastern Conference. (You'll note I didn't say "SEC conference." Or "ATM machine." Or "PIN number." I'm rigorous that way.) However, if the rest of the SEC expected the newest member of the Eastern division to be a weak sister that would just contribute another W on the way to bowl eligibility, they have been woefully disappointed as the Tigers have represented the East in the conference championship game both years that they have been in the league.
What the newborn conference status does mean, though, is that most fans don't have as much experience with visiting Columbia, Missouri, for an away game, so dining advice is even more important. Of course, that universe of fans who have never been to Columbia includes yours truly, so I had to reach out to a real local expert to offer some insight into the dining scene.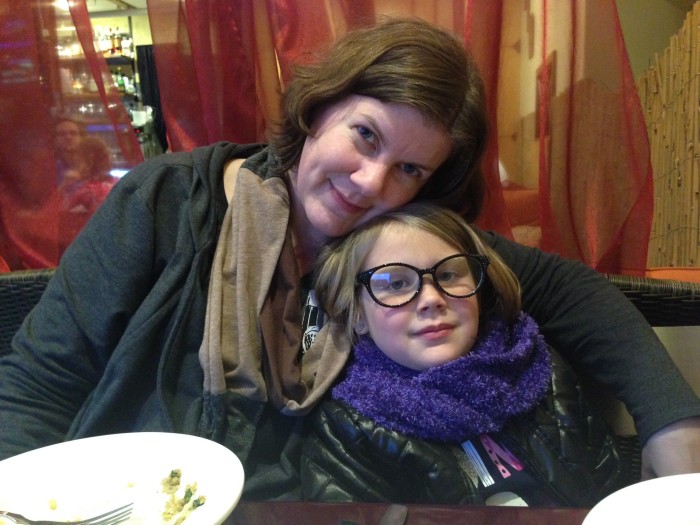 Fortunately, I discovered Audra Jenkins, a regular columnist for the Columbia Daily Tribune. Among her bona fides as a food writer is the fact that she contends to have eaten in every single restaurant in the city of Columbia, a feat she chronicled for Feast magazine. So who better to turn to for the lowdown when it comes to Columbia restaurants as the Florida Gators invade Faurot Field this weekend for an SEC East clash? Nobody, that's who. Nobody better.
Here's Jenkins's 411 on dining in the 573:
Splurge
Missouri is definitely the Great Midwest representative of the SEC, so you'd danged well expect to be able to get a good steak here in cattle country. For premium beef, Jenkins points her steak knife toward CC's City Broiler. This is "the go-to steakhouse in Columbia," Jenkins says. "Make reservations and/or plan to wait, but you won't be disappointed. The steaks are the highlight here, but they also have an extensive seafood offering. From service to wine list to the signature chopped salad, you can't lose. I mean, Grand Marnier Carrots and Broccoli could make a vegetable lover out of me." Maybe it's the boozy veggies talking, but I would concur. CC's City Broiler, 1401 Forum Blvd., Columbia, Missouri; 573-445-7772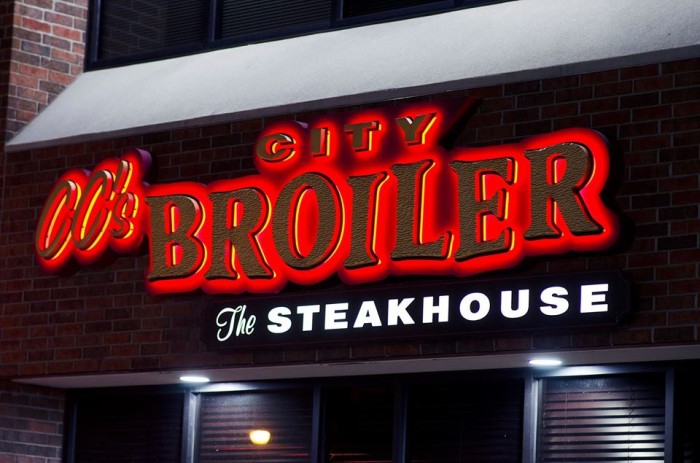 Tiger fans cannot live by beef alone; they also need cocktails, and Sycamore is Jenkins's choice for a special swizzle. "Sycamore has prime real estate with a large window looking out at the main downtown thoroughfare of Broadway," she says. "They have a regularly changing, locally sourced menu with one of the best craft cocktail bars in town. A recent dining room renovation has made it even more welcoming and definitely one of the most enjoyable dining experiences downtown, plus Mike Odette was a James Beard semifinalist in 2009." Even though Mizzou was still in the Big 12 back then, we'll nonetheless mark that Beard nom in the win column. Sycamore, 800 E. Broadway, Columbia, Missouri; 573-874-8090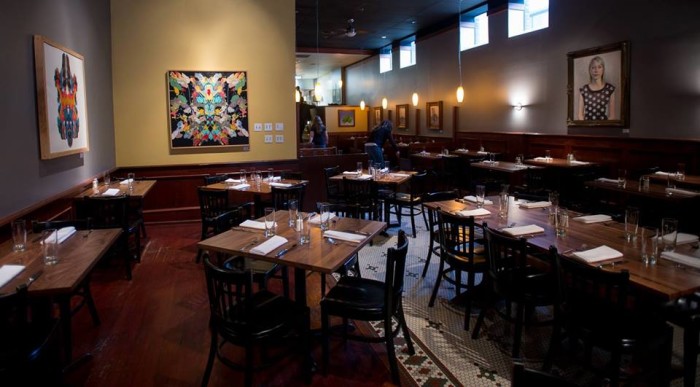 Cheap Eats
It's a pretty good haul to Columbia from the rest of the college towns in the SEC, and American Airlines pretty much has a monopoly on the airport, so flights are limited, not direct and expensive. (But besides that, no problem!) Since it'll probably cost a pretty penny to get there, you might as well save a few bucks on dining. Fortunately, Jenkins has some great advice for cheap eats. "Broadway Diner is a staple in the Columbia diner scene, appealing to both the late-night post-bar crowd and families hungry for a classic breakfast," says Jenkins. "Their signature dish is the Stretch, a bed of hash-brown potatoes topped with scrambled eggs, chili, diced green peppers, diced onions and shredded cheddar cheese." You'll definitely need to do some stretching after eating one of those. Broadway Diner, 22 S. 4th St., Columbia, Missouri; 573-875-1173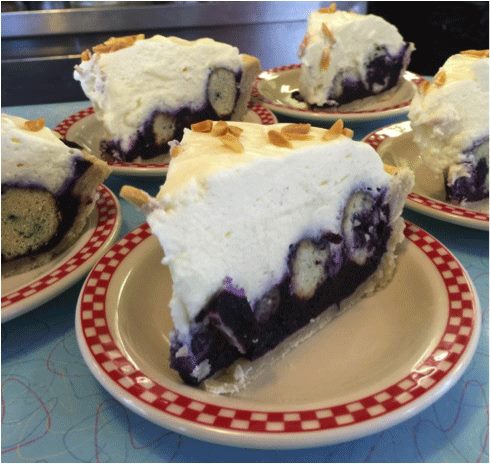 An interesting oddity about Columbia is that some of the best burgers in town are available at pool halls, and the leader of the pack is Booches Billiard Hall. Around since 1884, Booches serves a prototypical greasy-spoon burger on wax paper, and Jenkins is a fan: "The burgers are small, cheap and delicious. Ignore the other things on the menu, except maybe the chili, and just order a couple of Booche's burgers with a bag of chips. Very popular place for alumni on game days. May be a bit of a wait, but the tables turn over quickly and there's seating at the bar, too. Nota bene: It's cash only and closed on Sundays." Booches Billiard Hall, 110 S. 9th St., Columbia, Missouri; 573-874-9519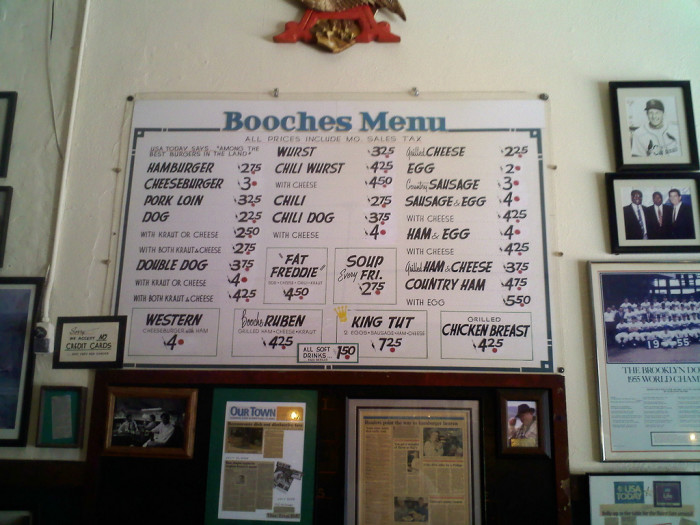 Eat Like a Local
Football happens only seven or eight weekends a year in Columbia, so it's important to find out where the locals eat the rest of the year. In her quest for restaurant completeness, Jenkins became a real expert. She's got some fantastic suggestions, beginning with Flat Branch Pub & Brewing. "A solid brewpub with a great atmosphere and hands down the best patio in Columbia," she says. "Locals flock here for lunch, game day, dinner, and basically any excuse we can think of to sit out on the patio with a Flat Branch brew. The menu is an array of safe, solid choices, which means it's a great place for a large group with a variety of tastes." Flat Branch Pub & Brewing, 115 S. 5th St., Columbia, Missouri; 573-499-0400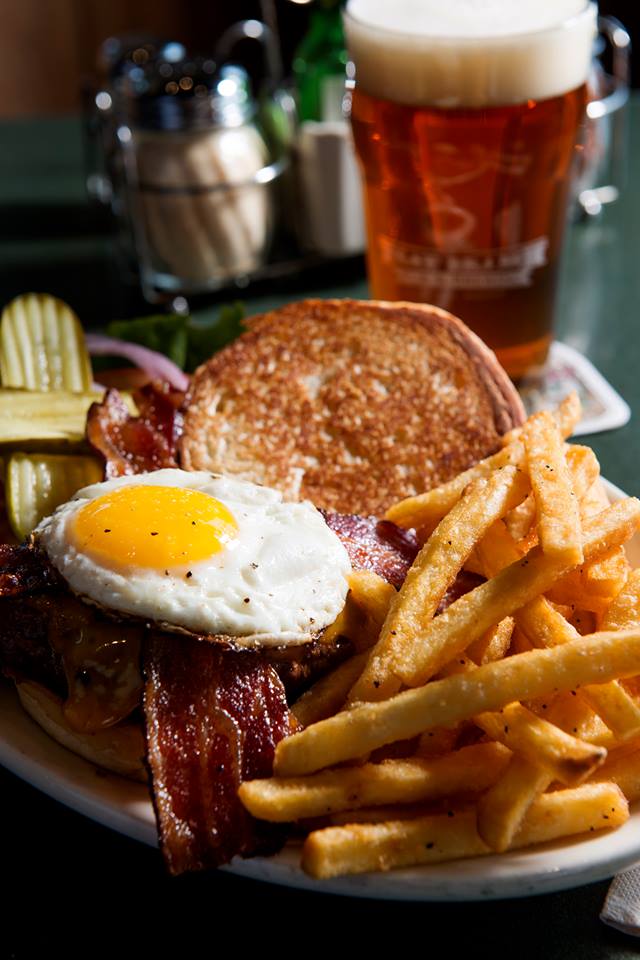 Believe it or not, Columbia actually has a pretty cool music scene, and jazz fans like to chill out at Murry's, which Jenkins describes as "a popular spot for both work lunches and date-night dinners." She adds, "Murry's location is not one you're likely to stumble upon by accident, but locals flock here for the tasty menu and the evening jazz. The fried green peppers are a popular appetizer, and the rotating dessert menu has us doing a happy dance when Gooey Butter Cake makes an appearance. If you're hoping to run into Missouri head football coach Gary Pinkel, Murry's is a good bet." Sure, you've probably eaten off of a spinning lazy Susan at a Chinese restaurant before, but you've gotta see this rotating dessert menu! Murry's, 3107 Green Meadows Way, Columbia, Missouri; 573-442-4969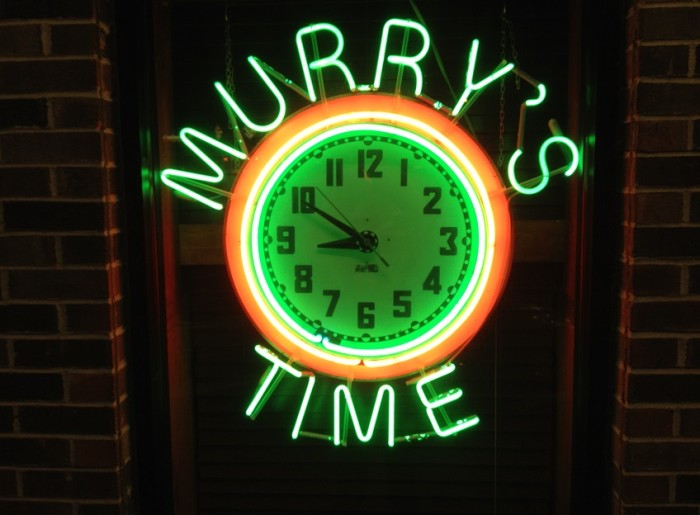 After she completed her quest to dine everywhere in Columbia, Jenkins didn't just rest on her laurels. She continues to seek out new gems, and a recent favorite is 44 Stone Public House.  "It's in a terrible strip mall location on the south side of town, but the interior is chic, the food is varied and fantastic—livers! lamb!—and the beer and whiskey menu is robust," she says. "I have only had excellent dining experiences here." 44 Stone House, 3910 Peachtree Dr., Suite H, Columbia, Missouri; 573-443-2726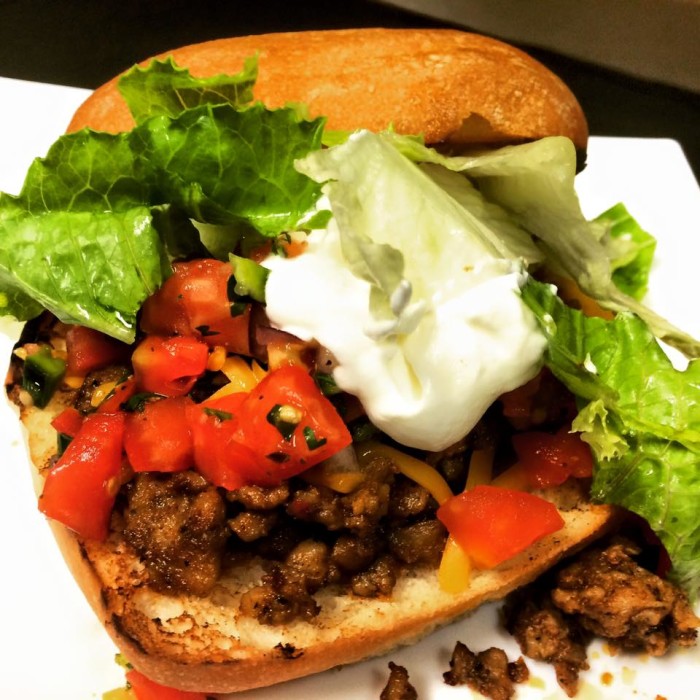 BBQ
Kansas City obviously reigns supreme when it comes to Missouri barbecue, but Columbia is by no means shabby in the smoked meat department. Jenkins has two particular favorites, starting off with COMO Smoke and Fire. "Despite it's edge-of-town strip mall location, the interior is spacious and welcoming—down home without the homeliness," she says. "The menu was more interesting than most barbecue offerings, and I especially loved the choice of breads for sandwiches." She also suggests that you don't miss out on "their expansive bar selection or their outdoor patio." COMO Smoke and Fire, 4600 Paris Rd., Suite 102, Columbia, Missouri; 573-443-3473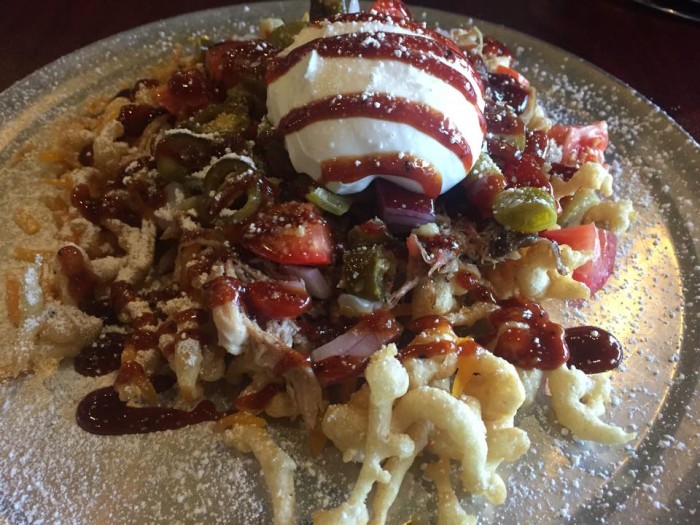 I was sold on Jenkins's final recommendation as soon as I heard the name. Shotgun Pete's BBQ Shack sounds like the sort of place where any SEC fan could while away an afternoon watching ballgames and gnawing on rib bones. Jenkins describes it as "small and no-nonsense, though not as small as their former location, a small shack in the Parkade parking lot. The service is friendly, and the portions are large. It's a good idea to check the restaurant's Facebook page before you go. In addition to being closed Sundays and Mondays, they post frequent updates when they need to close early, get rained out, or are on their last pan of pulled pork." It's definitely a positive sign when a barbecue joint runs out of meat, because that means they are smoking it daily, fresh to order. Reheated 'cue from earlier in the week is no bueno. Shotgun Pete's BBQ Shack, 28 N. 9th St., Columbia, Missouri; 573-442-7878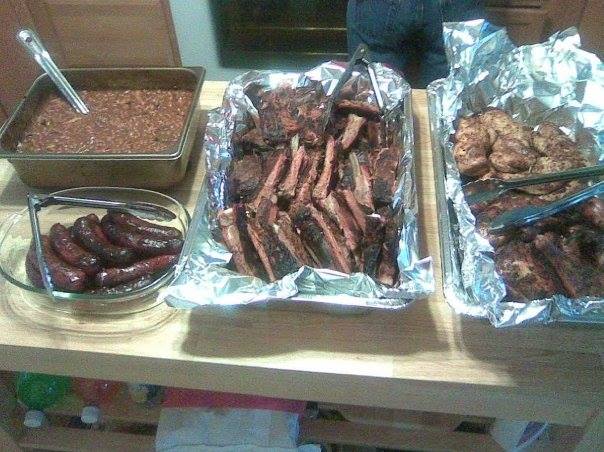 While there's no guarantee that Mizzou will make a third straight appearance in Atlanta for a shot at the NCAA playoffs, the team has already made a huge impact in the conference. Now it's up to fans to figure out where to place them in the pantheon of SEC road-game destinations.
Go Tigers! Grrrrrr!