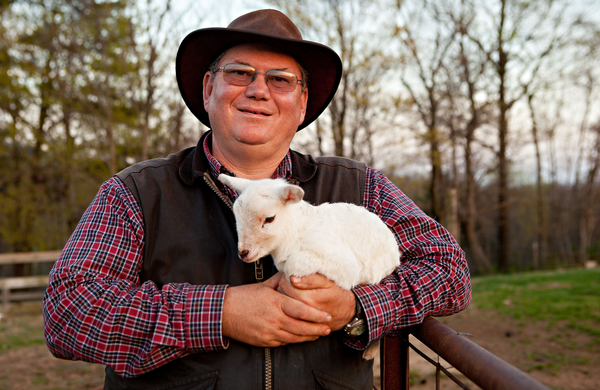 Nashville-based writer Chris Chamberlain profiles chefs and restaurants with particular talents for classic and reinvented Southern dishes. Now, he's taking his investigations another link up the food chain as he travels to visit with some of those chefs' favorite farmers, ranchers and purveyors from across the South. In a new Food Republic series,  Southern Grown , find out what makes these suppliers so special that chefs will go the extra mile to use these products in their kitchens.
For many people, Craig Rogers of Border Springs Farms is immediately recognizable by the sight of his signature wide-brimmed leather Barmah hat. But on his way to becoming a renowned supplier of quality hormone- and antibiotic-free lambs for restaurants across the country, Rogers has actually worn a whole bunch of hats. Educated as a chemical engineer, he wore his octagonal doctoral cap as the dean of the College of Engineering at the University of South Carolina. As retirement approached, though, he began looking for something new.
A fascination with herding dogs led to his decision to buy a 100-acre farm at the base of the Blue Ridge Mountains in Patrick Springs, Virginia — about ten miles from the North Carolina border. His border collies needed something to herd, so he acquired a small flock of sheep to work them with. As the herd expanded, he found himself needing to sell some of his lambs at a local livestock market, where he realized the demand was low and, more striking, that his own lambs really didn't taste that good.
He decided to switch to farming solely Katahdin and Texel breeds of sheep. But his scientific mind led him to find out what was wrong with his processes, and that of many East Coast ranchers in general. The primary pasture grass in the region is fescue, and while it may sound good to offer "grass-fed" beef or lamb, that particular variety of grass doesn't have the nutritional value required to finish an animal. He soon discovered that before he could become a successful shepherd, his first job needed to be as a grass farmer.
Rogers now grows a special blend on his 100 acres, plus adjoining leased land that multiplied his pastureland tenfold, and sells his lambs to noted chefs including Sean Brock, Bryan Voltaggio, Donald Link and Richard Blais. He also sells directly to consumers from his website and at selected farmers' markets. Rogers is very particular about his customers, though. "If a chef has as much passion for what he does as I do for what I do, magic can happen," he says.
The chefs he does business with are willing to go the extra mile to utilize his lambs in the kitchen. "I bought special insulated coolers to ship lamb to Donald Link in New Orleans, and he would have to go to the FedEx office to send them back to me," he says. "It's really a testament to how far special chefs are willing to go to use the right products."
One of his latest customers is Justin Devillier of La Petite Grocery. Named 2014's Chef of the Year by New Orleans Magazine, Devillier can source his ingredients from pretty much anywhere he wants, but he eschews locavorism in favor of quality when choosing his lamb. "Quality, consistency and communication are huge factors for me when selecting new purveyors," explains Devillier. "Craig delivers a wonderful product as well as an open line of communication, so we're proud to serve his lamb T-bone chops, simply roasted and basted with butter."
Sean Brock concurs. "When I asked Craig to explain his lamb operation, the first thing he talked about was grass," says the chef with restaurants in Charleston and Nashville. "Right away, I knew I was really going to like this guy. He spoke of the importance of being a grass farmer first and foremost — how it affected flavor, sweetness of fat and rate of growth. We talked about grass for half an hour, and I was already sold on Craig and his spirit before we even started talking about breed selection. It's rare that you can sit with a shepherd and discuss flavor profiles of specific breeds, what you like or dislike about each, but Craig is that rare shepherd."
Rogers recognizes that his meat will never be price-competitive with most other lamb products, and he prefers it that way. "We all know that we can't compete against commodity agriculture on price, especially with Australian lamb," says Rogers. "But Sean Brock doesn't sell a hamburger for 99 cents to compete with McDonald's. If I didn't have these chef partners who appreciate my animals and respect the difference in my lambs, I'd have to sell them at the livestock auction, where they would just become a part of the common meat chain."
Recently, Rogers has discovered new competition from an unexpected quarter — small hobby farmers he calls "farmies." "These people appreciate the agrarian lifestyle and want to dabble with a small flock, but they can actually take food off of a farmer's table," he explains.
Already squeezed from above by Big Ag, Rogers is critical of farmers who raise a small herd, or grow a small crop and then go door-to-door selling them to restaurants, or at stalls in markets. ("It's a false economy. It's just a hobby.") He cites a recent study from Ohio State University that concluded it takes a herd of at least 1,800 sheep to provide a median farmer's income of $40,000. "At the recommended density of four sheep per acre, you just can't do this 52 weeks a year without large tracts of land," he says. "You can't afford to pay the taxes on your farm, and you end up subdividing your acreage for residential development and contributing to urban sprawl."
Pretty tough talk for a guy holding a Little Bo Peep crook, but Rogers sticks to his guns. "Look at who the James Beard Foundation recognizes for agricultural achievement. They're not farmers. They are community advocates who turn parking lots into small-scale food-production plots or who plant rooftop gardens. While that might be admirable, it's not agriculture."
"Local" is another term that sticks in Rogers' craw. "I had difficulty getting into farmers' markets in D.C. because I wasn't local. If you want to buy überlocal on the East Coast, the only food you'll get is from the most expensive farmland in America, in the suburbs of the urban areas."
Border Springs Farm is located about equidistant from Washington D.C., Charleston and Atlanta, about five and a half hours' drive from each restaurant hub. But as Rogers says, "That's where food comes from. The people that determine good from bad farming practices are generally eaters, not farmers. They create rules for farmers' markets that are eaters' rules, not for the farmers!"
He sums up his attitude in a final burst. "To me, local is defined by as far as a farmer is willing to travel to a market or to deliver to someone who will appreciate my product for the effort that is involved and will honor my animals." Based on his reputation among many regional and national chefs, there are plenty of people who agree with Craig Rogers.
Check out what's going on in the South on Food Republic: