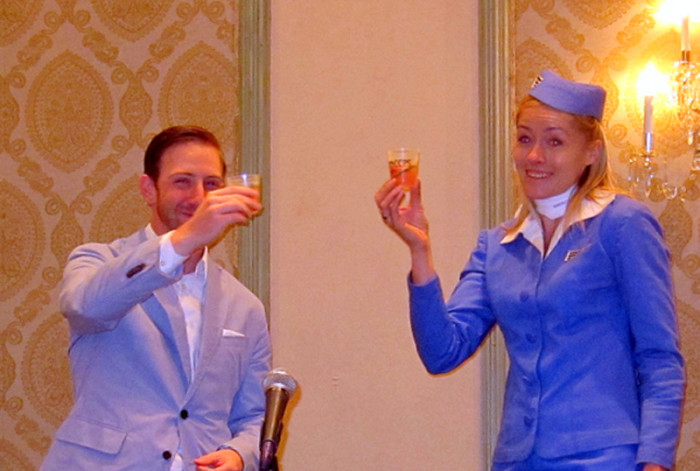 At this past weekend's 11th annual Tales of the Cocktail in New Orleans, mixologists, brand ambassadors, cocktail historians and enthusiasts came together in The Big Easy to celebrate all things appropriately alcoholic. But two noted experts came not to praise, but to bury. Jacob Briars is the Head of Education for Bacardi brands and Charlotte Voisey is Portfolio Ambassador for William Grant and Sons. Between their globe-trotting jobs, these two probably spend more time drinking in airplanes and airport bars than most anyone, especially Briars, who hails from New Zealand, which he calls "a 12-hour flight from anywhere you'd want to go."
Both ambassadors have consulted with airlines and airport lounges in an attempt to assist the general public in finding a decent cocktail while traveling. At Tales, they decided to take their case directly to the source of the problem with an educational seminar titled "Airport Bars: Why Are They Notoriously Bad?" Briars and Voisey invited a participatory target for their barbs in the person of Doug Draper, the Director of Adult Beverage & Bar Development for HMSHost, the leading provider of airport food and beverage in over 200 travel and entertainment locations around the world. Draper was more than just a punching bag, with past experience working with Todd English and a membership in the Court of Sommeliers.
Air travel used to be glamorous, the sort of event that people would dress up for. Briars told stories of the initial transatlantic Hindenburg-class zeppelins. Like glamorous restaurants in the sky for 100 exclusive guests, dirigibles looked like a great way to spend 16 hours until, as Briars joked, "they got to Newark and as often happens there, things went wrong."
The preferred vehicle in the post-Hindenburg era was the Bermuda Clipper, a huge flying boat that could accomplish the transatlantic trip in four hops, starting from Croydon, the precursor to Heathrow Airport. The journey would proceed from London to Ireland, then a long leg to Newfoundland before finally arriving in Long Island. Shannon Airport outside of Limerick, Ireland was the last rest stop before the marathon flight across the ocean, and this fact led to three wonderful developments for tipplers everywhere. First, since local officials knew they had a captive, affluent audience, they established the first duty-free stores to stimulate a little extra commerce during the layover, creating a framework for travelers to (regrettably) buy cheap bottles of tequila during Mexican vacations for generations.
The second consequence of Shannon's rise as an international hub was that the distillers at Glenfiddich stopped selling their single malt scotches to local grocers, who had previously been blending whisky from several sources to make their own private branded scotches. With Glenfiddich's decision to distribute through the Shannon duty-free store, the word was introduced to the newly created category of single malts.
Finally, since travelers preparing to make the hop across the ocean could be in need of either waking up or calming down, depending on their diurnal clocks and home time zones, the Irish coffee was invented as the perfect speedball cocktail for American tourists. Although the old joke is that "the problem with Irish coffee is that it ruins three good drinks: coffee, cream and whiskey," tourists took to the new concoction and spread it to the US via San Francisco's Buena Vista Café.
Jet travel lowered both the price and travel time required for transatlantic trips, and more airlines began to participate in the routes. This led to competition between the carriers as they sought to outdo each other and replicate the service levels of the luxury cruise ship, the Queen Elizabeth II. The models that the airlines used to recruit as air hostesses were soon joined by the first male stewards, who served as bartenders in the cocktail lounges located in the nose of most 747's.
Unfortunately, at high altitudes, most people lose about 70% of their sensation of sweet and sour, so most classic cocktail recipes lose their punch. That's why you may crave things that you would never order from a bar at sea level, like tomato juice and ginger ale. So don't expect many drink options that are more complex than a "something and something" from the airlines any time soon.
The dark days of airline deregulation during 1978-1982 were the beginning of the end of glamorous travel — and for decent drinks while in the air or the terminal. Through price wars, conglomerations and bankruptcies, the airlines stopped competing on amenities. Worst of all, instead of airports being operated as a source of civic pride by the cities that they represented, the airlines began to take over the day-to-day functions of the terminals. That's why LAX still looks like 1974, back when it was one of the coolest spots on the planet. Today…not so much.
While it's no excuse for the proliferation of Chili's and Cinnabon, airport hospitality operations are handcuffed in ways that most travelers probably don't realize or appreciate. In the streetside restaurant/bar business, one of the oldest maxims is "don't try to be all things to all people," but your average airport patron won't travel more than four gates to make his or her dining/drinking decision. These bars have to attract every possible age or cultural demographic to even have a chance at prompting a potential customer to walk a few extra gates to choose to spend their expense account money there.
Also, TSA regulations make bar operations problematic. Ever try to zest a lemon with your knife chained to the bar? How about having to check your wine key in and out with your supervisor during every shift? Not to mention the fact that many potential bar workers might have a past too "colorful" to pass the TSA background checks to even get into the secure zone as an employee. Budgetary constraints at many airport lounges don't allow for things like bar backs in their staffing models, so that may be the reason why it takes so long to get your Mojito at TJ McApplechili's at O'Hare.
Luckily, Briars and Voisey did share at least some reasons for hope. Airlines like Virgin Atlantic are taking the lead in trying to reglamorize air travel. For those that can afford the fare, you can still flat out have a party with Richard Branson. Airports around the country are working with local establishments to create bars and lounges that demonstrate a feel of the city for those visitors who might never leave the terminal.
Unusual Times Bar in Newark and Denver's Root Down are examples of new spots that feature fresh ingredients, local beers and spirits, and creative recipes, to the delight of weary travelers in search of strong drink. Briars did present a list of 10 cocktails that you can safely order in most airport bars, mainly because every establishment should have the necessary ingredients and they are too simple to screw up. Stick with Micheladas, Bloody Marys, Manhattans, Cuba Libres and Negronis and you shouldn't be too disappointed.
Briars and Voisey also compiled and shared their list of the best airport bars in the world. In addition to several international options in London, Amsterdam, Melbourne, Zurich and Copenhagen, a few domestic bars made the list. Their #1 choice was in Terminal E of Atlanta Hartsfield. Since Delta so dominates Atlanta, Briars asserted, "nobody is really there voluntarily, and the place is a real dump!" One Flew South is an oasis amongst the zombified masses shuttling from terminal to terminal. In addition to outstanding food, their creative cocktail menu and attentive staff really offer a sense of place that Briars considers "the one reason to go to Atlanta."
Save us a bar stool!
---
More airline travel stories on Food Republic: