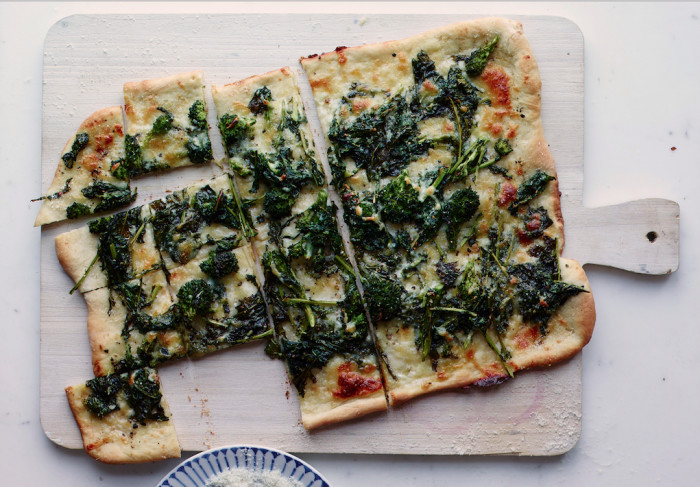 Whip up any of these recipes using broccoli rabe, rapini, broccolini, broccolette or even broccoli spigarello — whatever you can get your hands on. Just make sure you get some nice leafy broccoli-like vegetable on the plate, because there are few things healthier or more delicious in this world. And again, garlic is your friend here. Garlic is your friend everywhere. Ready to cook?
Recipe: Totally Foolproof Broccoli Rabe Pizza
Determined to make pizza, my family's favorite food and the zeitgeist dish of the millennium, I elected to start the easy way — with premade dough. So when I stopped off at Joanne Chang's Flour Bakery in Boston and saw gorgeous balls of dough wrapped in plastic, I bought one. During the long train ride to New York, it expanded, until it looked like a gargantuan heirloom tomato with deep ridges and creases.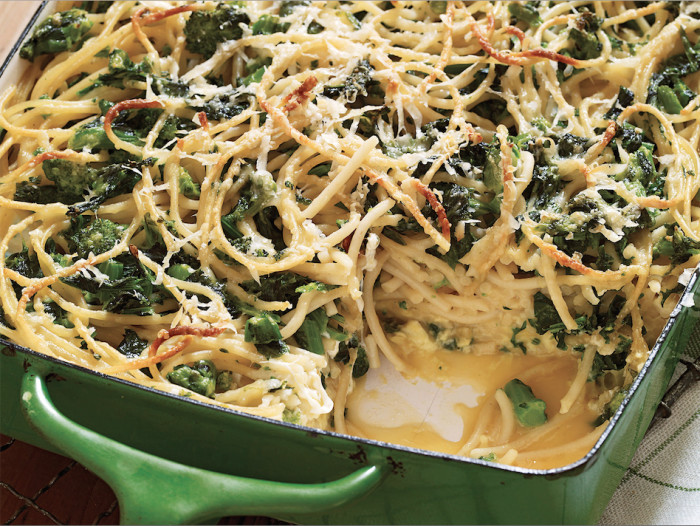 Recipe: Baked Spaghetti Frittata With Broccoli Rabe And Smoked Mozzarella
In Naples, spaghetti and beaten eggs are mixed with broccoli rabe and smoked mozzarella, poured into a pan, and baked into a golden pasta frittata. Served hot or at room temperature, this is a great dish for a party or picnic. Smoked scamorza, a cow's-milk cheese, is similar to mozzarella but firmer and drier.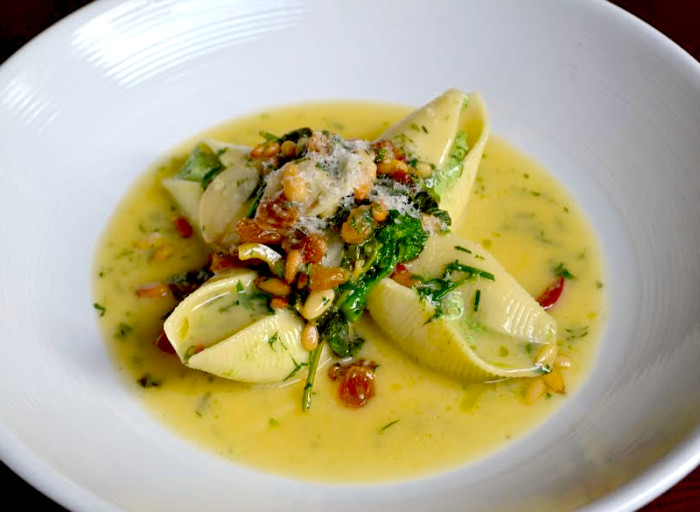 Recipe: Broccoli Rabe Stuffed Shells
Chef Harold Dieterle stuffs pasta shells with ricotta and serves them with a broccoli rabe pesto and sauce made with hot cherry peppers. "Being half-Italian, I grew up eating a lot of baked pasta dishes as a kid. I am always looking for modern ways to include them on new menus," says the winner of Top Chef's first season.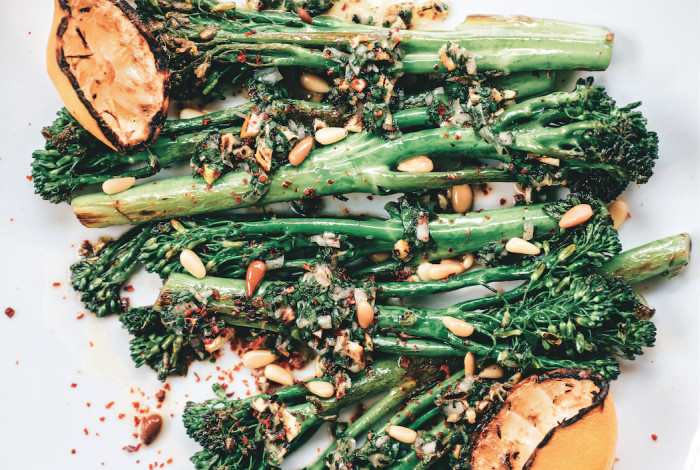 Recipe: Broccolini With Grilled Lemon, Pine Nuts And Aleppo Chili
I love broccolini. The entire vegetable is edible, but my favorite part is the stalk. To me, the flavor is less bitter than broccoli and has a sweetness that is closer to asparagus without the astringency. These flavors are balanced with some heat from the Aleppo chili and a good amount of acid from the grilled lemons. It may seem that grilling lemons is too much work, but trust me, it's not. To make starting the grill worthwhile, pair this with a simple grilled piece of chicken or steak.
Recipe: Broccoli Rabe And Provolone Hot Dog
One of our favorite side dishes with any Italian classic, like gooey homemade eggplant Parmesan or the labor of love that is lasagna, is bitter, toothsome broccoli rabe sautéed very simply with garlic, olive oil and just a pinch of red chili flakes. It happens to make an excellent topping for an Italian sausage in a crisp, toasted bun with melted provolone.