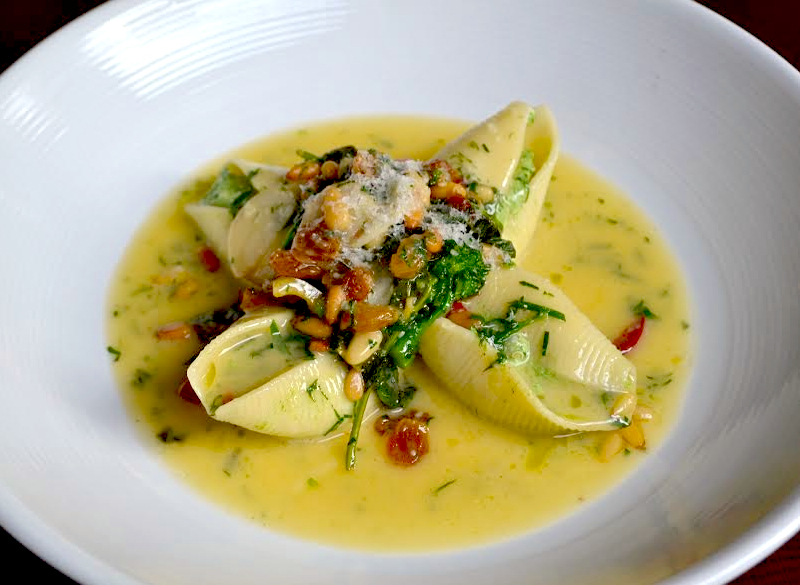 We're on the lookout for spectacular spring recipes and nabbed a new vegetarian entrée on the menu at Chef Harold Dieterle's NYC outpost The Marrow: Broccoli Rabe Stuffed Shells. Dieterle stuffs pasta shells with ricotta and serves them with a broccoli rabe pesto and sauce made with hot cherry peppers. "Being half-Italian, I grew up eating a lot of baked pasta dishes as a kid. I am always looking for modern ways to include them on new menus," says the winner of Top Chef Season 1.
Related: Harold Dieterle Knows The Secret To Running Three Restaurants At Once
Ingredients
8

-10

jumbo pasta shells

1

bunch

broccoli rabe, blanched briefly in boiling water and divided

4

tablespoons

extra virgin olive oil, divided

3

cloves

garlic, finely chopped and divided

4

tablespoons

freshly shaved pecorino, divided

2

teaspoons

lemon juice

2

tablespoons

ricotta

1

cup

vegetable stock, divided

1/2

cup

white wine

2

tablespoons

hot cherry peppers, chopped

2

tablespoons

butter

2

teaspoons

pine nuts

2

teaspoons

raisins

2

teaspoons

parsley, chopped

2

tablespoons

breadcrumbs, toasted
Directions
Preheat oven to 350°F.
Cook the jumbo pasta shells al dente, according to package directions. Drain and set aside.
To make the pesto, combine half the bunch of broccoli rabe, 2 tablespoons of extra virgin olive oil, 2 cloves of garlic, 2 tablespoons of pecorino and the lemon juice in a food processor. Pulse until coarsely chopped.
Transfer the pesto to a mixing bowl. Fold the ricotta into the pesto and stuff into four or five cooked shells.
Transfer the shells to a baking dish and heat in oven with half the vegetable stock for 5 minutes.
Meanwhile, to make the pan sauce, combine the remaining broccoli rabe, extra virgin olive oil, garlic and vegetable stock with white wine, hot cherry peppers, butter, pine nuts, raisins and parsley in a large skillet.
Cook until the broccoli rabe is heated through.
Take the pan sauce and place in the center of the serving dish, leaving some liquid for basting.
Remove the stuffed shells from the oven and place around the pan sauce.
Baste the shells with the remaining pan sauce and sprinkle the remaining pecorino and toasted breadcrumbs on top.
Find more broccoli rabe dishes on Food Republic: