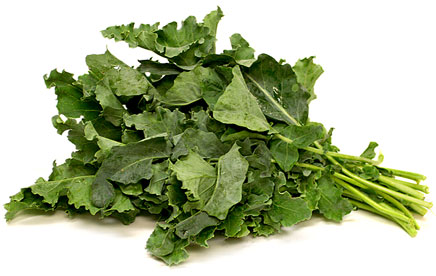 If you think your family is crazy, you should take a look at the broccoli clan. So you have your classic broccoli, his younger brother broccolini, and the more leaf-heavy broccoli rabe, which is quite similar in bitter flavor to his twin rapini. Broccoli spigarello is an heirloom variety, considered the "parent" of broccoli rabe.
Broccoli spigarello is native to southern Italy, but its seeds have recently been imported to Southern California, and like all things green in SoCal, it has become quite trendy.
The vegetable is long-stemmed with curled green leaves. When mature, it can produce edible flowers, but never florets like regular broccoli. The flavor is mild, grassy and sweet, without the characteristic bitterness of many of its cruciferous cousins. Restaurant chefs are going crazy for Spigarello; it has been featured on the menu of San Diego restaurant Table 926 and Tom Collichio's NYC restaurant Craft. The greens can be used in a similar way to kale, so if you get your hands on this hot new variety, toss it in salads, soups and sautees.
More Whatchamacallit on Food Republic: