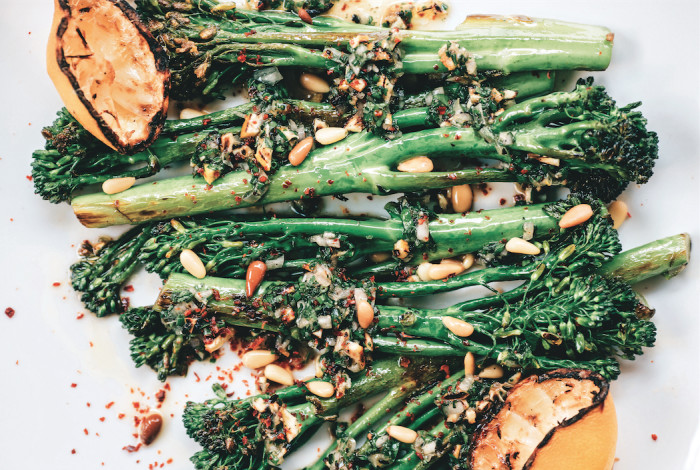 Sameh Wadi is chef and co-owner of two of Minneapolis's top restaurants — Saffron and World Street Kitchen — and recently released his first cookbook. Pick up a fresh copy of The New Mediterranean Table for a journey through the incredible wealth of delicious cuisine throughout the region.
I love broccolini. The entire vegetable is edible, but my favorite part is the stalk. To me, the flavor is less bitter than broccoli and has a sweetness that is closer to asparagus without the astringency. These flavors are balanced with some heat from the Aleppo chili and a good amount of acid from the grilled lemons. It may seem that grilling lemons is too much work, but trust me, it's not. To make starting the grill worthwhile, pair this with a simple grilled piece of chicken or steak.
Ingredients
sea salt

1

pound

broccolini

3

lemons, seeded, 1 thinly sliced crosswise, 2 halved

canola oil, for brushing

1

small shallot, finely minced

1

tablespoon

fresh lemon juice

1

tablespoon

unsalted butter

4

tablespoons

extra-virgin olive oil

1/4

cup

pine nuts

1

tablespoon

flat-leaf parsley, finely chopped

1

tablespoon

finely minced chives

Ground Aleppo chili, to garnish
Directions
For the broccolini
Preheat a gas or charcoal grill to high heat.

Fill a large bowl with salted ice water. In a large saucepan of salted boiling water, cook the broccolini until almost tender, about 3 minutes. Drain immediately and immerse in the ice water to cool completely. Drain and pat dry with a paper towel.

Brush the lemon slices and halves with oil and grill over high heat. Turn the slices and cook until lightly charred, 2-3 minutes total. Grill the halves on the cut side until heavily charred, around 5-7 minutes, and let cool. Transfer the slices to a cutting board and let cool. Finely dice and reserve in a mixing bowl. Squeeze the grilled halves to extract the juice. Strain the juice and combine with the diced grilled lemon. Add the shallot, fresh lemon juice and season with salt. Let marinate for 10 minutes.

Meanwhile, in a large skillet over moderate heat, add the butter and 1 tablespoon of the olive oil. Once the butter starts to bubble, add the pine nuts and stir continually until golden, about 2 minutes. Remove the pine nuts from the pan with a slotted spoon. Add the broccolini and toss to warm up for about 5 minutes, adding a small amount of olive oil if necessary.

Combine the rest of the olive oil with the grilled lemon and shallot mixture; add the parsley and chives and whisk to combine.

Divide the broccolini among individual serving plates. Spoon some of the grilled lemon mixture over it, and garnish with the pine nuts and a sprinkling of Aleppo chili.

Chef's Tip: Alternatively, you could grill the broccolini after blanching for a smoky charred flavor.