11 European Cities Steak Lovers Must Visit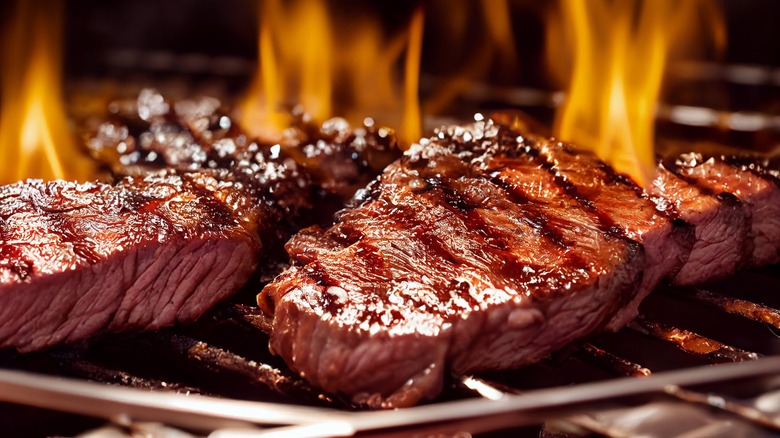 Real Fantasy Art/Shutterstock
Europe is a haven for food lovers from across the globe, with its vibrant cultures and mouthwatering cuisines. And for steak aficionados on their quest for the best steak in the continent, there are plenty of cities to choose from. From the Spanish Txuleton to the classic French entrecôte, Europe offers a tantalizing lineup of steaks for the meat lovers among us.
Let's explore the European cities that provide the best steak dining, whether you are looking for a rustic, authentic experience or a luxury restaurant with Michelin status. We'll look at which cities are leading the way in sustainable farming and locally sourced produce, allowing you to find the highest quality steak possible. Prepare to savor the sights and smells of the finest steak destinations in Europe, combining culture and history with a culinary (city) adventure for your taste buds!
Paris, France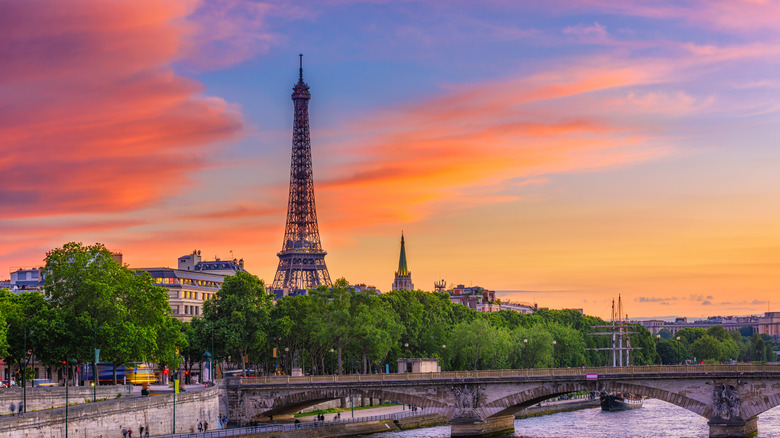 Catarina Belova/Shutterstock
The city of love is at the top of many bucket lists, and for good reason. Paris is famed for its art, fashion, and rich history. And there is one attraction that stands above the rest: Parisian food. French cuisine is world-renowned — as the capital, Paris hosts many of the best restaurants in the country.
French cuisine is diverse, and there are lots of specialties sought after in Paris — from gooey Camembert cheese served with a crispy French baguette to sweet, citrusy crepes suzette. But amidst the pastries and fromage lies a dish that holds a special place in the Parisian landscape — steak frites.
Most restaurants in Paris will serve steak frites, and due to the high-quality beef available across the country, you have a good chance of getting a really great meal. The simplicity of Parisian steak frites is deceptive. When you are serving a piece of meat so straightforward, you absolutely have to hit the mark.
For an authentic Parisian experience, head to Relais de l'Entrecôte. Forget your fancy American steak houses with a menu so long it could double as a novella; in this restaurant, there's only one option — steak frites cooked however you like it. According to Paris guide Tiana Thompson, an American living in Paris since 2019, "It's an absolute must-visit for anyone seeking a mouthwatering combination of tender entrecôte, crispy French fries, and a dash of Parisian flair." Just make sure you have plenty of time to spare – they don't take reservations, and the queue can get pretty lengthy!
Florence, Italy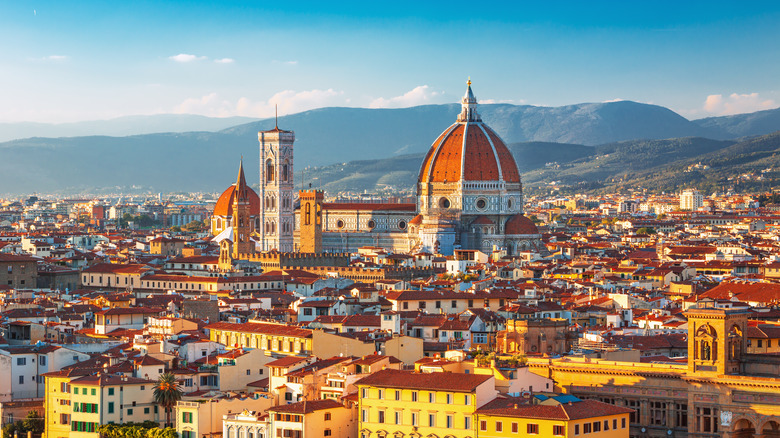 Rasto SK/Shutterstock
Italian cuisine is one of the most famous worldwide, and there are multiple cities that would find their way onto any foodie's wishlist. But if you're searching for the ultimate steak, only one Italian city will cut the mustard — la Bella Firenze. Bistecca alla Fiorentina is a carnivore's dream — a huge t-bone measuring three to four fingers in width and weighing around 1 kilogram. With a steak of this size, you may wish to bring a dinner partner to help you finish it off!
If you like your meat fairly well cooked, you might want to give the Fiorentina a miss and order a different cut of meat. Many establishments will refuse to cook it anything other than rare since getting the perfect crust on the outside means the meat has to be red in the middle. A medium-well bistecca alla Fiorentina will be extremely tough on the outside, meaning it would not be worth the hefty price tag.
Trattoria dall'Oste comes highly recommended as one of the best steakhouses, not just in Florence but in the whole of Italy. There are four branches of the restaurant across Florence, and they serve the traditional Tuscan cattle breed Chianina, known for its flavorful meat. It rates 9.1 out of 10 on the restaurant review site The Fork, with one reviewer saying, "Tratorria D'all Oste Oricellari is out of this world!"
If you visit Florence, you can't possibly leave without trying this wonderful cut of meat. It is a right of passage for any steak connoisseur and an experience you are unlikely to ever forget.
San Sebastian, Spain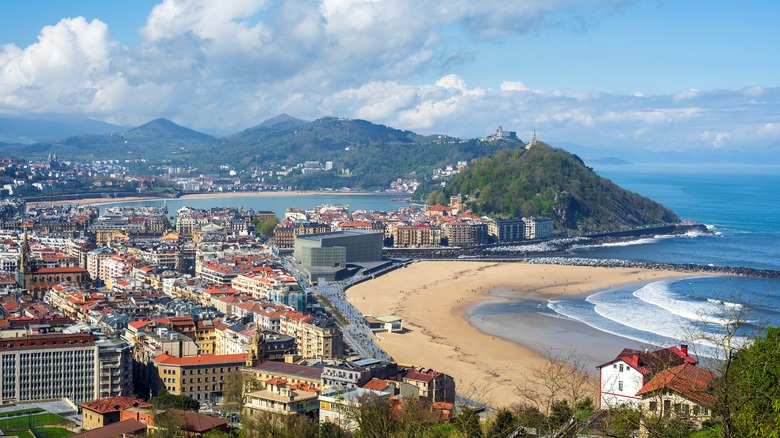 Boris Stroujko/Shutterstock
A trip to Spain means a culinary adventure no matter what city you visit. Barcelona has its tapas, with miniature masterpieces like gambas pil pil and patatas bravas; Valencia is the birthplace of paella, dotted with chicken and chorizo, and Madrid has its famous cocido madrileño, a hearty chickpea stew. In any of these cities, you are guaranteed to find a good steak, but for real steak connoisseurs, a smaller city near the French border will provide the ultimate Spanish steak experience.
San Sebastian is a beautiful city on Spain's northeast coast. It is famous for its Txuleton steak, which is a large, bone-in rib steak often cooked over an open flame to create a perfectly chargrilled crust and juicy, moist interior.
Isaac Rodgers from the Steak Society called the San Sebastian Txuleton "(arguably) the best steak in the world," and he recommends several restaurants in the city that serve excellent beef. If you want to follow his suggestion for the ultimate Txuleton steak, head to Gandarias Jatetxea, where you can order a kilogram of this premium beef for 40 euros. Be sure to turn up hungry, as the steak is as hefty as it is delicious.
If you are in the Basque region of Spain, the Txuleton of San Sebastian is a steak not to be missed. The experience of enjoying the deep flavors and perfectly grilled flesh of this steak is something you will treasure long after you have returned home.
Brussels, Belgium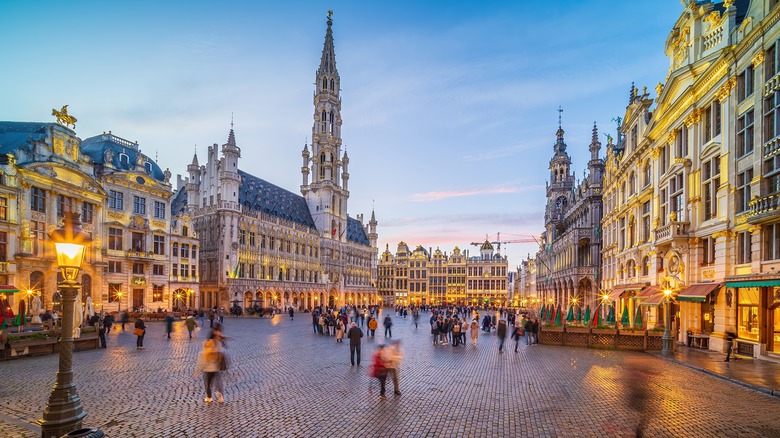 f11photo/Shutterstock
Belgian cuisine may not get the attention of some of its European neighbors, but it is filled with culinary delights, from hearty traditional dishes to modern gastronomic creations that have caught the attention of Michelin inspectors and food lovers worldwide. Its vibrant capital, Brussels, is at the heart of the country's rich culinary landscape and, though famous for its moules-frites, is also a hidden gem when it comes to finding a good steak.
Brussels boasts numerous steakhouses serving high-quality beef, ranging from small, rustic restaurants to chic, high-end establishments. This means that a few days spent in Brussels can provide a wide variety of gourmet experiences.
For an exceptional steak in Brussels, head to Colonel Louis in the heart of the city. Described in the Michelin Guide as, "A paradise for carnivores!" the restaurant serves various high-quality meat and seafood, but the star of the show is undoubtedly the steak. Whether you want a simple entrecôte frites or a Wagyu tasting platter, you will not be disappointed. One Trip Advisor reviewer awarded it, "The best steak in Brussels," so make sure to add it to your list the next time you are in the Belgian capital.
London, England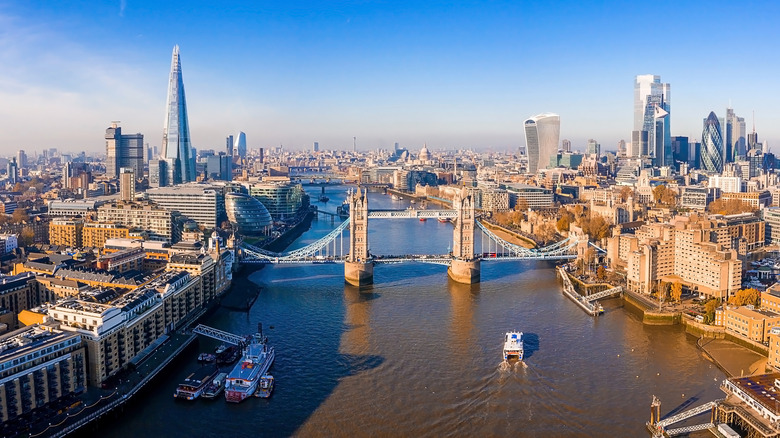 Pandora Pictures/Shutterstock
London is often considered the gastronomic capital of the United Kingdom, holding an impressive 96 Michelin stars in total, distributed across 74 restaurants. Among the many different cuisines and food styles that are catered for, steak occupies a place of honor, with many of London's finest eateries showcasing British beef.
With many restaurants focusing on locally-grown, grass-fed beef from quality farms in the area, you don't need to look hard to find a quality steak that matches tenderness and depth of flavor.
If you are looking for the best steak in London, you can't pass up the chance to dine at Hawksmoor. Now with seven restaurants across the capital, the chain has been voted best steak in Europe and second in the world by World Best Steaks. With a classic steakhouse feel, you can choose from a large selection of starters before tucking into your steak of choice, from a modest rump steak to a generous porterhouse — large enough for two to share. Dining at Hawksmoor is more than just a meal — it is a celebration of British gastronomy that will have meat lovers desperate to return.
Lisbon, Portugal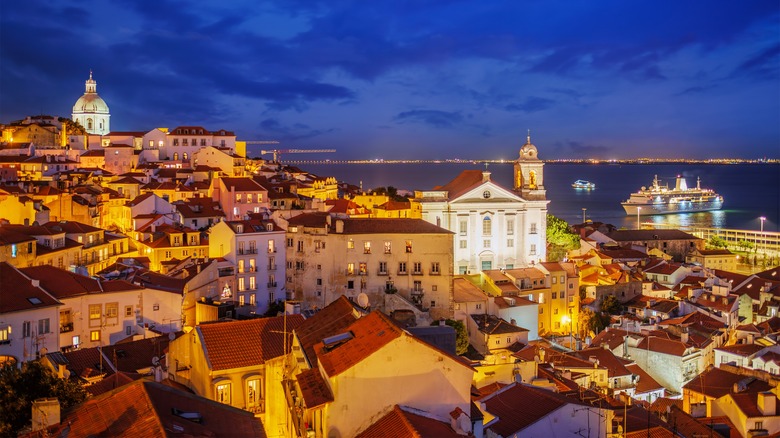 Dmitry Rukhlenko/Shutterstock
With its diverse food history, Portugal offers an array of culinary delights, from the iconic bacalhau (salt cod) to the deliciously spicy piri piri chicken. In addition to these regional specialties, Portugal also excels in the world of steak, and the capital city of Lisbon is the perfect place to seek out a carnivorous feast.
One fabulous way to enjoy steak in Lisbon is by ordering "bife na pedra" or stone steak. Your steak will be served to your table raw, alongside a sizzling hot stone, allowing you to cook your own steak with your dinner companions. It's a wonderful interactive experience and means your steak will be cooked exactly as you want it.
According to Conde Nast, "If you're hungry for steak, you won't find better than the impeccable cuts at Sala de Corte, which recently ranked number 34 on the list of the 50 World's Best Steakhouses." Sala de Corte serves a wide range of steak cuts, from classics such as sirloin and tenderloin to luxurious Wagyu and Kobe ribeye. They also serve the lesser-known picanha steak, a flavor-rich cut of meat that is extremely popular in Brazil and has become a favorite in Portugal, too.
The fusion of traditional Portuguese flavors and modern international cuisine is what makes the food scene in Lisbon so exciting. Wherever you decide to dine in the city, you are sure to have a steak experience that will leave a lasting impression and make you fall in love with this Portuguese gastronomic gem.
Vienna, Austria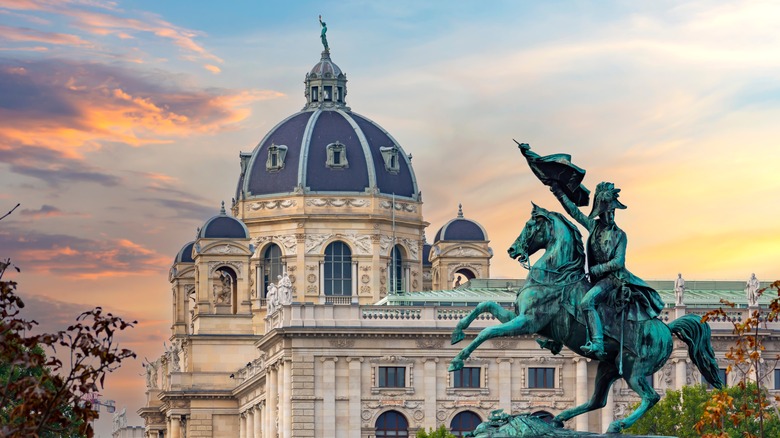 Mistervlad/Shutterstock
Austrian cuisine, particularly in its capital, Vienna, offers a variety of culinary delights based on traditional recipes. It is a very meat-centric nation, with national dishes such as Weinerschnitzel and tafelspitz (boiled beef), meaning that a trip to Vienna should be a certain hit with steak lovers.
In Vienna, the food scene is thriving, with many restaurants serving high-quality ingredients from local farms and producers. Austrian cuisine is known for nose-to-tail cooking where no part of the animal is wasted, so if sustainability and zero-waste cooking are high on your wish list, Vienna should not disappoint.
While the iconic breaded Weinerschnitzel is Vienna's most popular steak, those seeking a more conventional steak will have plenty of excellent options. El Gaucho is an Argentinian steakhouse that sells virtually every cut of beef you could imagine. According to Vienna Wurstel Stand, "... if it's mouth-watering steak you're craving, here you'll be sure to quench it" The restaurant serves high-quality Argentinian beef and offers popular cuts such as filet, rib-eye, and sirloin, as well as larger offerings like T-bone and Porterhouse when available. The top-notch beef and welcoming ambiance of El Gaucho make it the perfect option for meat lovers visiting the Austrian capital.
Berlin, Germany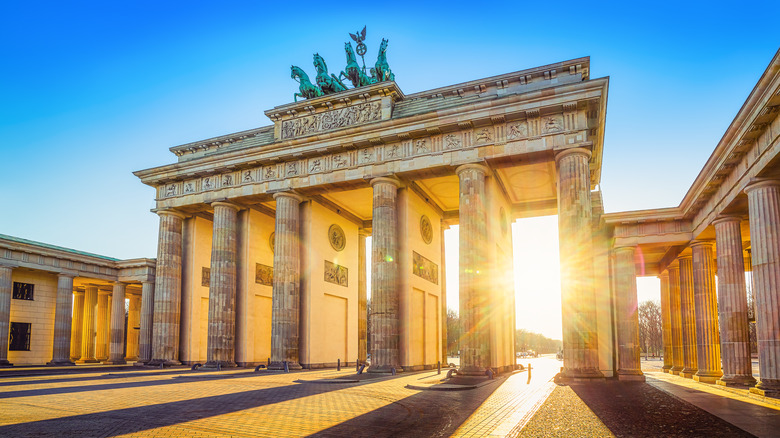 frank_peters/Shutterstock
In Germany, a profound appreciation for good steak is deeply engrained in the culture, and Berlin is a magnificent city to indulge in this tradition. Although Berlin is well-known for its diverse range of international cuisines, steak remains a steadfast favorite. Thanks to Germany's commitment to sustainable and ethical farming, finding locally sourced, grass-fed beef in the German capital shouldn't pose too many problems.
To savor one of the best steaks in Berlin, head over to Grill Royal on the banks of the river Spree. A-list celebrities such as Leonardo di Caprioand Samuel L. Jackson have been spotted here, and for good reason. World's Best Steaks named it in the top 100 steakhouses in the world, while Time Out considers it one of the finest restaurants in Berlin, describing it as "a stylish, friendly and exceptionally meaty experience." At Grill Royal, the emphasis is on top-quality meat expertly prepared and cooked to perfection. They serve all the cuts of beef you would expect, plus Wagyu entrecôte and Kobe fillet. If you are in the mood for a luxury steak experience while in Berlin, Grill Royal is not to be missed.
Prague, Czech Republic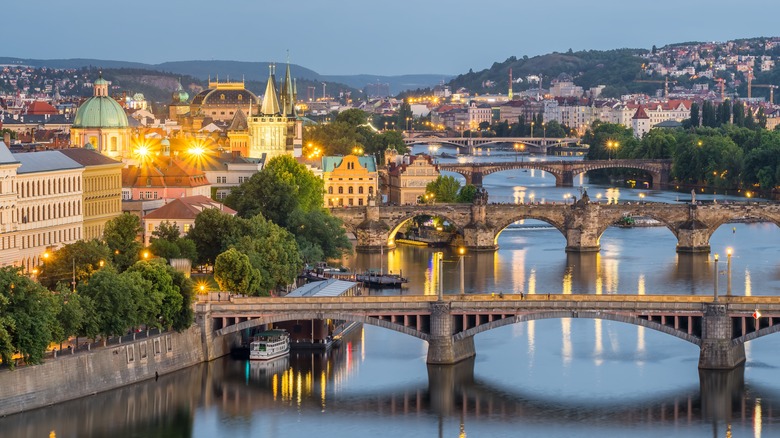 Mazur Travel/Shutterstock
Though Czech cuisine may be known for its hearty and comforting dishes, Prague is a cosmopolitan city that is an emerging destination for food-loving tourists from around the globe.
The gastronomic landscape in Prague is a charming mix of traditional Czech flavors married with international influences, making it a city that is becoming as renowned for its dining potential as for its beauty and history.
For an unforgettable steak experience in Prague, check out George Prime Steak in the heart of the old town. Described as the best steakhouse in Prague by Prague Stay, this American steakhouse will allow you to enjoy the best of Prague. Serving only Gold Standard Angus beef that has been raised in humane conditions, this restaurant focuses on the highest quality meat grilled to perfection. Nestled in the historic center of Prague, George Prime Steak combines the history of the city with a chic, modern dining experience that will leave your mouth watering and desperate to return for more.
Stockholm, Sweden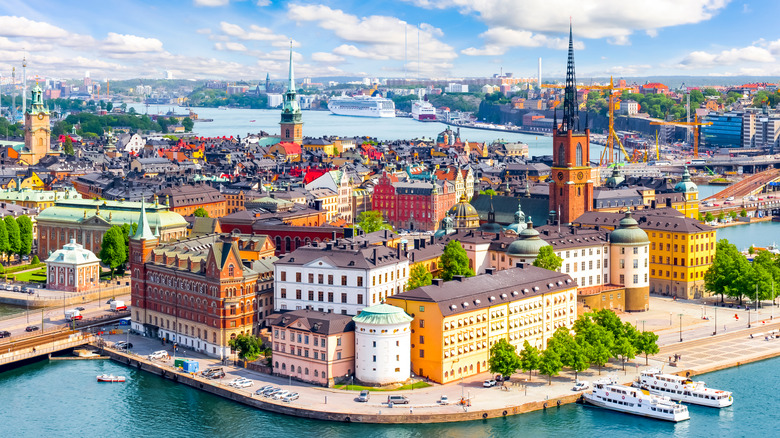 Mistervlad/Shutterstock
Swedish cuisine, known for its emphasis on high-quality ingredients and elegant flavors, is a food lover's delight. Local produce, seasonal ingredients, and healthy eating are all high on the list of priorities for Swedes, meaning a foodie trip to Sweden is something to be savored, particularly in the capital. Stockholm has been chosen as the European Capital of Gastronomy in 2023, meaning the already increasing quality of restaurants in the city is likely to rise. Finding a good quality steakhouse will not be difficult, and the Swedish focus on natural and ethical farming means high-quality meat is the norm.
Griffins Steakhouse finds itself on the list of the top 100 steak restaurants in the world, according to World's Best Steak, meaning that any meat-loving foodie should add it to their itinerary. Situated on the waterfront, the restaurant has a relaxed vibe, and its 1920s decor adds to the charm. Serving a variety of traditional cuts of steak, you will enjoy a modern Swedish take on steakhouse classics. One Trip Advisor reviewer claimed it served the "best steaks in Stockholm," meaning Griffins Steakhouse is a dining experience you can't afford to pass up the next time you are in the Swedish capital.
Budapest, Hungary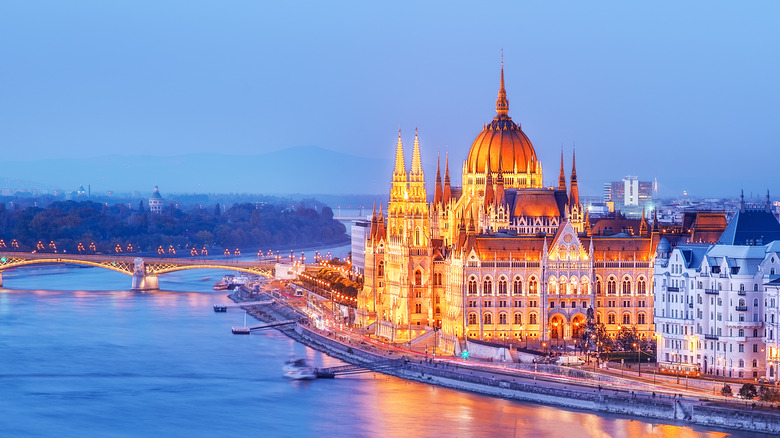 Feel good studio/Shutterstock
Hungarian cuisine, known for its rich, hearty flavors, provides a unique and intriguing experience for steak lovers visiting the country. Budapest, in particular, does a good job of combining Hungarian traditions with chic, modern international cuisines. Those looking for a classic steakhouse experience with a Hungarian twist are in for a treat.
There are many steakhouses in the city offering different ways of preparing beef, including the cook-it-yourself hot stone steak. But if you are looking to really indulge in a high-end dining experience, consider eating at Wolfgang Puck's Spago. The celebrity chef, who holds three Michelin stars, has brought his wildly successful two-star Californian restaurant concept to Budapest, where it has been met with acclaim. The Michelin Guide describes it as "a hot ticket in town," as this exciting restaurant showcases a mix of Californian culinary innovation with traditional Hungarian aspects. Though not specifically a steakhouse, Spago serves a range of steaks, including Australian Wagyu ribeye. If you want to get a taste of Budapest in a modern, trendy setting, be sure to add Spago to your list of must-visit restaurants while in the Hungarian capital.