Camembert Fondue Recipe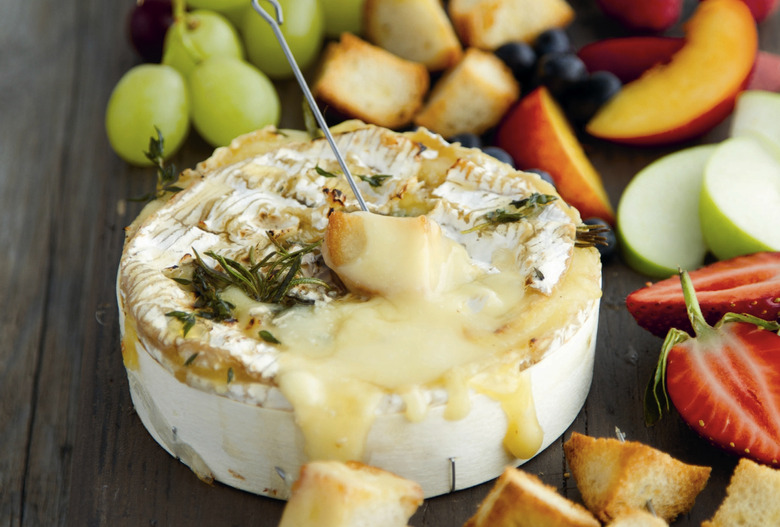 Photo: Jacqui Melville
We may receive a commission on purchases made from links.
Mmm, French finger food. A new cookbook by author Nathalie Benezet takes you through all your favorite classic French dishes in party-friendly, small format. Think mini Niçoise salads and foie gras burger sliders. This variation on baked brie gets even easier by baking a wheel of soft Camembert in its own wooden box. We love built-in presentation.
Probably the easiest (and definitely one of the tastiest) cheese fondues ever! Use the wooden box that the Camembert comes in as a cooking and serving container. Simply eat with chunks of fruit or crusty bread threaded onto skewers, to dip into the hot, melted cheese.
Camembert Fondue Recipe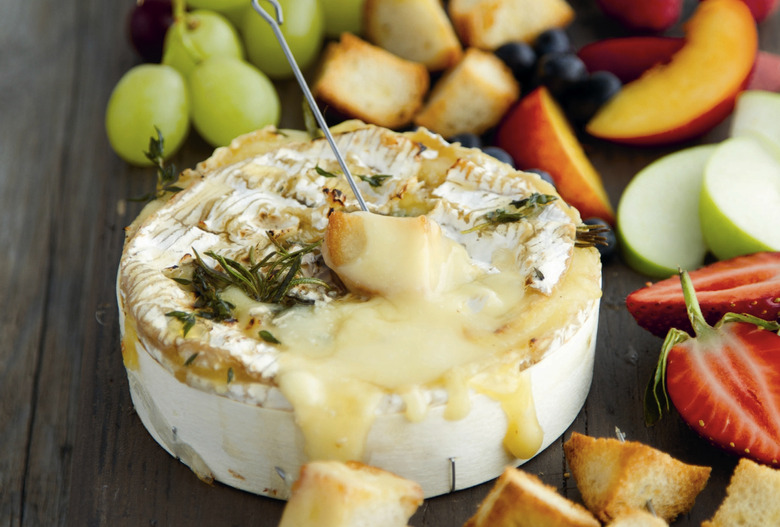 Ingredients
1 (9-ounce) boxed Camembert
sea salt and freshly ground black pepper
1 tablespoon olive oil
2 tablespoons honey
2 sprigs thyme
1 sprig rosemary
baguette
selection of fresh fruit
Directions
Take your camembert out of the fridge 30 minutes before cooking to bring the cheese up to room temperature. Preheat the oven to 400°F.
Remove the camembert from its box and unwrap. Carefully slice the top rind off the cheese. Return the camembert to its box, cut-side up, and place the box on a baking tray lined with greaseproof paper.
Sprinkle sea salt and black pepper over the cheese, lay the thyme and rosemary sprigs on top and drizzle with the olive oil and honey. Bake for 20 minutes until the cheese is melted inside.
Leave to cool slightly before serving. Dip slices of crusty baguette or pieces of fruit into the soft cheese and enjoy.
Swiss Cheese Fondue Recipe
Dijon Rosemary Lamb Fondue Recipe