The Easiest Store-Bought Shortcut For Homemade Soft Pretzels
Carey Jaman/Shutterstock
A warm, homemade soft pretzel is something special, but it's also something that takes time and effort to make from scratch. Making a soft pretzel requires dough to be made, kneading to be done, and if you're going for the real deal, even a potentially dangerous lye bath to be had. But the real deal isn't always necessary — sometimes, you just want to whip up a shareable homemade snack without all the extra effort, and still produce something delicious. So, if you're looking for a homemade soft pretzel hack that cuts out a ton of the work, so you can skip straight to the good stuff, that's where this store-bought shortcut comes in.
There's one grocery store ingredient you can easily transform into warm, salty soft pretzels: pizza dough. So whether you're hosting a game day, or you're just craving a savory bite-sized snack, do yourself a favor and add some to your shopping list.
Transform pizza dough into soft pretzels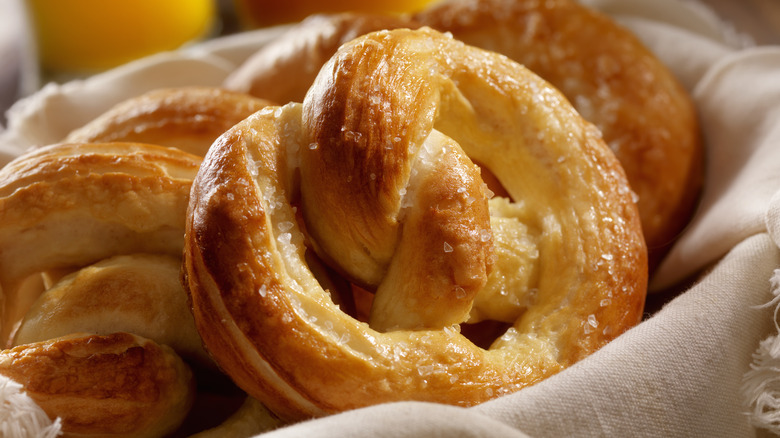 Lauripatterson/Getty Images
Using store-bought pizza dough to make your soft pretzels doesn't just cut down on time, but also on the ingredients and equipment you need. No yeast, flour, mixer, or kneading necessary — with pizza dough, you can skip all of those steps and simply start with the pretzel shaping.
The best part is that you can choose your own adventure when it comes to the pretzel shape, and they'll all taste great. If you want to keep things as simple as possible, you can use Kroger's hack and simply form your dough into small pretzel bites that you can dip and dunk in whatever condiment you prefer.
Instead of a lye bath, which is how professional bakers make pretzels, you can use a baking soda bath for an easier, safer way to cook the pizza dough. Then all that's left to do is brush your pretzels with melted butter or an egg wash, top them off with salt, and bake until they become a beautiful golden brown.
How to shape pretzels with pizza dough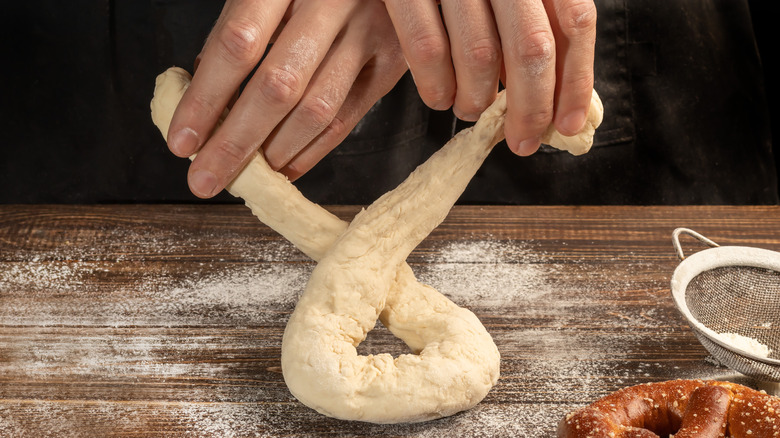 Klimatis019/Shutterstock
If you want to stick to the traditional pretzel shape — the Bavarian shape that you typically see at the mall — the best pizza dough to buy will be the kind that you can roll out into a flat sheet. Then you can slice your dough into long strips and roll each strip into a rope shape. To shape your pretzel, take the two ends of the rope and twist the dough together in the center, then fold it over to connect to the bottom semi-circle that's formed.
To make more of a circular pretzel bite , like German Pretzel Buns, choose a pizza dough that comes in a ball; that way, the dough will already be thick and will make for fluffy bite-sized pieces. Cut your pizza dough into four sections, then roll each of those into a rope shape and slice each rope into several pieces. You can play around with sizing here, so feel free to create a thick rope and cut your dough into fewer sections for larger pieces, or create a thin rope and cut it into lots of sections for smaller, bite-sized pretzels.
Whether your pretzels are large and twisted or formed into circular, square, or log-shaped bites — just make sure that all of your pretzels are similar in size so that they boil and bake evenly.