How A Pro Baker Makes Soft German Pretzels, Presented As 3 Animated Gifs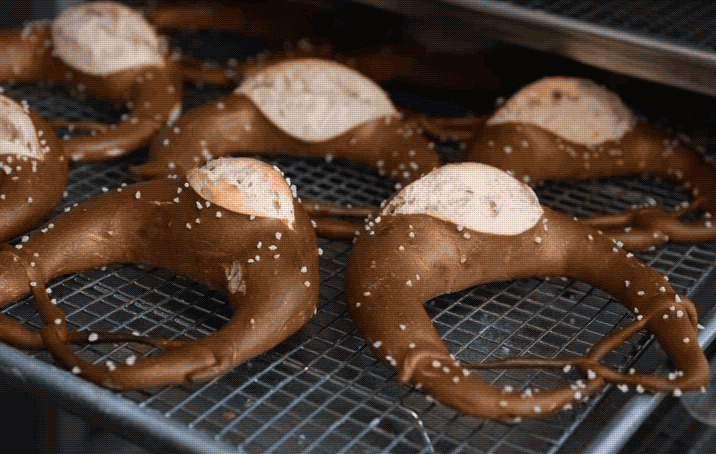 Civil engineer turned Per Se cook Peter Endriss is the man making soft pretzels in the hearth at Runner & Sto
Dinner at Runner & Stone, the Brooklyn bakery-restaurant, means sitting down to a farm-inspired feast from executive chef Chris Pizzulli. There might be nettle gnocchi strewn with pine nuts and housemade duck sausage, or maybe roasted chicken in a mushroom broth accompanied by buckwheat dumplings. "I like to keep things simple and focused, so that it's really all about the ingredients," says the chef a Brooklyn native who spent over a decade at Blue Ribbon. "When my mom went back to work she showed me how to make things like tomato sauce and rice and beans. I just kept going."
Savory inclinations aside, there is another reason to get yourself to Gowanus: the glorious breads, including delectable soft pretzels, made by Pizzulli's business partner, civil engineer-turned-Per Se cook, Peter Endriss. Among the methodical baker's masterpieces are delicate almond croissants, dense walnut bread and orange blossom water-scented brioche loaves, inspired by a visit to revered Parisian bakery, Du Pain et Des Idées. "I love the slight tang of the levain and the subtle aftertaste that the orange blossom water leaves in your mouth," he points out.
Don't expect Endriss' breads to appear in baskets beyond Runner & Stone anytime soon, however. "We just want to be a bakery and small restaurant, a place to make things by hand. A lot of good bakeries get larger and larger and as soon as they go wholesale they start mechanizing and losing quality. We want to always have good bread," he explains.
Working under Thomas Keller at Per Se forced Endriss to "grow as a baker and manager because you have to be on top of your game there. What I'm doing here is a culmination of everything I've learned at different stages."
Luckily, this translates to an ever-changing Danish lineup (the current iteration is filled with a local cheese from Jones Family Farm, in upstate New York) and dark, caraway-flecked Bolzano rye.
Soft pretzels, tawny-hued and glazed, are among the carb-laden treasures Endriss crafts at Runner & Stone. "New Yorkers, I think, are fascinated by pretzels," says Endriss. "It's part of their food culture." Yet his thoughtful version, a nod to his father's native Germany, is a far cry from the dry, over-salted monstrosities hawked by the city's street vendors. Endriss' recipe calls for white spelt flour — a solid stand-in for German dinkel — sugar, water, yeast, salt and butter. Making them is a laborious three-man job; one hand-shapes each pretzel, while the other two dip them in the lye that yields that attractive sheen before salting, scoring and baking batches. (Photos and .gifs by Mark Shaw for Food Republic).
"I grew up eating them whenever we visited my father in Germany, which was almost every year since I was two," recalls Endriss, who once did a stage at Stemke, a family-run bakery in his father's hometown of Oberndorf am Neckar. "Our routine began with going to my grandmother's house, and she would always have pretzels and butter waiting for us. Then, we would continue with a walk through the town to see what had changed since the last time."
The pretzels are often the first to sell out at Runner & Stone — too bad, because paired with a beer, lunch is served — yet there's better proof of their sublime powers than the tastes of discerning Brooklynites: When Endriss' father makes his way to New York, he confesses his son's version transcends the German classic.
Read about German cuisine on Food Republic: