Take A Waffle Iron To Tofu For The Crispest Possible Results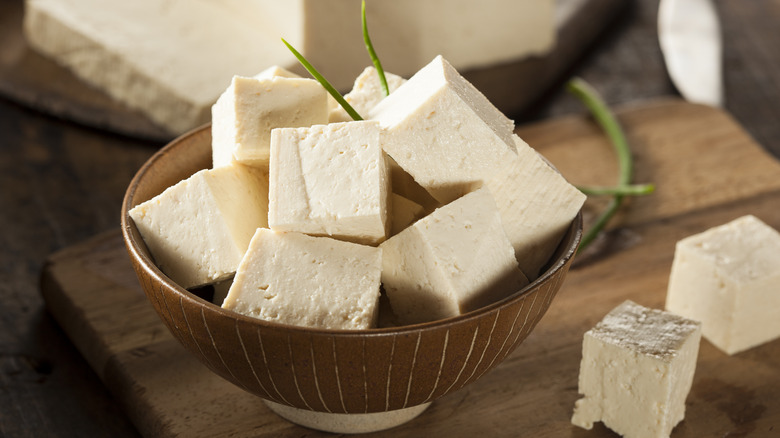 Bhofack2/Getty Images
Tofu is one of the most versatile foods around. The plant protein is available in a variety of textures, from silken to extra-firm, and can be incorporated into a plethora of meals. From sweet to savory, tofu can be cooked with teriyaki broccolette or crusted with mustard seed for a tangy bite. Although the bean curd is rather plain on its own, it's able to soak up whatever flavors you choose to cook it in. And, despite its slippery texture, tofu can actually be made quite crispy, whether you opt to grill, bake, fry, or saute it to golden perfection. However, when it comes to getting the crispiest and crunchiest of bites, you should definitely try cooking your tofu in a waffle iron.
Tofu waffles are certainly all the rage on TikTok, and it's not hard to see why. Not only is using a waffle maker one of the more unique ways to prepare tofu — it's also the easiest. Cooking the bean curds in this manner makes for a shorter prep and cooking time; not to mention, it's practically mess-free since no pans or copious amounts of oil are required. Just pop the tofu slices into the kitchen appliance, close the lid, and let the waffle iron do its thing.
Use a waffle maker for crispier tofu
Pull out your waffle iron and get ready to make the crispiest tofu you've probably ever had. When it comes to cooking tofu evenly, waffle makers work wonders because you never have to worry about flipping the tofu over in a pan. Just keep in mind that the trick for getting the bean curd pieces nice and crunchy is to use a super firm tofu, which has more of a chewy texture compared to the softer varieties like silken tofu.
You'll also want to toss the tofu pieces in a coating prior to placing them in the waffle machine, such as arrowroot powder or cornstarch, which is essential for getting a crispy exterior because it helps absorb any excess moisture from the bean curd. However, you could also coat it in a bit of nutritional yeast for more of a cheesy flavor.
The best part is that you can season the tofu any way you like, similar to how you'd prepare it to be cooked on a grill or in a pan. Slather it in a flavorsome chipotle marinade or opt for barbecue sauce and a pinch of paprika for a savory, smoky taste. Just be sure you slice the pieces of tofu relatively thin, so they get cooked through without burning.
Get creative with the toppings
When it comes to tofu waffles — maple syrup is optional. However, that certainly doesn't mean you have to enjoy this delicious tofu dish plain, straight out of the waffle iron. After all, the deep ridges of its honeycomb design make it a great vehicle for tremendous tasty toppings. You can drizzle on a bit of peanut or soy sauce for an Asian-inspired dish, or kick up the heat with a little hot sauce or spicy salsa. Or, indulge in it as you would toast by coating it in mashed avocado, hummus, or cottage cheese and sprinkle on pumpkin seeds, hemp seeds, or a bit of feta cheese for a deliciously flavorful meal.
You could also serve the waffled tofu with a variety of tasty sides like rice, quinoa, or veggies, just like you would a tofu steak. Slice it up and toss it on top of a bed of lettuce to accompany a colorful salad – the options are endless yet equally satisfying.