Teriyaki Tofu Broccolette On Wild Rice Recipe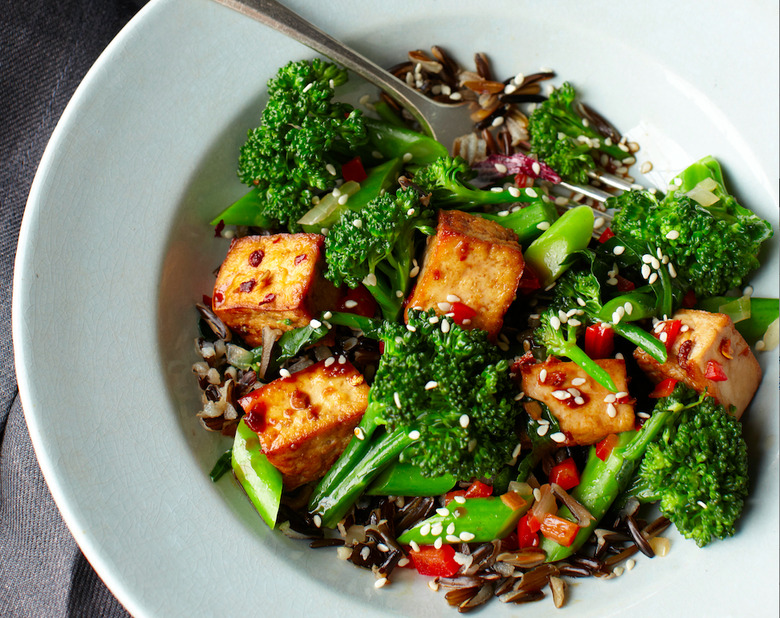 Keep it hearty with broccolette. (Photo: Sara Remington.
We may receive a commission on purchases made from links.
Earthbound Farm co-founder Myra Goodman, along with her daughter, recently released Straight From The Earth, a cookbook of wholesome vegan recipes. If you're jumping on the veggie-loading bandwagon, this is a cookbook you'll need in your kitchen arsenal. Hearty teriyaki tofu broccolette on wild rice won't leave you wanting anything but seconds.
With homemade teriyaki sauce, pan-fried tofu, sautéed red bell pepper, broccolette and hearty wild rice, this stir-fry has it all. This recipe makes extra teriyaki sauce, because I love to have this sauce in my fridge to serve over veggies or rice. Broccolette is a delicious, hearty vegetable that is packed with vitamins and minerals. A cross between broccoli and Chinese kale, it's subtly sweet and tastes almost like asparagus. It's also known as broccolini and baby broccoli. If you've never tried it before, this is a perfect introduction to the magic of broccolette.
Teriyaki Tofu Broccolette On Wild Rice Recipe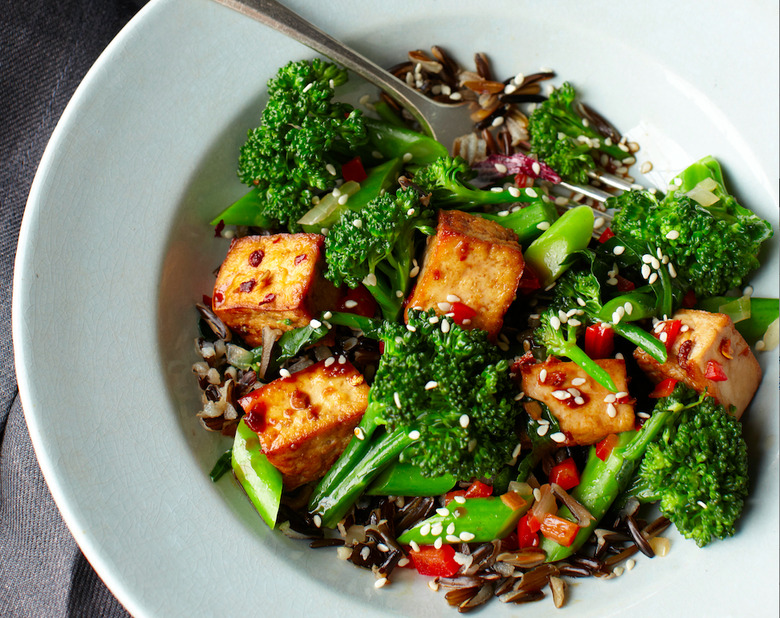 Ingredients
1 cup wild rice
1 1/2 teaspoons extra virgin olive oil
1/4 teaspoon salt
1/4 teaspoon ground cumin
3/4 cup low-sodium soy sauce
1/4 cup plus 2 tablespoons packed brown sugar
2 tablespoons unseasoned rice vinegar
1 tablespoon plus 1 teaspoon fresh ginger
1 tablespoon plus 1 teaspoon garlic
1/4 teaspoon red pepper flakes
14 ounces firm tofu
4 tablespoons high-heat oil
1 small yellow onion
1 medium red bell pepper
5 cups broccolette
sesame seeds for garnishing
Directions
Combine the rice, oil, salt and cumin with 2 cups of water in a medium saucepan. Place the pan over high heat and bring to a boil.
Reduce the heat to maintain a simmer and cook, covered, until the rice is tender and there is no water left in the pot, about 1 hour.
If the rice is cooked and there is still liquid left in the pan, drain the rice.
Combine the soy sauce, sugar, vinegar, ginger, garlic, red pepper flakes and 1/2 cup of water in a small, heavy-bottomed saucepan over medium-high heat.
Bring to the start of a boil, and then reduce the heat to low and simmer, uncovered, until the sauce thickens slightly, about 10 minutes.
Remove the pan from the heat and let the sauce sit at room temperature while you prepare the remaining ingredients.
Place the tofu cubes on a clean kitchen towel and let them drain, about 5 minutes.
Transfer the tofu to a medium mixing bowl and add 1/2 cup of the teriyaki sauce, stirring to thoroughly coat all surfaces.
Marinate the tofu at room temperature for at least 15 minutes.
Transfer it to a sieve set over a bowl and drain; reserve the marinade.
Add 2 tablespoons of the high-heat oil to a large skillet over medium-high heat.
Arrange the tofu in a single layer and cook, flipping it gently, until all sides are crispy and brown, about 5 minutes.
Transfer the tofu to the bowl with the reserved marinade. Cover with a plate and set aside at room temperature.
Return the skillet to the stove over medium-high heat.
Add the remaining 2 tbsp of the oil and cook the onion, stirring frequently, until it lightly browns, about 3 minutes.
Add the bell pepper and cook until it softens slightly, 3 to 5 minutes.
Stir in the broccolette and cook, stirring frequently, until the stems are crisp-tender, about 5 minutes.
Add the reserved tofu and its marinade to the skillet and stir to combine.
Cook until the mixture is hot, 1 to 2 minutes, adding additional teriyaki sauce to taste.
Place about 3/4 cup of wild rice on each plate.
Top with 1 1/2 cups of the vegetable mixture.
Sprinkle with sesame seeds and serve immediately.
Stir-Fried Greens With Fermented Black Beans Recipe
Grilled Tofu With Crispy Shallots Recipe
Ginger Fried Rice Recipe