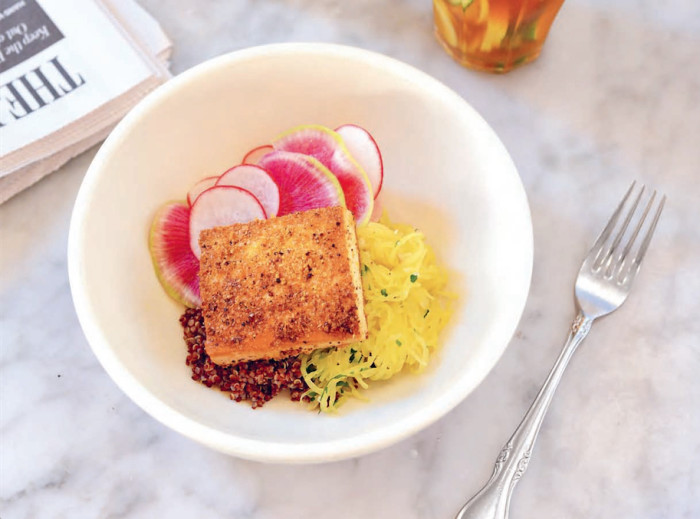 The universally appealing cuisine at NYC restaurant Jack's Wife Freda is inspired by the global Jewish comfort foods that fueled the childhoods of owners Dean and Maya Jankelowitz. Tuck into matzo ball soup, all manners of hearty egg dishes, lots of lamb, fresh vegetables and even tagine with couscous. This mustard seed-crusted tofu is a flavor-packed vegetarian delight.
This is an excellent recipe for vegetarians and carnivores alike. The mustard seed crust provides a crunchy texture to the outside of the soft tofu and the spaghetti squash offers a starchy base to this dish.
Ingredients
1

14-ounce

package extra firm tofu

1/2

cup

soy sauce

1

tablespoon

sriracha chili sauce

1

tablespoon

sesame oil

1

spaghetti squash

3 to 4

tablespoons

olive oil

kosher salt

1/4

cup

ground mustard seeds

3

garlic cloves

1/4

cup

fresh parsley leaves
Directions
For the tofu
Preheat the oven to 350°F. Drain the tofu and cut across into 4 equal pieces. In a medium bowl, mix the soy sauce, sriracha chili sauce, and sesame oil. Submerge the tofu and marinate for 1 hour, turning once or twice.

Cut the squash in half lengthwise, and scoop and discard all the seeds from the center. Arrange the squash in a baking dish, cut sides facing up. Drizzle with olive oil and sprinkle a little salt into the cavities. Fill the bottom of the dish with 1⁄2 inch of water and cover with aluminum foil. Bake for 35 to 45 minutes, or until the flesh is soft and easily pierced with a knife. Allow the squash to cool. Once cooled, use a fork to comb the flesh of the squash, which should resemble spaghetti. Set aside.

Spread the ground mustard seeds onto a plate. Remove the tofu from the marinade and press the top and bottom sides into the ground mustard seeds until coated. Set aside.

Finely mince the garlic cloves. Coarsely chop the parsley leaves. In a large sauté pan over medium heat, heat 2 tablespoons of the olive oil. Add the garlic to the pan and toast to a light golden color. Add the squash and cook for 2 to 3 minutes, stirring often. Finish by adding the parsley and season with salt. Divide the squash among 4 plates.

In a nonstick pan, add enough olive oil to coat the bottom and heat over medium-high heat. Carefully place 1 or 2 pieces of tofu in the pan at a time, being careful not to overcrowd the pan. Toast both sides of the tofu until the tofu has a golden color. If they are taking on too much color, turn the heat down. A fish spatula works best to turn the tofu. Place each piece of tofu on top of the spaghetti squash for serving.