Lipton Onion Soup Is The Nostalgic Ingredient Your Meatloaf Needs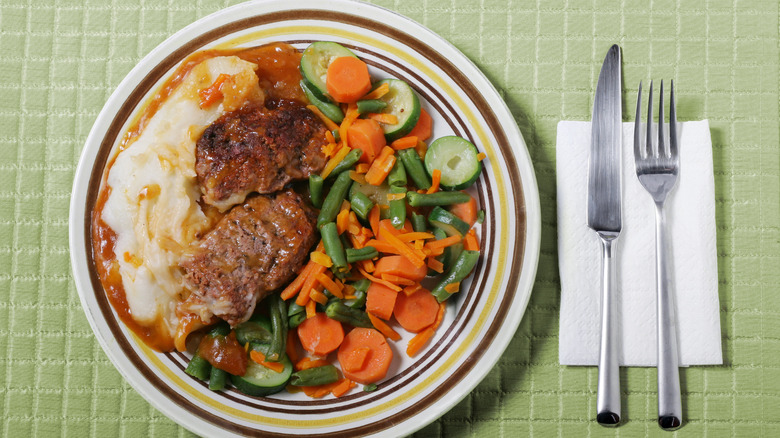 Chris Bence/Shutterstock
Lipton onion soup mix was introduced in 1952, in the aftermath of World War II, but came into the culinary spotlight in 1954. An unknown person created "California Dip," which combined a packet of onion soup mix with regular sour cream. The recipe was so popular that Lipton latched onto the hype and began a massive advertising campaign featuring the dip and other dishes that could be made using the soup mix, including meatloaf.
Lipton's meatloaf recipe was printed in publications like Good Housekeeping and instructed people to combine a package of the soup mix, water, ground beef, some ketchup, breadcrumbs, and eggs for a flavorful meatloaf. Decades later, it's still a darn good recipe and saves time by combining several measured-out spices into one packet. Upon its introduction, the mix fit in perfectly in the era of postwar convenience food. More American women were working outside the home than before, but they were still responsible for putting meals on the table for their families. To save time, they embraced canned and packaged meals and flavorings to add to their meals.
Nostalgic though the recipe may be, there's no doubt that many people today still want what the Greatest Generation wanted when it came to dinner time: tasty, home-cooked food without spending hours in the kitchen. That's precisely what onion soup mix meatloaf provides.
What is in Lipton onion soup mix?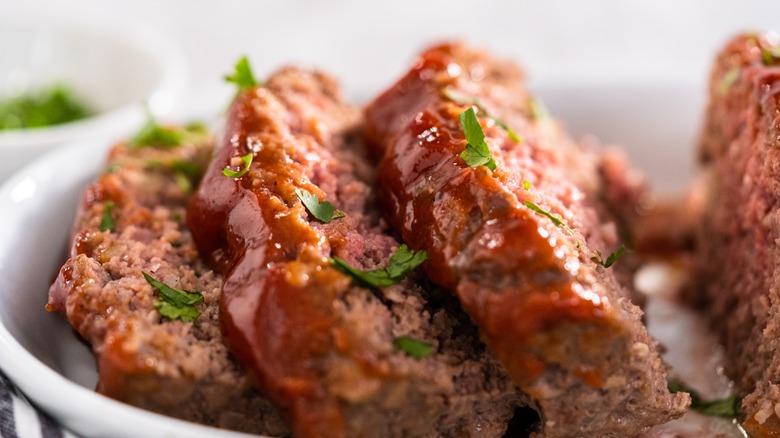 Arina P Habich/Shutterstock
Lipton onion soup mix mimics the flavor of caramelized onions, which is a perfect flavoring for meatloaf. Each packet contains dehydrated onions, salt, corn starch, onion powder, sugar, soy sauce, caramel color, sunflower oil, and other ingredients that are difficult to pronounce. Together, they make a salty, umami, oniony-flavored seasoning that is delicious in many foods beyond dips and meatloaf. 
Anyone could argue that homemade, fresh seasonings are superior. However, it's up to individuals to decide which is more important to them, with no one answer being correct or incorrect: properly caramelizing a batch of onions for an hour or pouring in a packet of soup mix.
One of the best things about meatloaf (aside from its nostalgic, comforting nature) is the number of ways you can customize the recipe. For starters, mix a packet into your ground beef or meatloaf mix. Once combined, make a tiny patty and fry it in a pan until it's cooked, then try it. This will give you an idea of how the base will taste. From there, you can add any additional flavorings like chopped fresh herbs, bacon, sauces like tomato jam, ketchup, barbecue sauce, or sauteed vegetables, if you like.
Other ways to cook with Lipton onion soup mix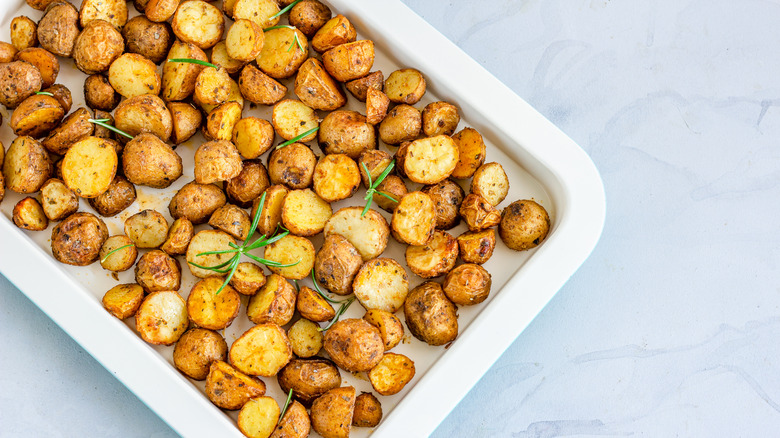 Ravsky/Getty Images
If you end up loving the way a classic meatloaf tastes when flavored with onion soup mix, you may wonder what else could benefit from a sprinkle of Lipton's most famous pre-packaged seasoning. The short answer is "yes." 
Lipton's website lists dozens of recipes you can make with the famous mix. For example, use it to season Salisbury steaks and gravies, or sprinkle it over oil-coated potatoes before you roast them. Rub a packet of mix all over a pot roast, mix it into hamburger meat for great burgers, and use it to season stuffing, stroganoff, fried chicken and pork, or anything that would benefit from some umami boldness. 
This soup mix also imparts an incredible flavor to dishes like slow-cooked brisket, and although it's often ironically skipped over, the soup mix makes a fantastic French onion soup. When mixed with hot water, you've got a delicious onion soup base that can be interpreted in several different ways, aside from the classic in which you'd top the soup with croutons and bubbly shredded cheese. It's no wonder the mix has been a favorite for over 70 years.