Instant Onion Soup Mix Is The One Ingredient Your Brisket Is Missing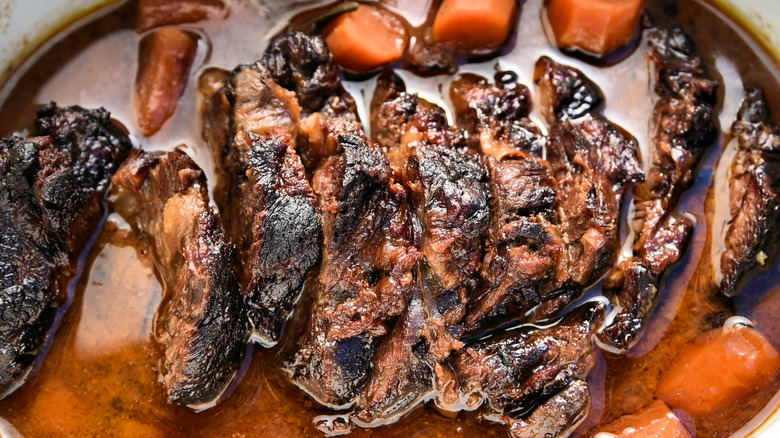 Lenazap/Getty Images
For a large family gathering, there is nothing quite like a braised brisket that can satisfy both stomachs and souls. Cooked for hours in the oven, your home will be filled with the savory scent of meat, vegetables, and spices as the enormous cut of beef breaks down into tender morsels — perfectly seasoned bites. Sliced and served with soft vegetables and mashed potatoes, the braised brisket is a lovely centerpiece that can feed a village.
However, do you know that there is a secret ingredient that can elevate your brisket to flavorful new heights? Found in the soup aisle of your local supermarket, these packets of powdered onion soup are a flavor bomb that can imbue any meat with tons of umami. When rubbed onto a brisket before roasting and braising it with other vegetables and liquids, it is a booster that brings your brisket from bland to delicious.
Powdered soup is more seasoning than soup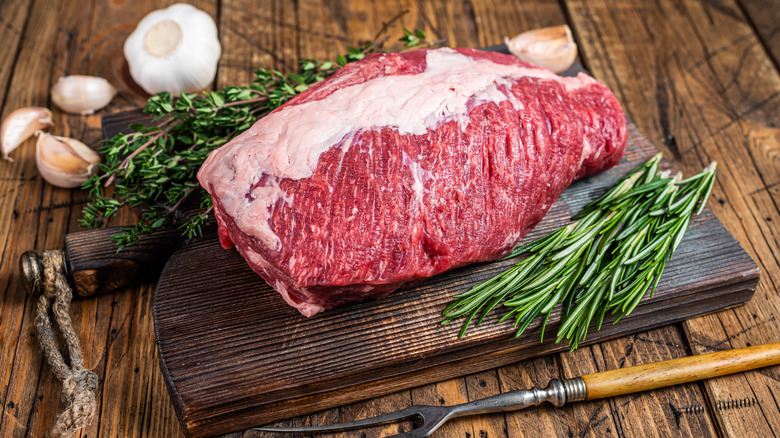 Mironov Vladimir/Shutterstock
The precursor to soup packets, "portable soup" (as in, dehydrated meat broth and mixed vegetables) has likely been around since the 17th century, documented in "The Receipt Book of Mrs. Ann Blencowe," published in 1694. In 1952, Lipton, a company famous for their tea bags, went a step further and began producing an onion soup mix, which somehow made its way into homes not as a way to make a quick soup, but as a seasoning for a variety of meat dishes (and even as a simple onion dip). Consisting of multiple elements including dehydrated onions, salt, onion powder, sugar, yeast extract, and MSG, powdered onion soup mix is used as a seasoning for burgers, meatloaves, and most importantly, brisket.
To take advantage of the flavors of powdered onion soup when you make brisket, you will need carrots, onions, garlic, celery, bay leaves, parsley, wine, Worcestershire sauce, vegetable oil, and powdered onion soup mix. Sprinkle and rub the soup mix on both sides of the brisket, making sure you cover it evenly. Chop up all the vegetables into bite-sized pieces, tossed with generous amounts of salt and pepper. Place half the vegetables into a large roasting pan, and lay the brisket on top. Cover the brisket with the rest of the vegetables and pour in all the liquids. Roast it in a high-temperature oven covered before turning the heat down and let the brisket braise in the roasting pan for several hours.
Use powdered soup to make quick meals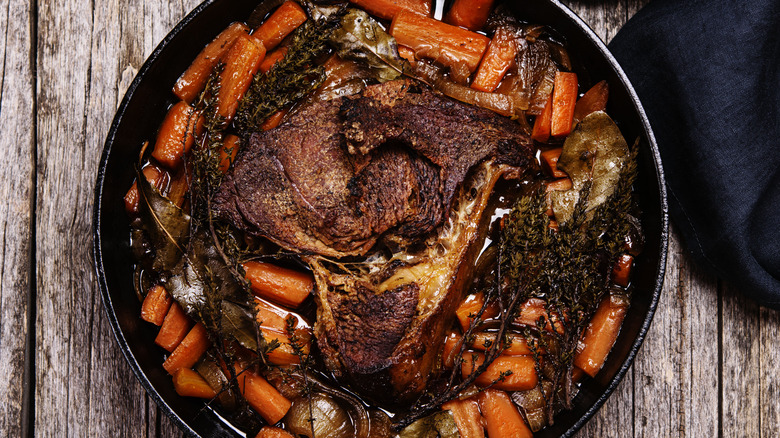 Trendy_rowdy/Getty Images
While brisket is undoubtedly one of the best uses for powdered onion soup, you can also use these instant foods to cut down cooking time for other dishes without sacrificing flavor. For example, the soup mix can be dissolved in water or broth to make a base for one-pot meals made in a slow cooker, such as a quick beef stroganoff. Instead of slow-cooking beef and onions on the stove, simply mix together the canned cream of mushroom soup, water, heavy cream, and the powdered mix in a slow cooker before placing pieces of beef in to stew slowly for hours. Shortly before finishing, add sliced onions and mushrooms and let the vegetables cook through before serving with noodles.
Another way to use powdered soup is to use it as a base for a flavorful soup without spending hours making a stock base. Simply dissolve packets of soup base into water before adding vegetables and meats of your choice. However, you must remember to taste everything before adding additional seasoning since soup mixes can be pretty salty as-is.