The Canned Ingredient You Should Be Adding To Cozy Fall Pastas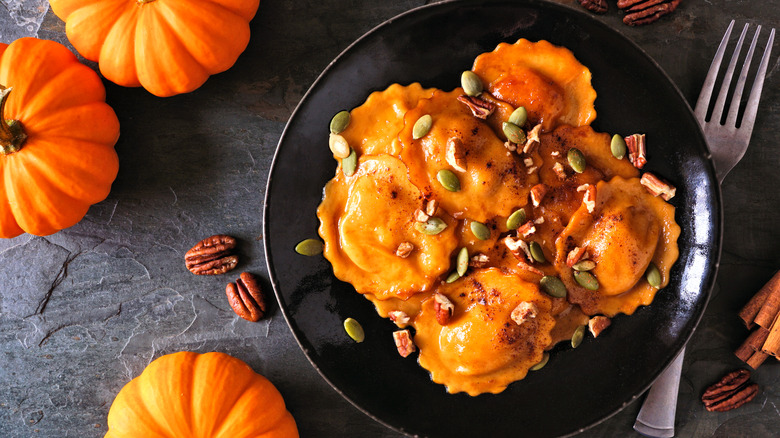 Jenifoto/Getty Images
Nothing warms the soul like a hearty pasta dish, especially in the fall. And, with so many different seasonal produce and autumnal flavors available, you can indulge in this sweater-weather food in a variety of different ways. Slather ravioli in a creamy butternut squash sauce or whip up a simple spaghetti with Brussels sprouts and pancetta cream. Pumpkin is another undeniable star of the fall season, and it pairs wonderfully with a myriad of savory noodle recipes. However, if you really want to elevate your seasonal pasta flavors, you should definitely add canned pumpkin puree to the mix.
For starters, it's much easier to incorporate mashed pumpkin from a can than it is to puree a fresh pumpkin from scratch. You don't have to struggle with cutting the large orange fruit in half, removing its seeds, roasting it, and then blending it up. Just grab a can opener and you're ready to go. Moreover, in addition to a delicious earthy flavor and seasonal orange coloring, store-bought pumpkin puree can add a creamy texture to your dish for a palate-pleasing, fall-inspired pasta that's so darn gourd.
Use canned pumpkin puree for creamier sauce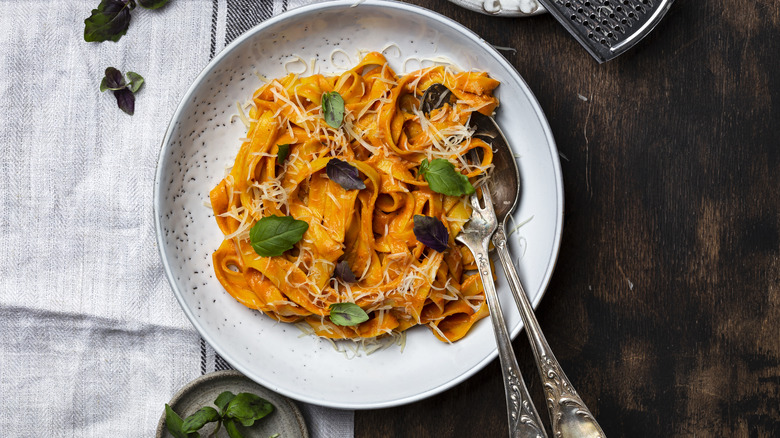 Pronina Marina/Getty Images
For toothsome fall flavors with every bite, ditch the pasta sauce for canned pumpkin puree. Since regular canned pumpkin puree is very thick, it adds a notable creaminess to any pasta sauce as well as more of an intense pumpkin taste compared to the surprisingly subtle flavors of fresh pumpkin. The canned varieties also tend to be darker in color, which lends an autumnal hue to any noodle recipe. 
It's important to note that canned pumpkin purees can vary in terms of sweetness, thickness, and overall coloring. For example, while regular varieties like Libby's 100% Pure Pumpkin tend to be thicker and have a deeper orange hue, organic options like Farmer's Market Organic Pumpkin Puree or Trader Joe's Organic Pumpkin are typically more watery with a lighter orange coloring. So, if the thickness is what you're after, your best bet is to go with non-organic. Otherwise, you'll have to strain the excess liquid out using a cheesecloth. 
Whichever canned pumpkin puree you prefer, the pasta-bilities are endless. You can use it in place of alfredo sauce for a delightfully sweet and savory meal or make pumpkin gnocchi with oregano butter. You could even make your own two-ingredient pasta noodles using only pumpkin puree and flour.
Elevate other fall dishes with pumpkin puree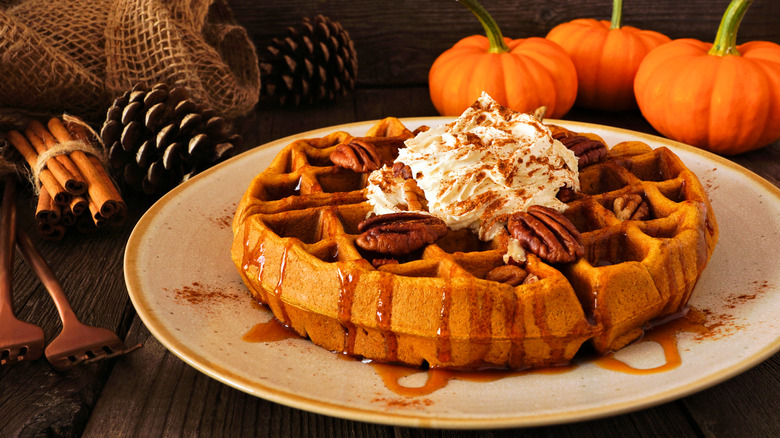 JeniFoto/Shutterstock
Pumpkin puree isn't just good for pies — or pasta, for that matter. You can incorporate canned pumpkin into a variety of other sweet and savory recipes for standout fall flavors. Use the store-bought puree to make the coziest batch of chili or soup, and be sure to sprinkle on a handful of roasted pumpkin seeds for added seasonal crunch. Serve the warm bowls alongside a homemade slice of pumpkin bread, or use the puree to upgrade boxed cornbread for added moisture and better taste.
Combine pumpkin puree into a plethora of breakfast staples like smoothies, oatmeal, and muffins, or even use it as a spread for toast. Spice up your morning meals with a scrumptious spiced pumpkin waffles recipe, which calls for pumpkin puree and other enticing autumnal ingredients like ground nutmeg, cinnamon, and cloves. 
You could even elevate your morning cup of joe with homemade pumpkin coffee creamer, which only requires heavy cream (or plant-based milk like cashew or almond milk for a vegan option), maple syrup, pumpkin pie spice, and cinnamon sticks in addition to the puree. Trust us, your PSLs never tasted this good.