Canned Soup Hacks That Will Enhance The Flavor Of Dishes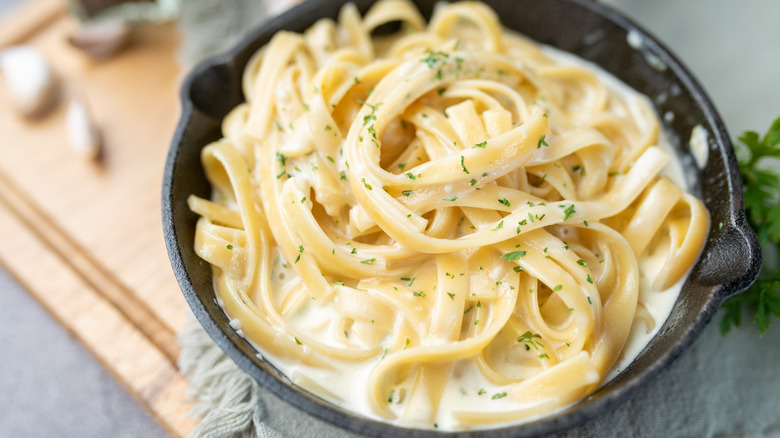 Tanya Consaul Photography/Shutterstock
Famed artist Andy Warhol was onto something when he chose to celebrate a simple can of soup in some of his most beloved works. He knew that canned soup was iconic. He knew it was affordable, widely available, and loved by millions. And — as a soup lover himself — he also knew it was incredibly tasty. But what he may not have known (and what his art never really hints at) is that canned soup is also versatile, not just as a soup but also as a secret ingredient that can make almost any dish it touches better.
Canned soup adds layers of flavor, making meals taste like something that's been slowly simmering on the stove or roasting in the oven for hours. That's why canned soup is a convenience, great for adding thickness, seasoning, body, and flavor to everything from appetizers and dips to sides — and of course, decadent entrees of all types.
Whether it's a creamy mushroom soup, clam chowder, cream of chicken, or classic tomato, canned soup really can enhance the flavor of almost any dish. Here are some of our favorite soup hacks that will punch up the flavor of all your dishes. 
Make mac and cheese even creamier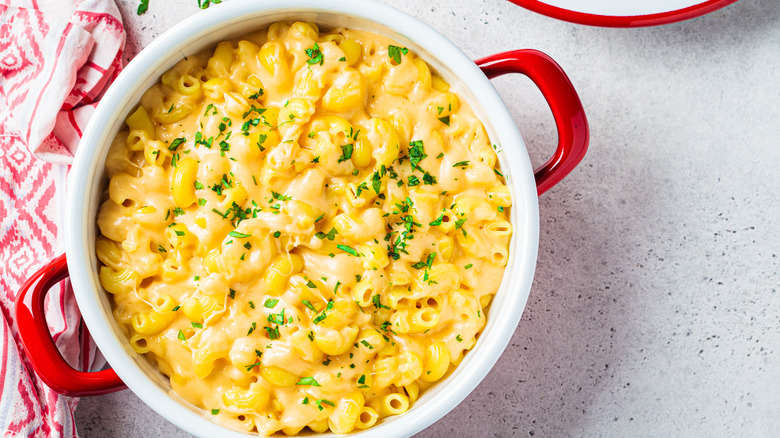 Vaaseenaa/Getty Images
Whether you make your mac and cheese from scratch following a favorite family recipe, or you simply pop open a box and follow the printed directions, it's time to consider adding canned soup to your mac and cheese game. The benchmark of any good plate of mac and cheese is its ooey, gooey creaminess. And sometimes cheese and cream alone won't get you there. 
When you really want that indulgent and satisfying richness that makes mac and cheese such a classic comfort food, canned soup can be just what your recipe is lacking. You can use cream of mushroom soup for a umami-packed plate of mac, or cream of chicken for a more savory and fulfilling mac and cheese that eats like a main course. Or, for a full on cheese explosion, consider a can of your favorite cheddar cheese soup.
Whichever soup you pick, adding it to your recipe couldn't be easier. Just prepare your macaroni like normal, following the package directions. Then, while it cooks, combine your "cheese sauce" ingredients in a saucepan over low heat. Recipes will vary but likely include some combination of milk, shredded cheese, and spices — or perhaps a pouch of liquid cheese or powdered cheese. Once you have these standard ingredients in your saucepan, add anywhere from 1/2 to 1 full can of the canned soup of your choice. Stir everything until smooth and creamy, then mix in your cooked, drained macaroni and serve.
Turn scrambled eggs into a decadent treat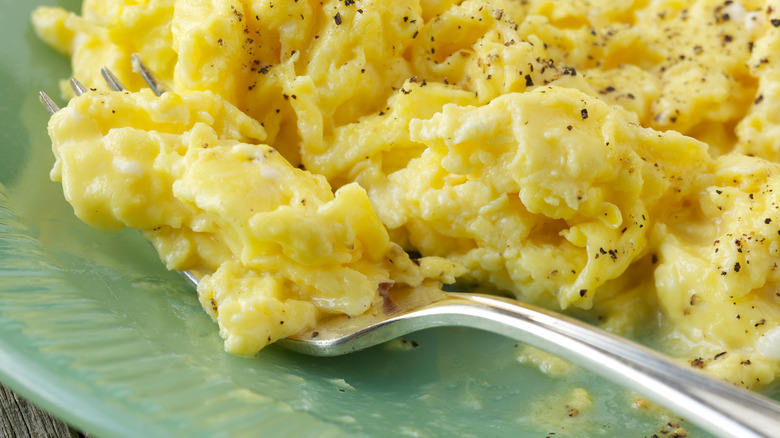 Billnoll/Getty Images
There's nothing like starting your day with a plate of warm, fluffy scrambled eggs. You can amp up their flavor with additions like fresh herbs, smoked salmon, sun-dried tomatoes, feta, and spinach. But if you want scrambled eggs with layers of added flavor, wonderful creamy moisture, and a unique twist over the eggs you normally make, consider adding some canned soup to your recipe.
Cream of asparagus soup is a great option for bringing the nutty, grassy taste of asparagus into your eggs. Simply whisk 1/4 cup of the soup with four eggs and then scramble like normal, stirring regularly until the eggs are fluffy and golden and have just begun to set. Pair the eggs with some freshly steamed asparagus if it's in season. (If not, frozen spears are nearly as delicious.)
Tomato basil soup can be another exciting option to add wonderful flavor and variety to scrambled eggs. Again, just whisk 1/4 cup of the soup with four eggs and cook as normal. Or consider cream of spinach or even cream of potato for eggs that will taste like a breakfast hash.
Add ooey gooey goodness to a stir-fry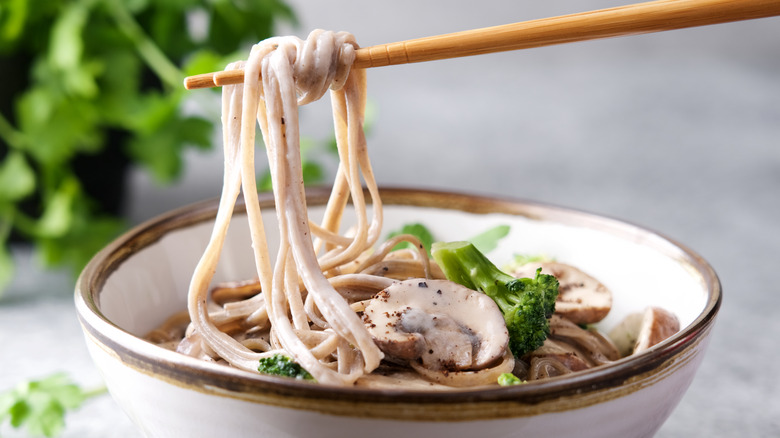 Anna Puzatykh/Shutterstock
A good stir-fry doesn't always have to be drowning in soy sauce, fish sauce, or a tangy sweet Thai or sesame teriyaki. You can also make all sorts of amazing cream-based stir-fries, and canned soup is the ideal ingredient to get any of these recipes started. Canned soup lets you infuse your stir-fry with a variety of rich and diverse tastes without the need for a ton of extra seasoning. It makes a wonderful base for your stir-fry sauce and can even act as a thickener as your stir-fry cooks, ensuring every bite of your meal is covered with rich, velvety goodness.
For a stir-fry containing beef, chicken or tofu plus assorted stir-fry vegetables like bell peppers, broccoli, and snap peas, consider using a can of cream of mushroom soup as your secret ingredient. First stir-fry your protein until browned and almost ready to serve. Remove it from the wok, set aside, and next cook your veggies. Then, just as they're getting close to done, add your protein back into the wok. And then add anywhere from 1/2 to 1 full can of soup plus a splash of soy sauce. Keep stirring everything until it's well coated and heated through and then serve either alone or over cooked rice or noodles.
You can follow the same steps and use other soups too, including canned Hot & Sour soup, canned Red Curry or even canned Thai Curry. Yum!
Transform good Alfredo sauce to spectacular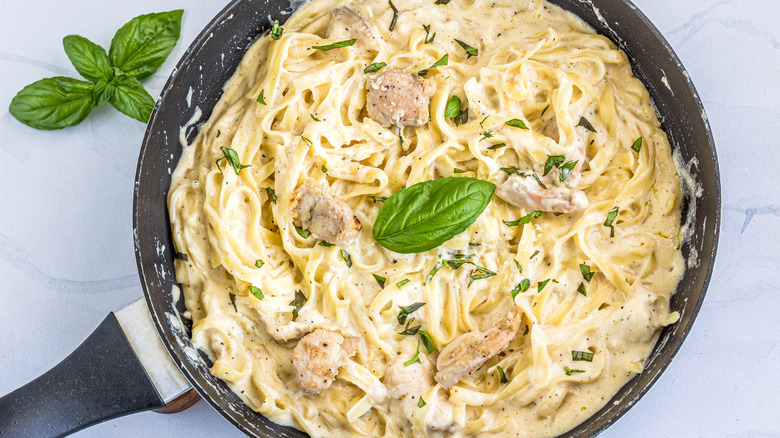 Ravsky/Getty Images
Pasta and Alfredo sauce is a legendary pairing. But sometimes even the best Alfredo sauce — made with a mixture of butter, heavy cream, garlic, and grated Parmesan cheese — can seem a little bland. When that happens and your Alfredo needs a kick of added flavor, or you just want to try something new or different, canned soup can be just what you've been looking for.
Cream of broccoli soup, cream of tomato, cream of mushroom, and cream of spinach are all great options for giving just the right added "umph" of flavor to any premade or homemade Alfredo sauce. Simply stir in as little or as much of the soup as you'd like to your Alfredo sauce. Add it as you heat the sauce but before you combine it with your pasta. Stir the soup and Alfredo until the two are well combined and heated through and then add your cooked pasta, tossing it until well coated. Top with some fresh herbs and a some freshly ground pepper or cheese and serve while still hot. Your family or friends will love it — and have no idea they're eating soup from a can!
Add layers of creamy flavor to stroganoff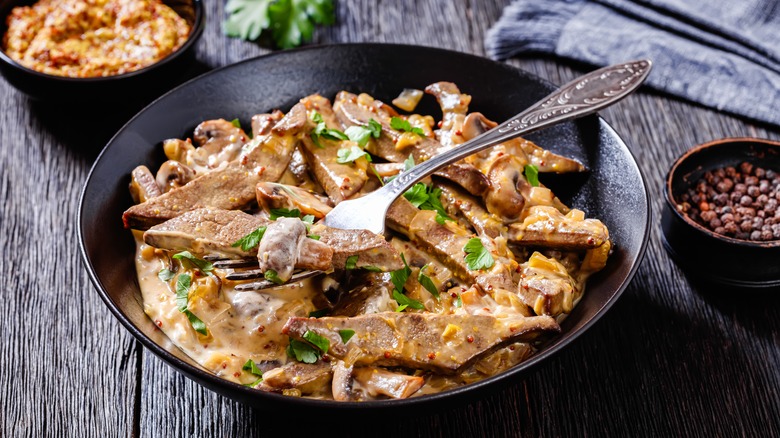 from my point of view/Shutterstock
Whether you enjoy it over a bed of egg noodles, mashed potatoes, tender rice or on its own with just meat and savory sauce, stroganoff is another wonderful classic comfort food made even better with the addition of canned soup! Named after the wealthy Russian Stroganov family several hundred years ago, the dish typically includes sautéed beef cubes bathed in a mustard-and–sour cream sauce. But if you're short on time or just looking for ways to add extra flavor and creaminess to the dish, your recipe should also include some premade soup!
Cream of mushroom is a good option for any stroganoff that includes sautéed mushrooms. The soup adds even more savory, umami flavor to the dish and amplifies the natural punch the mushrooms are already providing. You could also use a cream of chicken soup to increase the meatiness and savoriness of a chicken or beef-based stroganoff. And for plant-based stroganoffs featuring tofu or other meat substitutes, consider cream of spinach or cream of asparagus soup to pack even more garden vegetable flavor into your creamy sauce.
Whatever recipe you use, and whatever soup you decide to feature, just add anywhere from 1/2 to 1 full can of the soup to your cream sauce mixture as you prepare it. Then add your already cooked meat into the sauce mixture, heat until warm, and serve!
Amp up smothered burritos or enchiladas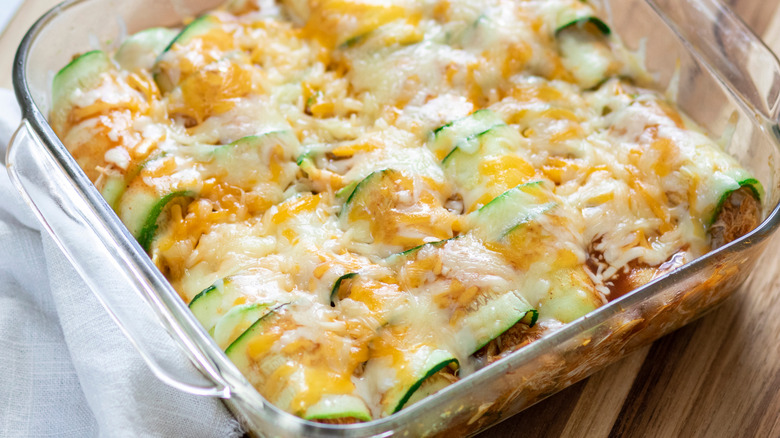 Allison McAdams/Shutterstock
In addition to providing a great sauce for stroganoffs and stir-fries, canned soups are also the ideal base for a sauce to serve over smothered burritos or enchiladas. "Smothering" — placing the burrito or enchilada in a baking dish and then pouring a sauce over it and letting it roast in the oven for a bit — is a great way to make these favorites even more tender, decadent, and crave worthy. And it works with any type of burrito or enchilada you can imagine.
You can use pre-made frozen burritos from the market, homemade burritos or enchiladas, or even plant-based roast vegetable burritos or low carb burritos made with slices of zucchini instead of a standard flour tortilla shell. Whatever the case, simply line your baking dish with all that good stuff you want to smother. Then, spoon out an entire can of creamed soup on top of the burritos or enchiladas, distributing it evenly. Cream of mushroom and cream of chicken are both good choices. Next, pour on some salsa or enchilada sauce and then load on as little or as much grated cheese as you'd like. Bake in a preheated oven at 350 degrees Fahrenheit until the cheese has melted and started to turn golden brown and the burritos or enchiladas are cooked through and moist and tender.
Make stuffed peppers that melt in your mouth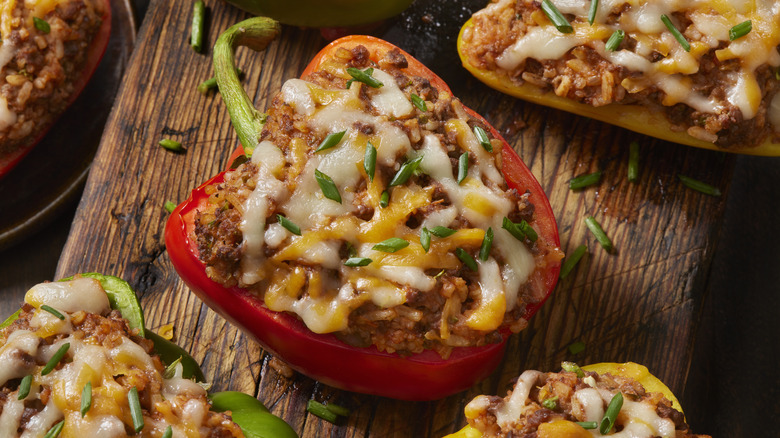 Lauripatterson/Getty Images
Stuffed peppers are a wonderful way to warm your bones in the cool fall and winter months. And this simple, traditional dish is only made better with the addition of a good canned soup — in this case, classic tomato.
To make tomato soup stuffed peppers, first preheat your oven to 375 degrees Fahrenheit. As it warms, prepare four bell peppers by cutting off the tops, removing their seeds, and then slicing them in half. Next, brown 1 pound of ground beef, pork, or turkey in a skillet. As the meat cooks, add as little or as much chopped onion and garlic as you'd like. Finally, when the meat is cooked through, stir in a cup of cooked rice and season the mixture with fresh herbs and salt and pepper to taste. Then, for the most fun step: Fill each bell pepper with the meat and rice mixture. 
At the same time (in a separate bowl) mix one can of tomato soup with a bit of water to slightly thin, and pour it over your stuffed peppers. Sprinkle a bit of grated cheese on top of each pepper and then cover the entire dish with aluminum foil. Bake for approximately 45 to 50 minutes or until the peppers are tender and the cheese is nicely melted and bubbly. If you prefer a creamier sauce, you can also use canned cream of broccoli or cream of mushroom soup in place of the tomato soup.
Turn meatloaf into a savory indulgence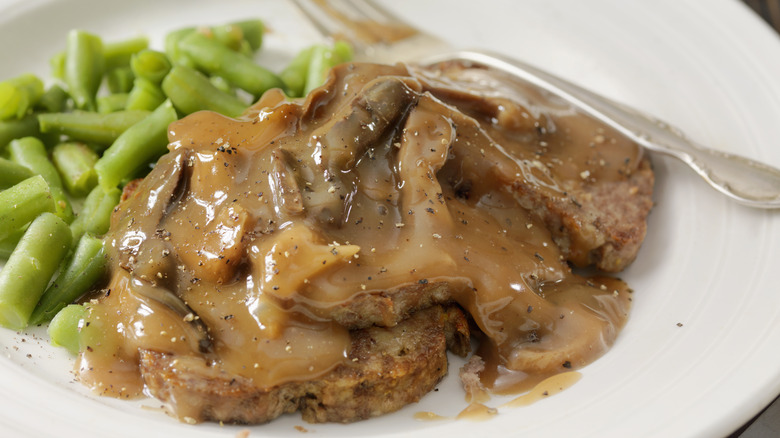 Lauripatterson/Getty Images
One of the best things about meatloaf is its topping, like when a meatloaf comes out of the oven drenched in a decadent brown or cream-based gravy. In either case, canned soup is the ideal ingredient to use to put together this delicious dish.
Everybody has a favorite meatloaf recipe — a mixture of eggs, ground beef cracker crumbs or bread crumbs, and spices. Stick with the one you love and make it as directed until it gets to any final steps involving toppings. Press the ground meatloaf mixture into your loaf pan and shape as you would normally. Then, simply pour the canned soup over the top of the meat. You can use French onion soup, cream of mushroom, cream of chicken, or even tomato. If the soup is especially thick coming out of the can, add water as needed to dilute the soup so that it pours evenly over the top of the entire meatloaf. 
Finally, bake the meatloaf as normal in your original recipe. Depending on the size and thickness of your loaf, you may need to add five to 10 minutes of cooking time. If you're in doubt, grab a meat thermometer. You'll know it's done when the center of the loaf has reached an internal temp of at least 160 degrees Fahrenheit.
Whip up the most velvety risotto imaginable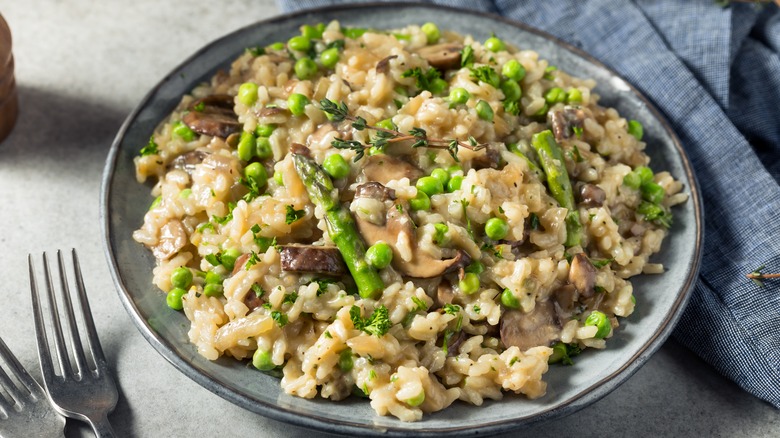 Brent Hofacker/Shutterstock
Homemade risotto is the kiss of death on almost any cooking show. It generally leads to a contestant's elimination. But maybe that's because those chef-testants aren't using canned soup as part of their risotto recipe!
For instance, you can make an incredible chicken risotto using cream of chicken soup. To get started, sauté 1/2 cup of chopped onions and two cloves of minced garlic until tender and translucent. Next, add 1 cup of Arborio rice to the pan. Quickly follow that rice with 1 full can of cream of chicken soup, stirring continuously to work the soup into the rice and onion mixture. 
As the rice absorbs the soup, begin adding the chicken broth, 1/2 cup at a time, and continue to stir. The total amount of broth needed will vary, but you will likely need around three cups. Finally, when you've added all the broth necessary to the rice, stir in 1 cup of chopped cooked chicken plus herbs like fresh thyme to taste. Continue to cook and stir the risotto until it appears creamy, and the rice is al dente. (This will likely take about 15 to 20 minutes.)  Once the risotto reaches your desired consistency, remove it from the stove, garnish with grated Parmesan cheese, and serve.
In addition to cream of chicken, you might also use cream of asparagus, broccoli, spinach, potato, or even tomato basil soup. All are excellent options for a mouthwatering DIY risotto.
Make pizza more crave worthy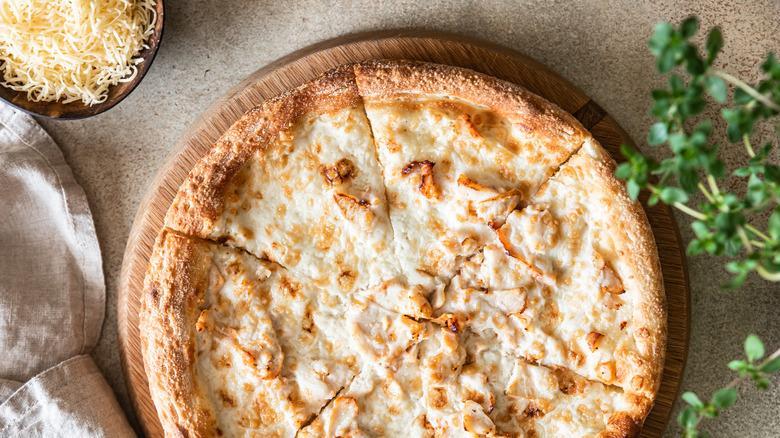 Maslova Valentina/Shutterstock
Hold on ... we know what you're thinking: Soup on pizza? But it's true. Canned soup is an ideal way to save time while also adding depth and complexity to your pizza sauce — all without the need for extensive extra seasoning. And of course, soups also add moisture and creaminess to pizza, preventing it from becoming too dry as it bakes.
To use any canned soup on homemade pizza, roll out or prepare your premade pizza dough crust. Then, spread one entire can of soup on top of that crust, just like you would marinara or any other "traditional" pizza sauce. With your soup in place, you can then add your cheese, meats, and other toppings as normal and bake to crisp and golden perfection.
For a traditional pie, consider pairing condensed cream of tomato soup with grated mozzarella, sliced bell peppers, and cooked Italian sausage. Or, for a rich and umami-packed pizza, combine cream of mushroom soup with sliced mushrooms, caramelized onions, Parmesan, and crumbled bacon. You can even make an exotic clam chowder pizza. All you need is one can of canned clam chowder, one can of drained canned clams, sautéed onions and bell peppers, and some shredded cheddar cheese. Delicious!
Make stuffing even more festive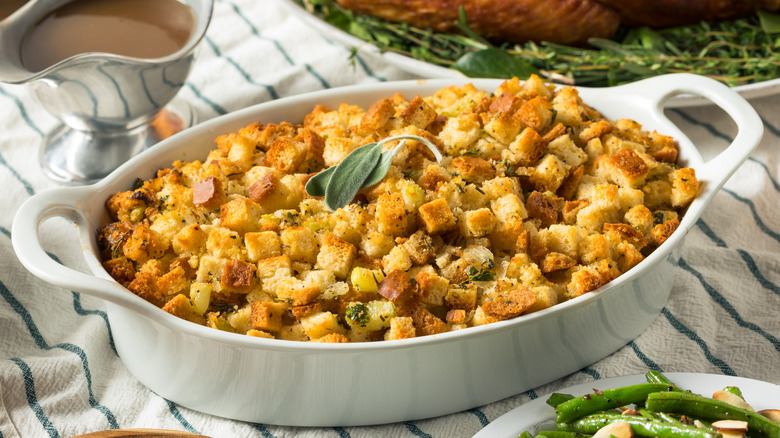 Bhofack2/Getty Images
Holiday stuffings are another wonderful place to put canned soups to use. And if you aren't cooking your stuffing in the bird, or you worry about your stuffing turning out too dry, they're an especially good option, helping to lock in more moisture and flavor into that luscious mix of bread crumbs and spices.
The soup you choose to use in your stuffing should be limited only by your imagination — cream of mushroom and cream of chicken are superb choices. But you could also use cheddar cheese soup, butternut squash soup, wild mushroom soup, pumpkin soup, sweet potato soup, or even Thai coconut soup.
To add canned soup to any stuffing, simply follow your favorite standard recipe — we like Spicy Sourdough but go with whatever you know your family will enjoy. When it gets to the liquid portion of the recipe, typically you'll want to use some type of chicken stock or vegetable stock — that's when you'll make your substitution. Cut that amount of liquid in half and add your can of soup instead. Then, if the stuffing still seems dry or you're having problems working an especially thick and condensed soup into the stuffing mixture, gradually add back in a bit of that liquid you cut from the recipe. Continue adding it in little by little as needed until you reach your desired consistency. Then bake the stuffing mixture according to your original recipe.
This spaghetti will have everyone wanting more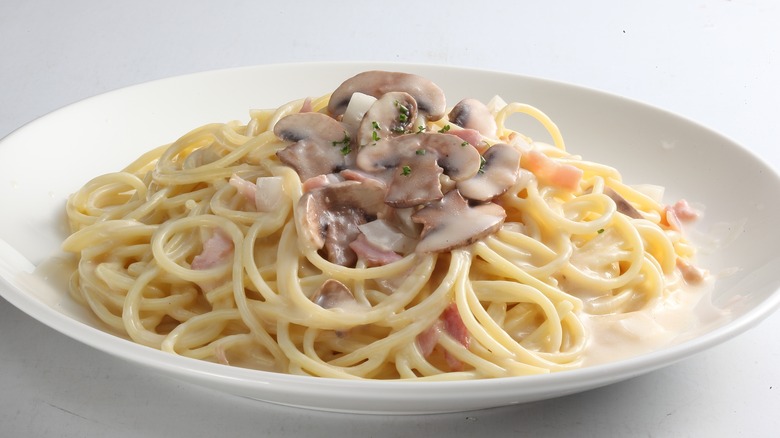 tigerstrong 1/Shutterstock
Now, we come to everyone's favorite Italian meal — spaghetti! When making spaghetti in a hurry — when you don't have 12 hours to simmer "gravy" on the stove like Nonna did when you were a kid, for example — your first instinct might be to reach for a bottle of premade sauce. But did you know that canned soups are just as quick and tasty, and a whole lot more versatile.
To make a classic marinara, simply combine one can of condensed tomato soup with (between) a half and one full can of diced tomatoes. Pour this mixture over browned ground beef or turkey, add onions, garlic, and other Italian seasonings to taste, and voila ... hearty, thick and rich pasta sauce that's (potentially) better than anything you'd get from a jar.
You can follow a similar method for a cream-based pasta sauce. Just brown or sauté some ground meat, fresh mushrooms, onions, garlic, and stir in a can of cream of mushroom soup along with herbs like thyme or basil. Let the mixture simmer until heated through and then combine with or pour over cooked spaghetti.
And if you like seafood, you can even use canned clam chowder to make spaghetti and clams. Simply combine one can of clam chowder with 1/2 cup of heavy cream, some grated Parmesan cheese, and one can of minced clams (if you want even more clam flavor). Heat until warm and then serve over cooked spaghetti. Bellissimo!
Transform ramen into a gourmet meal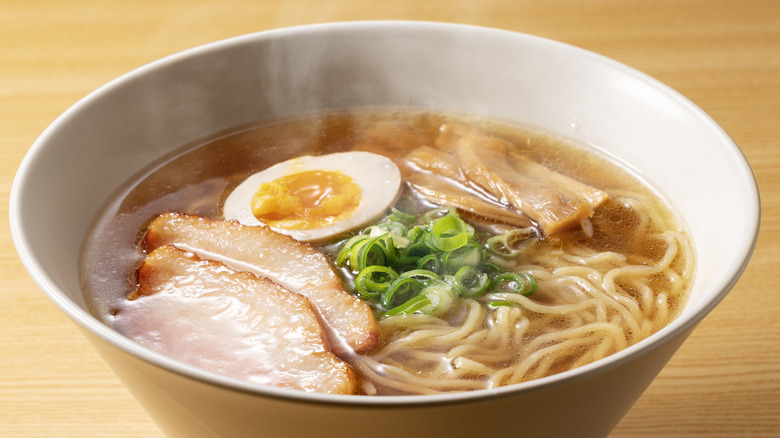 Masa44/Getty Images
Whether you love the uber affordable packages of dried ramen that college students thrive on, or you prefer a more refined and elevated bowl of ramen paired with savory meats, veggies, and a hard-boiled egg, remember this: Every bowl of ramen is made better with the addition of canned soup.
Making chicken ramen? Combine canned chicken noodle soup or cream of chicken soup with the broth base from your packet of ramen noodles and heat until warm. Then add your noodles and let simmer until soft. For added flavor, you can even toss in herbs like star anise, lemongrass, or makrut lime leaves. If you're going all out, put in some slices of cooked rotisserie chicken to round out this incredible DIY meal.
Don't limit your creativity to basic "meat-based" ramen dishes. A can of tomato soup and a bit of cream of coconut milk make an excellent base for a decadent tomato basil ramen. You can even add fresh basil leaves, a pinch of red pepper flakes, and cooked shrimp or tofu.
Or make a miso corn chowder ramen. Simply combine canned corn chowder, miso broth or miso paste, and your favorite ramen noodles. Round out the dish with a few umami-packed strips of nori and freshly toasted sesame seeds. With meals this good — just a can of soup and a few other favorite ingredients away — who needs takeout?