Vanilla Pudding Is Key Ingredient To A Scoop-Able Pumpkin Pie Dip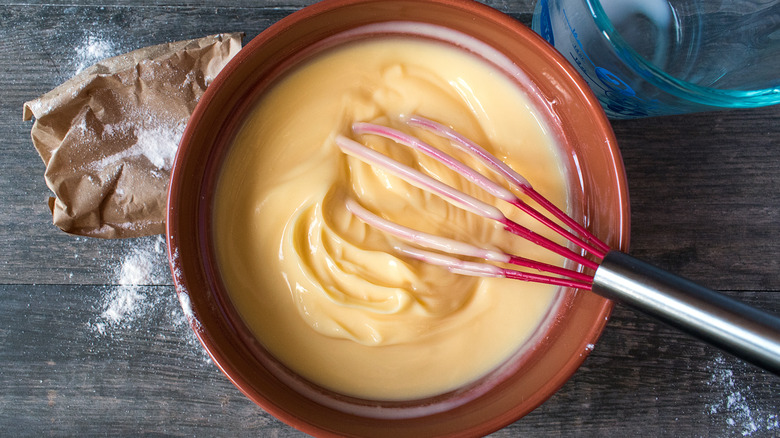 Lynne Ann Mitchell/Shutterstock
Cool weather and the changing colors of the leaves mean it is time for all things pumpkin. The sweet and earthy flavor is great in so many sweet and savory applications, but desserts are where pumpkin can really shine. Of course, there are pies, quick breads, cupcakes, and cookies, but all those dishes require a little patience while they bake away. A scoop-able pumpkin pie dip gives you all those comforting autumnal flavors without the need to turn on the oven.
The secret ingredient to making this dippable dessert is instant vanilla pudding mix. It adds sweetness and flavor plus helps to create a super creamy texture — in minutes. Simply combine vanilla pudding mix with pumpkin puree and non-dairy whipped topping or whipped heavy cream. Flavor with vanilla extract, almond extract, warm spices like cinnamon, ground ginger, cloves, nutmeg, or your favorite pumpkin pie spice blend. In a flash, you've got all the flavors of pumpkin pie in a bowl ready for dipping!
Riff on it!
Serve your pumpkin pie dip with an assortment of dipable ingredients. Just make sure they are all sturdy like graham crackers, pretzels, ginger snaps, crisp vanilla cookies, apple slices, or skewered berries. The classic vanilla pudding mix works great, but you can also switch things up with cheesecake, butterscotch, or white chocolate mixes instead. Don't skip out on the pudding mix though — the thickening agents give structure to the dip!
Whipped cream or topping keeps the dip light and fluffy, but you can also substitute part of it for cream cheese, sour cream, or Greek yogurt to add a delightful tang. Incorporate a textural element as a topping or stir it right in — toasted pecans, hazelnuts, or walnuts; dried cranberries; miniature milk, dark, or white chocolate chips; and festive sprinkles would all be delightful. To dial things up a notch, you could even put the dip into a ready-made graham cracker pie crust and chill for a no-bake pumpkin refrigerator pie. You can riff on this pumpkin pie dip all season long without putting in too much effort.