Add Flavored Water Packets To Greek Yogurt For A Tasty Upgrade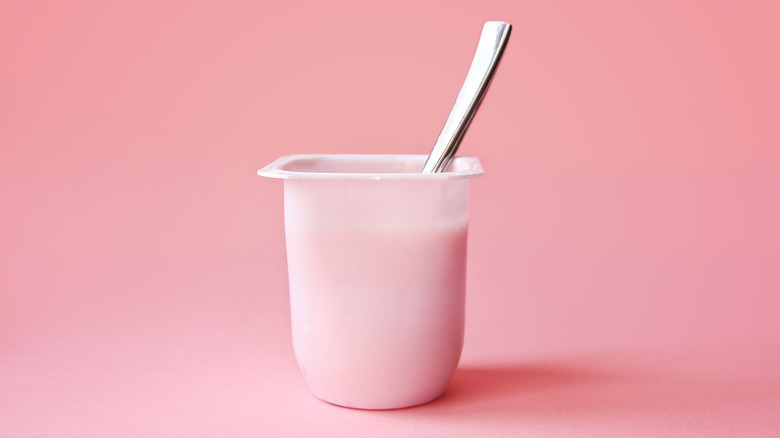 Alexialex/Getty Images
At this point, it is widely known that cultured dairy products like yogurt are nutritional powerhouses. Yogurt is full of protein, vitamins, and minerals. Plus, its live cultures have beneficial bacteria called probiotics. According to Healthline, probiotics grant numerous health benefits, such as improving gut health and digestion, increasing immune system strength, and lowering cholesterol. The problem is that some people do not like the tang of funky, fermented foods. 
Flavored yogurt is an option, but you have to commit to buying a large container of a single flavor or a variety pack of individual cups, which usually only has a few options. If only there were a way to easily flavor yogurt. Enter flavored water packets: Stir your favorite powdered drink mix into plain Greek yogurt and customize it to your liking. How much you add depends on how sweet and flavorful you want the yogurt to taste. We recommend starting with a single portion of yogurt and tasting as you go. Some folks who tried this trend used one packet in a standard large tub of yogurt, while others flavored a single serving size with a whole drink mix packet.
Fun flavored water packet and yogurt combinations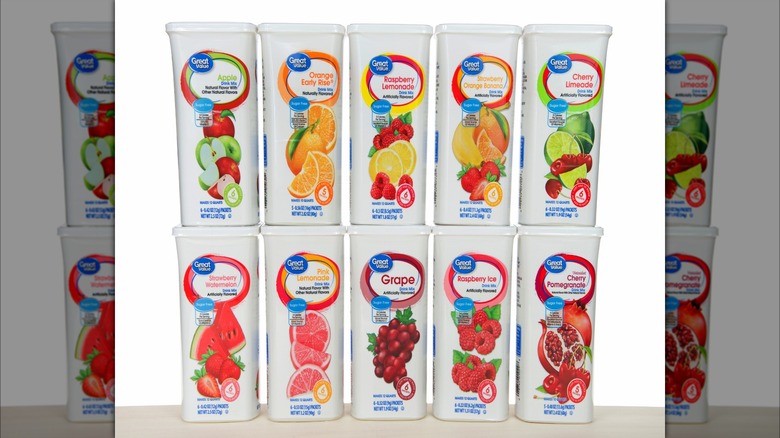 Sheila Fitzgerald/Shutterstock
Greek yogurt works well because of its thick texture, but if you prefer regular yogurt — or even a yogurt drink like kefir — give this hack a try. If you are having trouble getting the powder to dissolve fully into the yogurt, try mixing the contents of the packet with a touch of water or milk first. You can also use liquid water flavorings, but keep in mind that the liquid will thin the texture of the yogurt somewhat.
Since yogurt is creamy and sour, choose flavored water packets that complement the taste. For example, cherry, berry, mango, coconut, peach, pineapple, and banana all pair great with creamy flavors. Go with a lemonade packet and top with crumbled graham crackers and toasted nuts for a lemon meringue pie vibe, drizzle chocolate sauce on yogurt flavored with a strawberry packet for an ice-cream sundae-type snack, or opt for the many candy-inspired flavor packets for a decadent riff. 
What else can you make with flavored yogurt?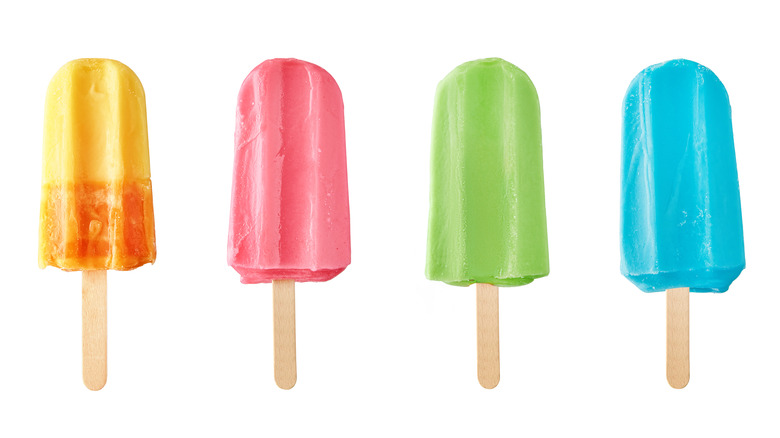 Lazy_Bear/Shutterstock
Of course, flavored yogurt can be the base of yogurt bowls and topped with fresh or dried fruit, nuts, seeds, chocolate chips, breakfast cereals, or nut butter. Enjoy it solo, or use it as the base for many fun, yogurt-based creations. For example, use a popsicle mold to make creamy yogurt pops. Try orange for your Dreamsicle cravings, or turn yogurt into frozen "cookies" by spreading yogurt into rounds and popping them into the freezer. 
Flavored yogurt can make a great smoothie base to help you avoid getting tired of the taste of that big tub of protein powder. Banana or coconut-flavored yogurts go great with chocolate protein, and cherry-flavored yogurt is even more delicious when blended with vanilla protein and almonds. Yogurt can even be used as a topping for pancakes, waffles, or toast. With flavored water packets at your disposal, every time you want yogurt as a snack (or dessert), plain Greek yogurt can be transformed to suit whatever craving you wish to satisfy.