Padma Lakshmi's Mango Lassi-Inspired Sprinkles Cupcake Channels The Light Of Diwali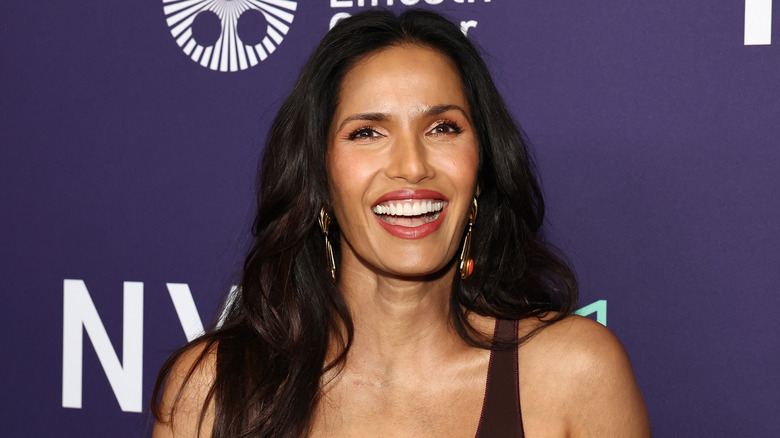 Arturo Holmes/Getty Images
Cupcakes are cute, perfectly ratioed, and, most importantly, an ideal vehicle for delightful flavor combinations. Cupcakes also go hand-in-hand with holidays, and dessert brand Sprinkles is partnering with chef, author, television personality, and activist Padma Lakshmi to bring a sweet and tangy mango lassi-inspired flavor to stores just in time for this year's Diwali festivities. The new Luscious Mango cupcake doubles down on its central flavor by filling a mango cake with creamy mango curd, then topping it off with cinnamon and cardamom spiced yogurt frosting.
In a press release, Lakshmi connected the cupcake to Diwali and said, "I'm excited for everyone to share a very special piece of my heritage." Diwali, also called Dipawali, is a celebration of light, and the festivities include lots of candles, lamps, fireworks, and colorful decorations. The festival is closely linked to Hinduism but is also celebrated throughout India in Sikhist, Jainist, and Buddhist communities. The collaboration between Lakshmi and Sprinkles is part of the brand's chef series, which features cupcakes designed by influential women from the culinary world. As part of the partnership, Sprinkles will also be donating to Shanti Bhavan Children's Project, a charity selected by Lakshmi that supports education.
What is a mango lassi?
A lassi is a yogurt-based drink that can be either sweet or savory, and mango lassi is a classic and beloved flavored. A typical mango lassi recipe blends yogurt and mango with a bit of ice, milk, and a sweetener like honey or sugar. Sometimes they are kept simple, but mango lassis can also be flavored with ingredients like cardamom, saffron, or rose water.
Padma Lakshmi's cupcake incorporates all of the elements of a drinkable mango lassi in cake form with an extra-fruity hit from the mango curd, slightly tart yogurt frosting, and aromatic cinnamon and cardamom notes. As families come together to celebrate Diwali, food plays an integral role, and beautiful, sweet confections called mithai are plentiful. The golden color and Indian-inspired taste of these fun cupcakes will make a lovely addition to celebratory Diwali tables alongside more traditional dishes. They will be available at Sprinkles stores from November 1 through November 22 with local delivery available.