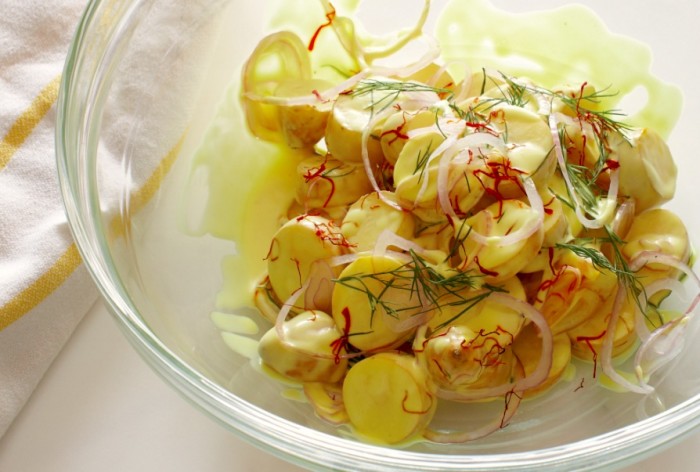 If you're looking for a pinch of luxury to bling out your meal, put down the truffle salt and pick up the saffron. These meticulously harvested flower stamens pack an enormous amount of sweet, earthy, floral flavor, and if you spring for a high-quality vial you won't be disappointed. Whether you go sweet or savory, hors d'oeuvre or dessert, potato salad or pound cake, you can't go wrong with these 10 recipes for your fancy saffron.
Modeled after the French mayonnaise mix, this savory Provençal potato dish is welcomed at any picnic.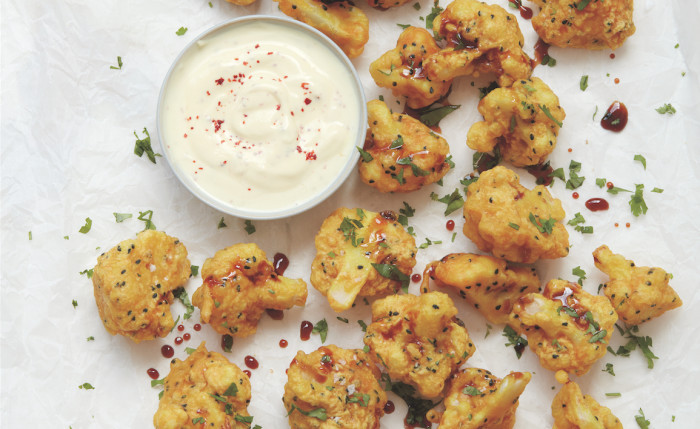 Crispy and lightly spiced, this dish makes a lovely sharing plate for an appetizer, or a predinner nibble. You want the cauliflower florets to be bite-size, but not so small that they can't take on the batter.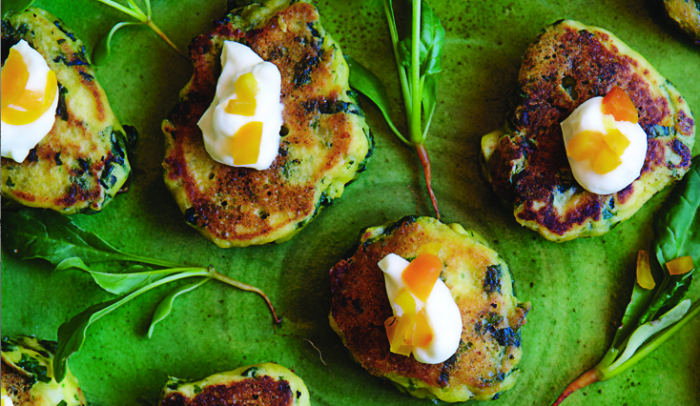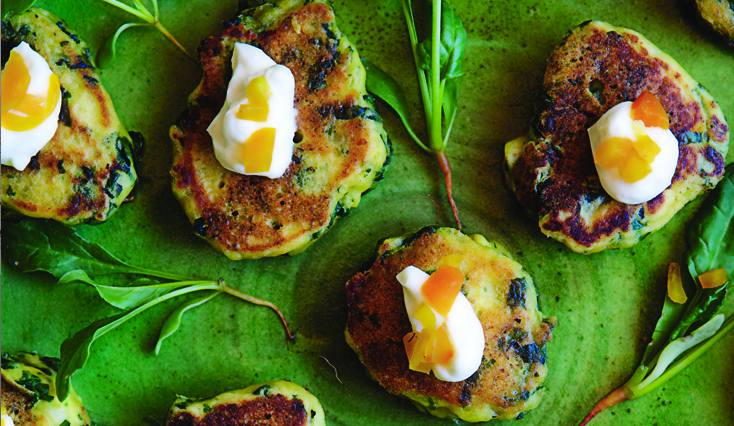 These little cakes are so very satisfying, and light enough that you can serve them with a dollop of sour cream and a cluster of micro greens or a chiffonade of sorrel. A mixture of chard and beet greens works well, too. The beet greens may cook more quickly than the chard. If you prefer spinach, you'll need at least two pounds.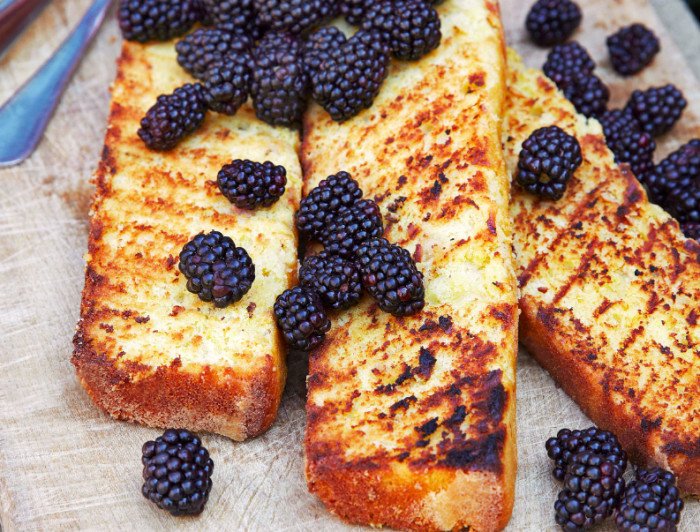 I love a dessert that isn't too sweet; this grilled lemon-saffron pound cake is just right. It gets its golden color from lemon and saf­fron, which adds a deep, almost savory flavor note that I really like. It's baked in the oven; after baking, slice the cake and then finish the slices on the grill until they're toasted. This is ideal with fresh summer berries or grilled figs with local lavender honey in the fall.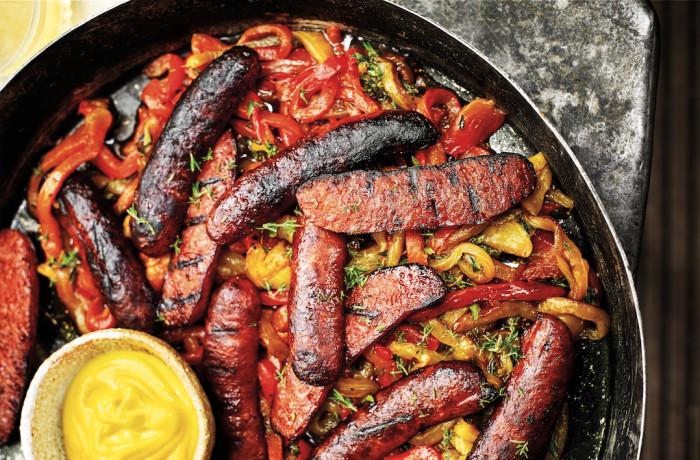 You can buy ready-smoked chorizo, but I prefer to cold-smoke fresh cooking chorizo with apple wood chips and then grill it quickly over a high heat. There's nothing quite like the smell of grilling chorizo for causing a stir and an impromptu gathering around the grill! A cooling saffron aioli is just the thing for dipping the hot chorizo, and the vivid yellow looks great with the paprika-red meat.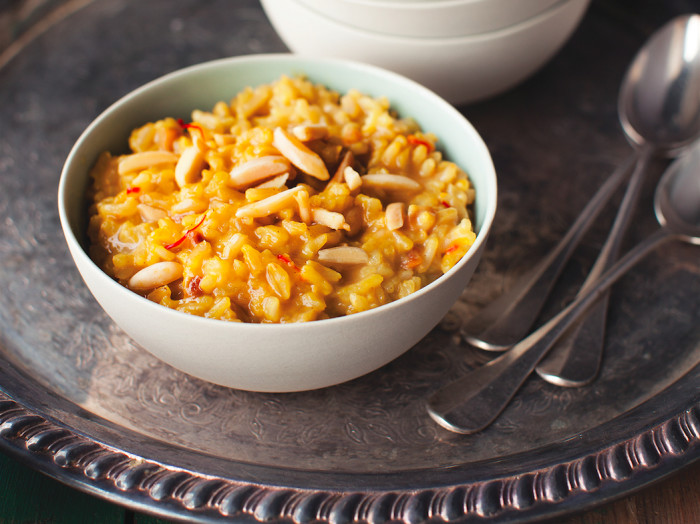 I prefer to make rice pudding using leftover cooked rice rather than starting from scratch with raw rice because it's quicker and it's a great way to use leftover rice. My favorite rice for rice pudding is brown basmati rice, but if you like a creamier texture, try sushi rice, arborio rice or jasmine rice.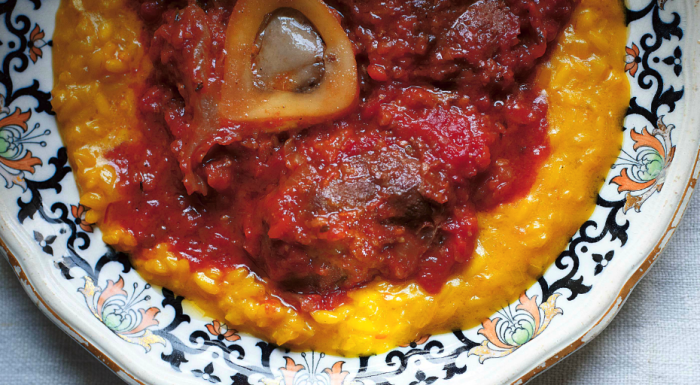 Osso buco means "bone hole" – not particularly appetizing as a description but very accurate; there is a bone in the middle with a hole in it. If you're very lucky, you get a big wobbly piece of marrow to suck out at the end of your feast. It is by no means Venetian and originates from the region of Lombardy, but since it is a dish with such wide appeal, it appears all over Italy.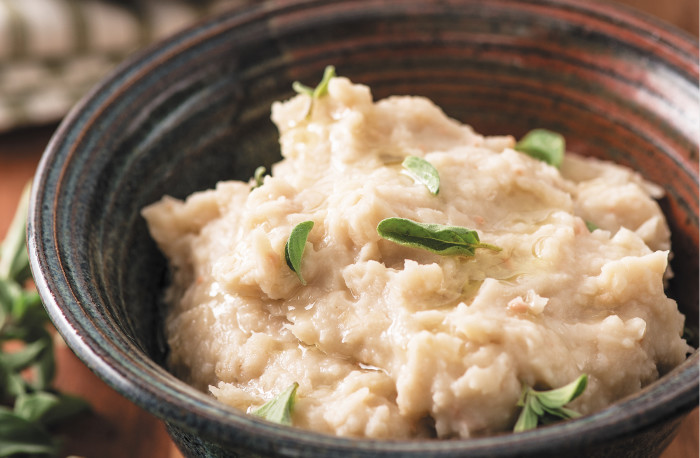 I like the idea of refried beans made with just about any bean or legume. For this recipe, I rely on cannellini beans, which are especially creamy, a characteristic that other beans often lack. You have to cook them correctly because God knows there's nothing worse than tough, undercooked beans. I add a little saffron to kick this dish up a few notches, but you can toss in some fresh thyme if you prefer.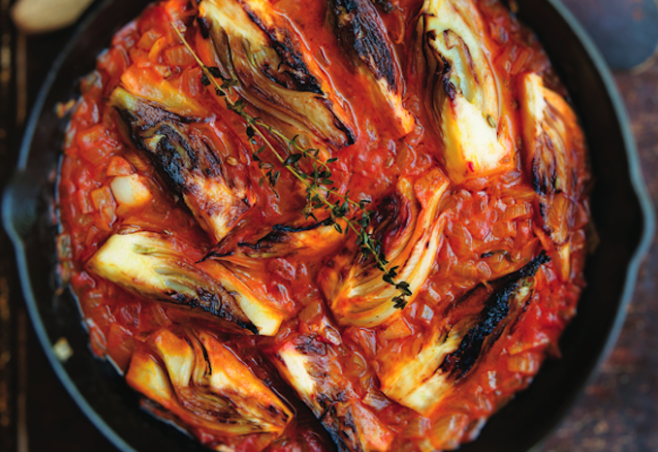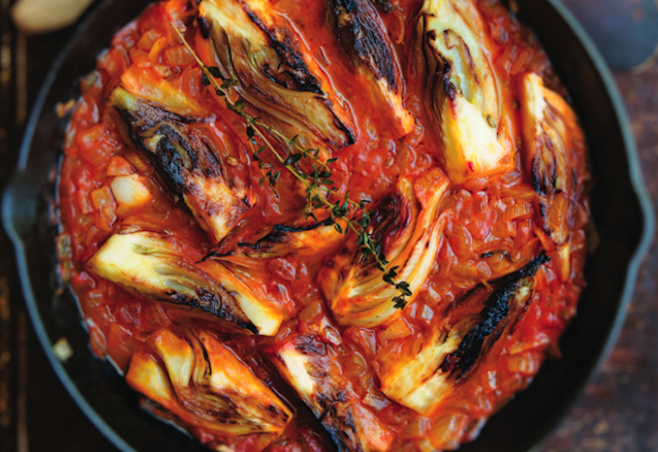 Fennel is a natural with seafood, so you might pair this dish with halibut or seared scallops. But it's also good with rice, and black rice makes for an especially dramatic — and delicious — pairing. Be sure to leave the core in the fennel bulb. It's what holds the wedges together.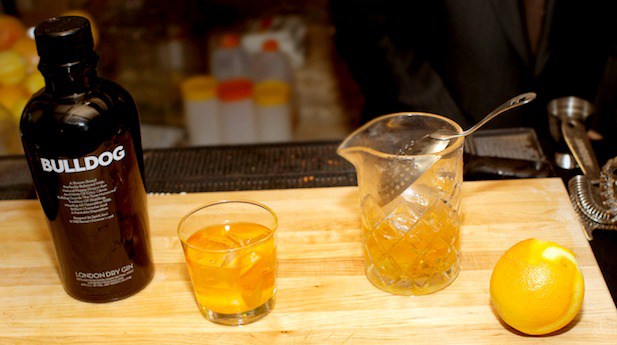 Gin is a spirit that is rooted in spice, with, naturally, juniper being the main focus. However, many popular gin cocktails seem to take the focus away from the botanical nature of this spirit, and instead focus on the citrus and sweeteners. For a recent dinner party event focusing on spice recipes, I aimed to create a stirred gin cocktail that would feature the spirit prominently, but would still be accessible to everyone in the room. The idea of infusing with saffron came to mind — and while it is certainly not a new concept (dating back to the 19th century), many people today would expect Saffron to appear in their risotto, rather than their drink.