Giada De Laurentiis' Italian Margarita Packs A Lemon Twist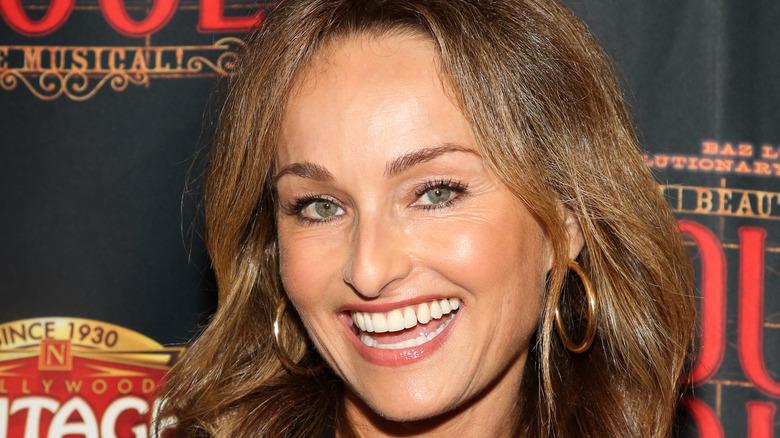 Paul Archuleta/Getty Images
The classic margarita is a beloved drink that many people equate with Mexico. After all, the base alcohol is tequila, which is unequivocally Mexican in origin, and, although there are different stories of how the cocktail first originated, most believe it was invented in country in the 1940s. Because of this, the cocktail is often a staple at Mexican restaurants, on holidays like Cinco de Mayo, and on Taco Tuesday menus. 
Over time, people have also come up with countless spins on the margarita, including Giada De Laurentiis who, not surprisingly, has put an Italian twist on the drink. Whereas a traditional margarita is made with tequila, lime juice, and orange liqueur and usually served in a glass with a salted rim, De Laurentiis makes her version with tequila blanco, limoncello, a touch of lime juice, lemon juice, and some agave for sweetening (as seen in a TikTok video). After combining the ingredients, the chef shakes up everything in a cocktail shaker filled with ice and then strains the mixture into a glass. 
The most obvious difference between her Italian margarita and the original is the absence of orange flavors as De Laurentiis opts to sub in some lemon. Still, both are heavy on the citrus, which is probably why her version works so well.
Italian limoncello is the star of this margarita twist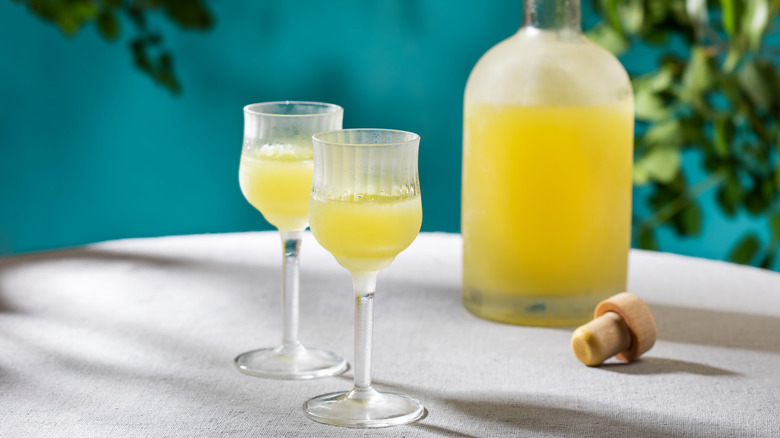 Natalia Van Doninck/Shutterstock
When it comes to what makes Giaa De Laurentiis' version of the margarita Italian, it's truly the addition of the limoncello. This Italian liqueur is mainly produced in southern Italy where lemon groves are plentiful. For authentic limoncello, lemon peels from the Amalfi region are macerated with liquor and then combined with sugar and water to make the perfect tipple for sipping after meals and adding to desserts ... or drizzling into margaritas.
While limoncello is a great sub for a traditional margarita's citrus flavor, it's believed the very first margaritas may not have included orange flavor either. One theory of the drink's creation suggests that restaurant owner Carlos (Danny) Herrera thought up the drink for a showgirl named Marjorie King who was a fan of tequila. He added some lime juice and salt to the spirit and served it to her. Yet, today, traditional recipes for a margarita nearly always include an orange liqueur, whether that's the economical triple sec, higher end Cointreau, or fancier Grand Marnier. 
De Laurentiis' drink also differs in how it's served. As seen in her TikTok video, the chef pours her drink into a glass without a salted rim and without ice. However, the way in which people enjoy their margarita is a matter of personal preference, and there are plenty of options, although most opt to drink it on the rocks (poured over ice) or blended with ice into a thick drink, with or without a salt rim.
The versatility of the margarita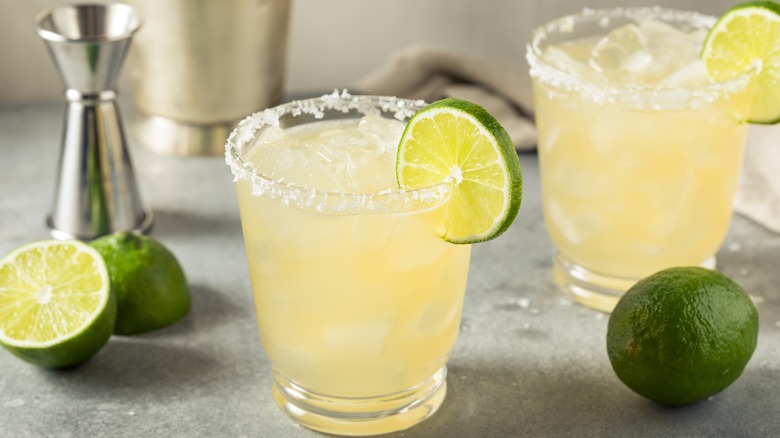 Brent Hofacker/Shutterstock
Giada De Laurentiis certainly isn't alone in putting a unique twist on the popular margarita. It's one of those drinks that can be treated with a number of different ingredients to take on entirely different and unique flavors. Spicy margaritas can be made by adding peppers like jalapeños; there are all kinds of fruited margaritas common in restaurants, like strawberry, mango, and watermelon; even creamy margaritas can be made by adding ingredients like coconut milk and avocado.
To make an Italian-inspired margarita, De Laurentiis also could have tried playing around with different Italian liquors like Aperol, which would give the drink a bitter edge, or amaretto for a tasty almond essence. If you're into adding international flair to your drinks, consider going for a Japanese twist to your margarita. The addition of yuzu (a Japanese citrus fruit) or even midori (a Japanese melon liqueur) would be fun to experiment with in this cocktail. Or, take a cue from France by adding St. Germain elderflower liqueur to the tequila-based drink. You'll get sweetness and a light floral hint from the elderflower with the unmistakable taste of tequila and lime to remind you that you're still drinking Mexico's most famous cocktail.