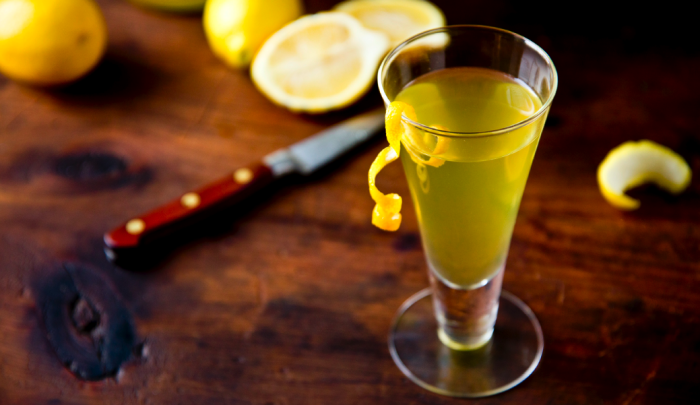 Sometimes you need a closer. Think flowers on Valentine's Day, or Mariano Rivera, circa 2008. For Italians, the ultimate summertime closer is limoncello. The impossibly gorgeous Amalfi coast is where lemons want to grow, and resourceful locals use their bounty to create a bright, bracing digestivo that's sipped from May to mid-September.
Now, as warmer temperatures work their ways into our hearts, minds and outdoor apparel, it's time to learn how to make Italy's summer spirit in your own kitchen. Homemade limoncello is easier to throw together than your average batch of brownies, and might just be for the coolest dinner-party finale in the world.
In the words of 20th century poet Montell Jordan, this is how we do it:
Ingredients:
10 lemons
1 bottle (750 ml) of 100-proof vodka
2 cups water
1 3/4 cups sugar
Tools of the trade:
2-3 one-liter glass bottles
Large pot, or jar with tightly sealed lid
Funnel
Using a vegetable peeler, or dexterity and a very sharp knife, peel the lemons in long strips. Avoid the white pith, which will ultimately make your limoncello taste bitter.
Save the peeled lemons for another use. Like, say, fresh lemonade. Or any of these killer citrus dishes.
Put the lemon peels in the bottom of a large pot or jar with a sealable top. Cover with entire bottle of vodka.
Seal tightly with plastic wrap and/or lid, and keep covered at room temperature for at least four days, or up to one week.
If the lid to your pot or jar is tight enough, give the marinating lemon peels a little shake every day or two.
After four days, the lemon peels may start to lose their color a little. This is a good thing; it means your limoncello will be a bright, sunny yellow.
After four days or more, it's time to sweeten the deal. In a saucepan over medium heat, stir the water and sugar until the sugar dissolves, about 3-5 minutes. Remove your simple syrup from heat, and let cool completely.
In the meantime, strain your limoncello into a large bowl, using a mesh strainer or two layers of slightly damp cheesecloth. If any bits of lemon peel sneak through, fish them out with a spoon, or the tines of a fork.
Once the syrup has cooled, pour it into the bowl of lemon-infused vodka and stir.
Funnel the limoncello into tightly sealed glass bottles and chill. It will taste a bit tart at first; let rest another four days to one week to allow flavors to marry.
Presto. Limoncello! Sip chilled in small cordial or large shot glasses.
More how to's on Food Republic: