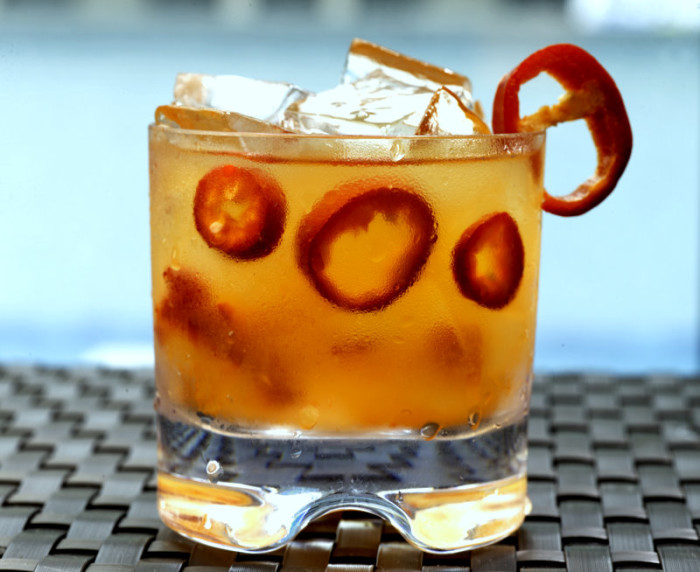 If you can't make it to the Bar d'Eau at Trump SoHo try your hand at being bartender for the night and recreate their Spicy Margarita in your own home. Not only is this drink a delicious take on the classic margarita, its spicy element also provides real relief for the summer heat.
Bonus! We reached out to Baldwin for some further insight about this drink, bartending and more.
What was the inspiration for the spicy margarita?
The margarita is a poolside summer classic. With the twist of added spice and a pinch of cilantro, it gives it that kick that reminds you where the margarita was invented.
Do you consider yourself a mixologist, a bartender or both?

I feel the term "mixologist" is thrown around lightly. I do mix drinks but I am a bartender first. A mixologist is a scientific term given to a person that just mixes cocktails; a bartender engages with the guest and puts on a show.
What kind of ice do you use or recommend using?

Different kinds of ice should be used for different cocktails. My recommendation would be cold draft ice because of the mold that is used, which slows down the dilution and gives longevity to your cocktail.
What tequilas do you recommend for a margarita, and are there any you wouldn't recommend?
Herradura blanco is our well tequila and what we use for our Spicy Margarita. Herradura blanco tequila is 100% blue agave in its purest form. The truest flavors and intensity of the agave are present, as well as the natural sweetness. Reposados are also great for margaritas.

Who are some of your bartending inspirations?

I have learned from many bartenders in my nine years in the industry, but I have learned passion and appreciation for the craft from my wife, who has been in the industry for 15 years.

Are there any other signature drinks at Bar d'Eau we should know about?

Next time you're at Bar d'Eau, try our twist on the Bramble. We use Plymouth Gin, lemon, simple syrup, topped with fresh marmalade muddled with fresh raspberries and blackberries. This drink tastes as good as it looks. Also the Red Soul is one of our big sellers — it is made with Grey Goose Vodka, St. Germain Liqueur, lemon, simple syrup, muddled raspberries and strawberries, and topped with Prosecco. Both are great summer drinks poolside.
Ingredients
3

slices

of muddled red peppers

2

parts

Herradura Tequila

3/4

parts

Cointreau

1/2

parts

lime juice

1/2

parts

simple syrup

pinch

of cilantro
Directions
Combine all ingredients in a shaker and then pour into a glass with ice.
Garnish with a slice of red pepper.