TikTok's Monster Mash Mimosas Will Make Your Halloween Sparkle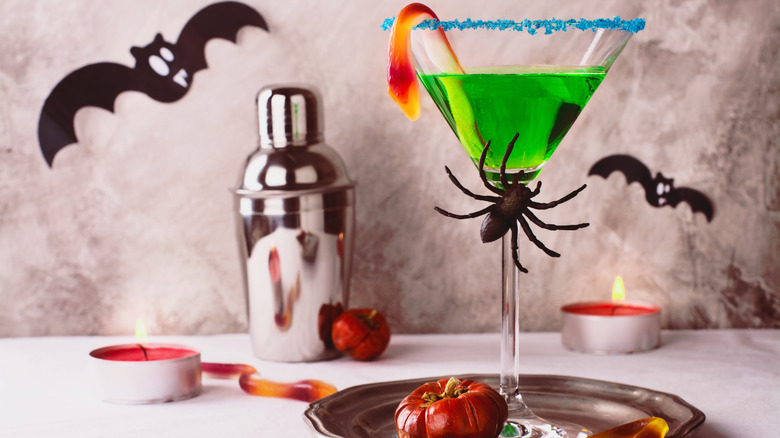 Happy_lark/Getty Images
When spooky season rolls around, TikTokers gear up to celebrate All Hallows' Eve. The social media platform starts crawling with Halloween inspiration, from DIY costume ideas to the eeriest of treats. Recipe creators even put the "boo!" in boozy with an interesting array of creepy Halloween cocktails, such as Monster Mash mimosas, which look scary good.
In lieu of its usual orange coloring, the drink features a green hue and is the brainchild of TikTok's The Spritz Effect. In a video that amassed more than 2.8 million views as of publication, they are seen whipping up the spooky sips. Perfect for any goblin gathering, the Monster Mash mimosas feature edible glitter, melon liqueur, and, of course, a bit of bubbly for a truly sparkling riff on the quintessential brunch cocktail. Even better, the glass rim gets a generous dunk in Halloween-themed sprinkles for a razzle-dazzle rim.
Add melon liqueur for a Frankenstein hue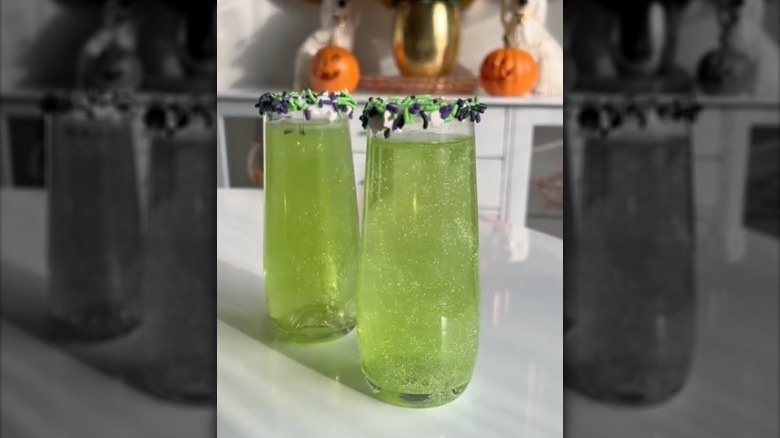 TikTok
A ghoulish twist on a classic cocktail, the Monster Mash mimosa is still frighteningly fruity despite the absence of orange juice. However, since it's mixer-free, it's decidedly heavy on the alcohol. It combines a refreshing blend of champagne and melon, just not from the actual fruit. The TikTok user's beverage has a melony taste that stems from a half ounce of Dubouchett Melon Liqueur, which features 15% alcohol and lends the green drink its signature Frankenstein coloring. Of course, there are a variety of other melon-flavored liqueurs that can be used, including DeKuyper Melon Schnapps Liqueur and the popular Midori Melon Liqueur, the latter of which is enhanced with Japanese muskmelons.
But, the melon liqueur isn't the only star of this alcoholic beverage. It also has a rather enticing sparkling appeal thanks to the shimmering edible glitter. Wondering what popular Halloween candies to drink with this monstrous concoction? Sip it with a handful of fruity candy bites like Starbursts (which surprisingly pair well with bubbly) or serve it alongside your favorite brunch staples. No matter which way you decide to drink it, be sure to add the fun sprinkle rim.