Wrap Watermelon In Bacon And Magic Will Happen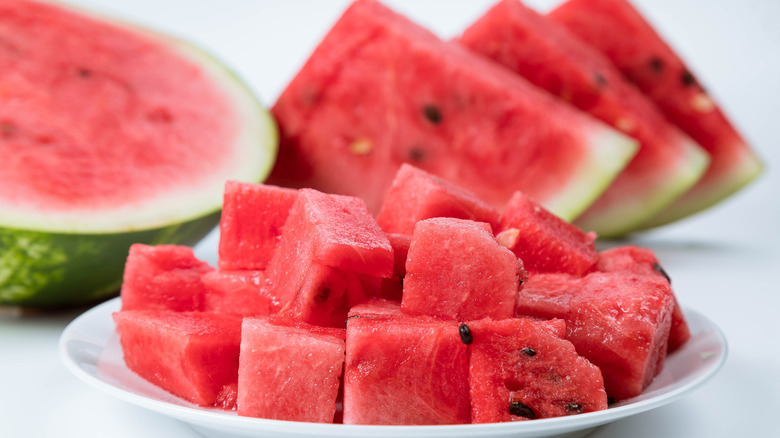 Naletova Elena/Shutterstock
Pairing sweet and salty tastes together often makes for a fun fusion of flavors. Pork and fruit is a classic example, from Italian prosciutto con melone to pork and pineapple kebabs. Devils on horseback (soft prunes wrapped in smoky bacon) are a tried and true appetizer, especially at Christmas, when bacon-wrapped figs prove just as popular. But, have you ever tried watermelon wrapped in bacon?
Though it might seem like an unusual combination, the sweet, refreshing juiciness of watermelon is a natural partner for crisp, smoky, chewy bacon. In fact, making quick snacks and more elaborate dishes with the two complementary ingredients is becoming increasingly popular on social media — "bacon and watermelon" has attracted almost a quarter-million views on TikTok, and looks to be a trend that will keep on growing.
Given how much we love wrapping pretty much anything in bacon, from jalapeño poppers and asparagus to chicken breast or mozzarella sticks, it was only a matter of time before it was the turn of juicy watermelon with many people not able to get enough of the combo.
Salty bacon and sweet watermelon are a perfect match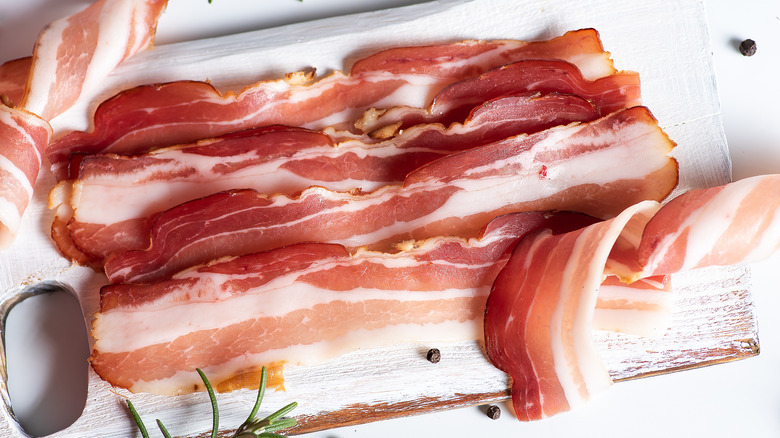 Stefan Tomic/Getty Images
Bacon and watermelon is a surprisingly versatile combination that works well in a number of dishes. Cubes of juicy watermelon wrapped in bacon and cooked in an air fryer make for a quick and delicious sweet-salty snack or bite-sized canape, and they take just 10 to 15 minutes to cook. To take the bites to the next level, you could try stuffing the watermelon pieces with a little spoonful of crab meat, before wrapping in bacon, and then cooking in the air fryer or oven.
It's best to use standard sliced bacon rather than thick slices when wrapping watermelon, however, in order to give the meat a chance to crisp up. You could also use the bacon-wrapped watermelon as the basis for a flavorful salad, served with creamy crumbled feta cheese and aromatic fresh mint.
Sweet, sour, and deliciously crunchy, pickled watermelon rinds is another great way to serve the fruit, and they likewise make a great vehicle for wrapping in bacon. Baked in the oven until crisp, the salty, chewy, bacon-wrapped fruity bites are perfect for dishing up alongside a chilled beer or cocktail, and they can also be assembled in advance and baked when needed, making for easy entertaining. The watermelon pickles themselves could also form part of a charcuterie board, served along with a selection of salty cured meats, or as a salad with crispy crumbs of bacon and dressed greens. 
More meats to pair with watermelon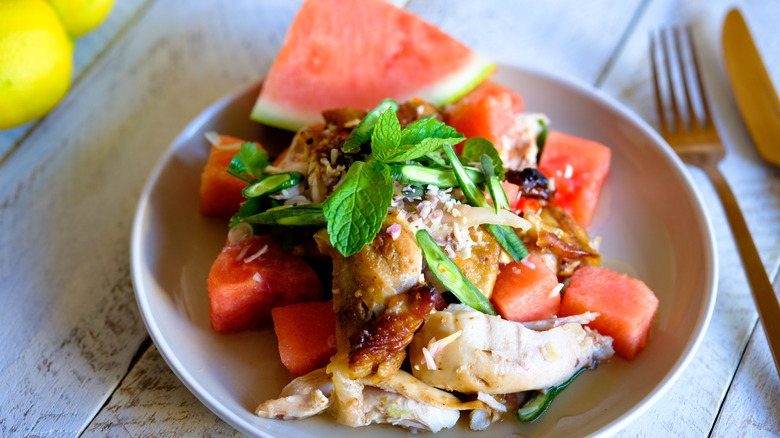 Undefined Undefined/Getty Images
Bacon isn't the only meat that pairs perfectly with watermelon. Salty, sticky cubes of roast pork belly, or crispy shredded duck, are both rich meats that go equally well in a fresh and zingy watermelon salad.
Prefer poultry? When combined with lime, honey, and vinegar, and then blended, watermelon makes a beautifully fresh, fruity glaze for spiced grilled chicken. Or, you could try chunks of the fresh fruit in a chicken salad for a contrast of textures and flavors.
For red meat fans, grilled slices of watermelon also make a great addition to a salad with seared strips of steak, and can even add a refreshing texture and flavor when added towards the end of a spicy beef stir-fry. Pickled watermelon can liven up a juicy burger, or a spicy beef taco. Or, simply revisit watermelon wrapped in bacon, and try wrapping the cubes of fruit in thin, silky slices of prosciutto ham for a deliciously different twist on the classic prosciutto con melone.