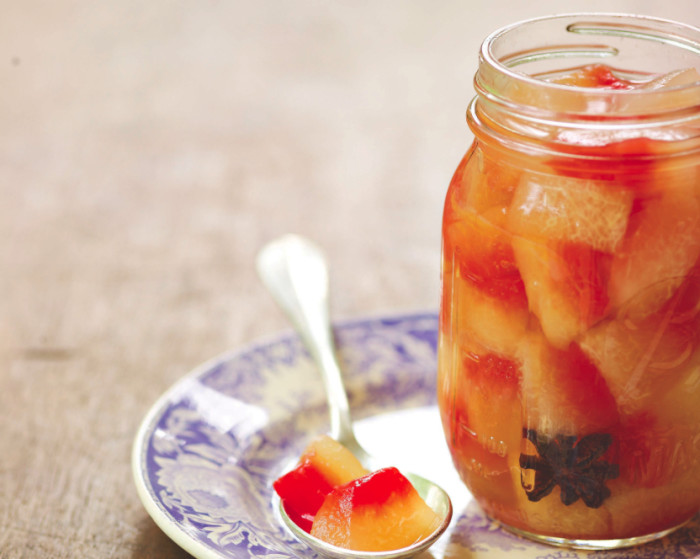 Nobody knows pickles quite like Southerners do, which is why we were so happy to get our hands on Southern Living magazine's new cookbook, Little Jars, Big Flavors. This little book has over a hundred big recipes for pickling all of spring and summer's sweet and savory bounty, plus ideas on how to serve them. It'll also inspire to you buy that whole watermelon.
By now, you should have the watermelon in your full-on summer culinary arsenal, used in everything from salads to cold soups to herb-infused ice pops. But please tell us you're not buying that pre-packaged, pre-cut watermelon — it's a waste of money, and of one of the melon's most misunderstood parts. Here's why you should be transforming the watermelon rind into delicious sweet and sour watermelon pickles for a crunchy, addictive snack that pairs well with everything from cheese to barbecue.
Ingredients
1/2

small

red watermelon, about 5 pounds

3

tablespoons

salt

3/4

cup

sugar

3/4

cup

white vinegar, 5% acidity

2

star anise
Directions
Place watermelon cut side down on a work surface; slice into 3/4 -inch slices. Trim all but ¼ inch red flesh from slices. Reserve flesh for another use.
Remove outer green layer of rind using a vegetable peeler; discard. Cut rind slices crosswise into 1-inch lengths. (You should have about 5 cups.) Place in a large bowl
Stir together salt and 3 cups water; pour over rind. Cover and chill 24 hours. Drain; rinse well. Combine rind, sugar, vinegar, and 3 cups water in a 4-quart stainless steel saucepan. Bring to a boil, stirring until sugar dissolves. Remove from heat. Cool completely (about 1 hour), stirring occasionally.
Place star anise in clean jars. Using a slotted spoon, transfer rind to jars; cover with pickling liquid. Apply lids. Chill 24 hours before serving, store in refrigerator up to 1 week.
More pickle recipes on Food Republic: