Dirty Mozzarella Martinis Swap Olive Juice For Pesto
As far as cocktails go, you may think you've seen it all. But, savvy mixologists often come up with new concoctions, and now there's such a thing as a Mozzarella Martini. One place that specializes in this creamy concoction is Annabella's House of Mozzarella, an award-winning Italian Tavern in East Rutherford, New Jersey.
While cheese makes sense as a martini garnish — stick a pearl mozzarella ball onto a toothpick and drop in the drink, right? — this unique take on the cocktail stars homemade mozzarella as a main ingredient ... and while that might take a little getting used to, in the end, you'll find it's simply a clever Italian spin on a dirty martini.
Another difference is in the ingredients of the drink itself. What typically makes a martini dirty is the addition of olive brine into the cocktail's base of gin or vodka and vermouth. But, in Annabella's rendition, the olive juice is swapped for a bit of pesto. So, if you want to mix up your martini game and are in the mood for something fresh and Italian, look no further than the Mozzarella Martini.
What makes up the Mozzarella Martini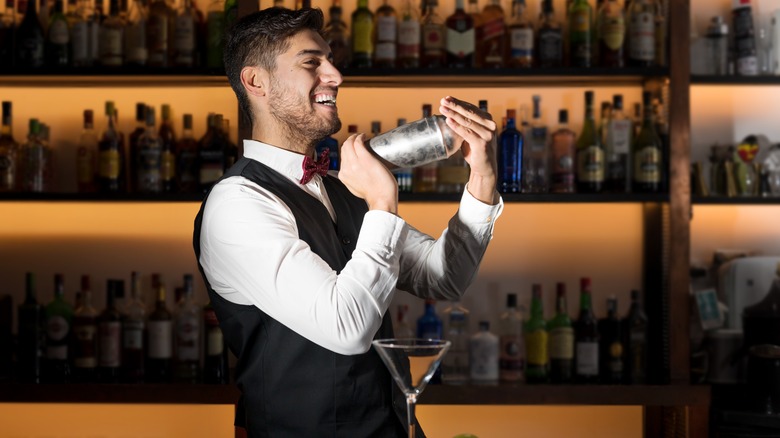 David Herraez Calzada/Shutterstock
Since so many patrons have been curious how this drink comes together, one of the bartenders at Annabella's House of Mozzarella shows exactly how this specialty cocktail is crafted on the restaurant's TikTok page while describing the drink as "a creamy dirty martini." The only ingredients are vodka, mozzarella cream, and pesto.
Why does this cocktail work, and what makes it so deliciously different? It's not simply a martini with a ball of mozzarella dunked in; for the cheesy element in the drink, the restaurant uses a bit of cream that's skimmed from the top of the mozzarella that they make in-house. This smooth, milky liquid that results infuses that subtle "mozzy" cheesy flavor into the strong vodka.  
And the reason it all comes together is the mozzarella cream, which is mild yet slightly acidic by nature, but is brightened up just enough with a few small drops of fresh homemade pesto. In the end, it's a uniquely savory cocktail that strikes a tasty balance.
More twists on the dirty martini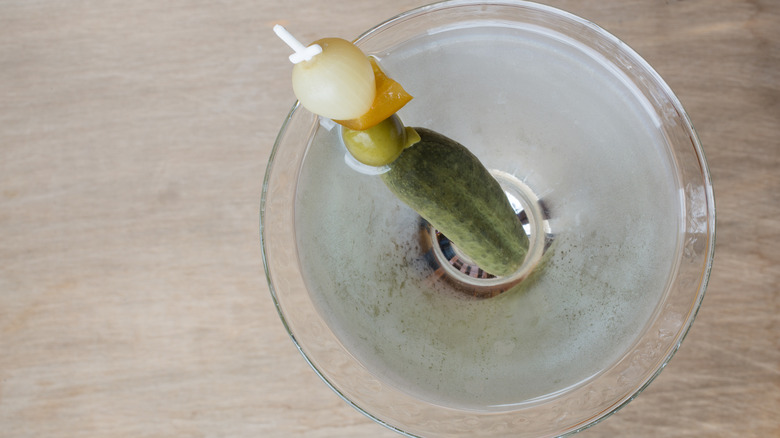 Edward Fielding/Shutterstock
It's true that cocktails and olives are natural mates, but there are so many ways to dirty up a martini outside of olive juice. Maybe you don't make your own mozzarella at home and can't quite pull off the Mozzarella Martini in full. But, have no fear, because there are plenty of other creative twists on the dirty martini that you can concoct at home.
For something with that quintessential briney bite, try using the brine from pickles, pepperoncini, or cocktail onions instead of olives. You can even opt for the juice from flavored variations, like garlic-infused pickles, to add a bit more of a punch.
If you want to spice things up a bit, sub in ingredients like chile liqueur, pickled jalapeño juice, or your favorite hot sauce. For the ultimate smooth martini, dirty it up with some olive oil. And if the Mozzarella Martini intrigues you, try creating a Caprese Martini with tomato juice, balsamic vinegar, and basil.