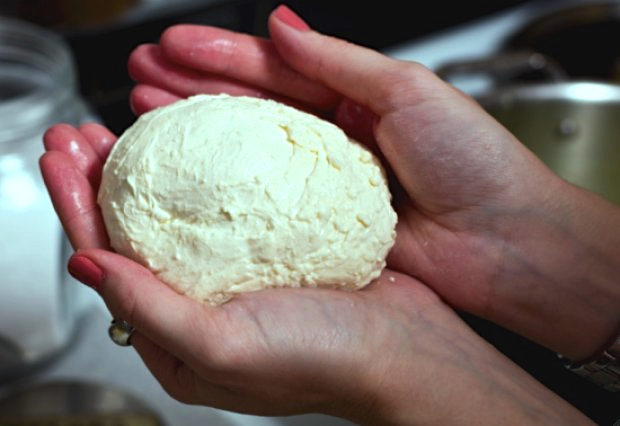 Making cheese from scratch, like homemade mozzarella, is kind of like downloading music legally or calling your mom every week. You know it's the right thing to do, but it just seems so haaaaard.
Enter this foolproof recipe for homemade mozzarella. It requires no complicated equipment or aging process — and produces perfect, creamy results in less than an hour. Stop paying $8 a piece for shrink-wrapped mediocrity, and channel your inner fromagier in 10 easy steps. And, hey, maybe call Mom every once in a while, OK? She misses you.
Related: Sausage And Kale Pasta Bake Recipe | How To Make Italian Meat Pie
Here's what you'll need:
3/4 teaspoon citric acid*, dissolved in 1/2 cup of cold water
1/4 rennet tablet*, dissolved in 1/8 cup of cold water
1/2 gallon whole milk. The fresher the better, but the most important thing to do is to make sure it's not ultra-pasteurized, otherwise it won't separate properly.
1/2 teaspoon kosher salt
kitchen thermometer
rubber gloves
slotted spoon
*These cheese-making essentials sound Island of Doctor Moreau–style bonkers, but they're surprisingly all-natural. Find them at specialty spice shops, or order online from Kalustyan's.
(Click on photos to enlarge or view as slide show.)