Giada De Laurentiis Spices Up Her Chicken Wings With Tequila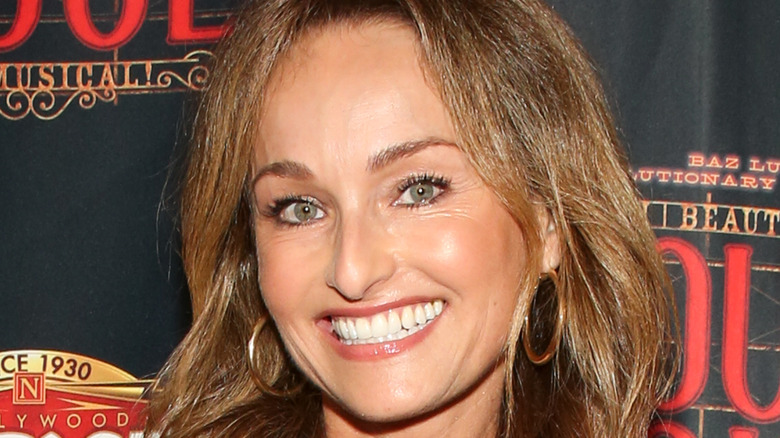 Paul Archuleta/Getty Images
Deep-fried and coated in a buttery hot sauce, chicken wings are a pub staple for a reason — even if, sometimes, it's only a vehicle for dipping in blue cheese sauce. Although delicious all year long, chicken wings are especially perfect for football season, and just in the nick of time, Giada De Laurentiis introduces a new recipe perfect for when you're tired of the basic Buffalo wings and celery sticks. 
De Laurentiis' spicy tequila lime chicken wings are marinated in tequila, lime juice, lime zest, harissa, agave, and kosher salt, providing an intensely flavorful but baked appetizer, basted with a finger-licking glaze that doesn't even require a dipping sauce. 
Because they're flavored with harissa — a Tunisian chile paste made of dried red chiles, garlic, cumin, coriander, and caraway seeds (available in varying degrees of spiciness) — these wings have a smokey element that doesn't skimp on the heat you expect and crave.
After gathering the ingredients, give yourself at least four hours before kick-off to prepare these tasty chicken wings for the next NFL game. 
How to make De Laurentiis' spicy tequila lime chicken wings
To make Giada De Laurentiis' tequila-soaked wings, first you'll need to get the chicken. While you can buy chicken wings that have been professionally cut and ready to baste, cutting them yourself from whole chicken parts is less expensive and doesn't add much time to your meal prep. 
The full wing has three parts: the tip, wingette, and drumette, and it requires just two swipes of the knife to get your final result. Using a chef's knife, you'll want to sever the wing at the two joints between the tip and wingette and then the wingette and drumette. The tip is a tiny morsel that you can set aside and freeze for stock, thus reserving the wingette and drumette for chicken wing recipes.
Time to taste test... #GiadaEats #SB50Eats pic.twitter.com/MVKOw5CiyD

— Giada De Laurentiis (@GDeLaurentiis) February 5, 2016
While De Laurentiis' recipe requires a four-hour marinade, as little as 15 minutes can infuse flavor into the bland meat. Marinades should contain fat, acids like citrus/vinegar, herbs/spices, and salt/sugar. Tequila adds a smoky flavor, and the alcohol and lime juice tenderize the protein. If you don't want to use tequila, substitute it with a more neutral liquor like vodka, sweet rum, or smoky whiskey, or eliminate alcohol altogether and use fruit juice.
Also, bone-in chicken, like wings, can withstand a longer marinade than boneless breasts; however, the USDA does not recommend leaving chicken in a marinade for more than two days. The acid will break down the meat, leaving an undesirable texture. Marinated chicken wings, however, can be frozen for up to a month to get a head start on the recipe. Just defrost them overnight in the refrigerator before cooking.
More flavorful chicken wing recipes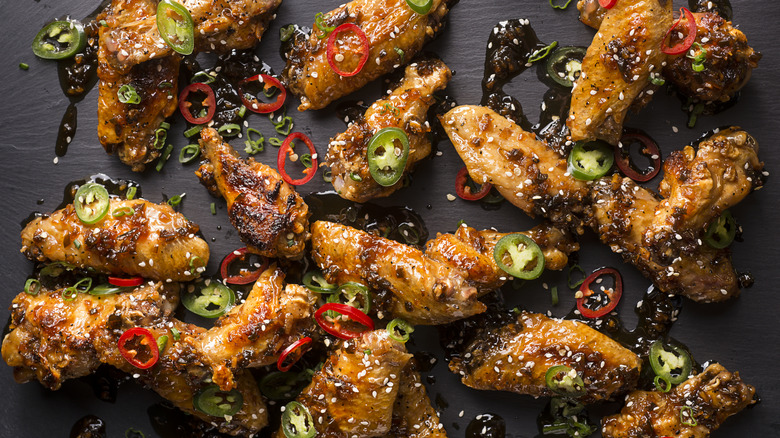 Rudisill/Getty Images
Beyond Giada De Laurentiis' tasty tip, there are numerous ideas for creative chicken wings that are great for game day — or any day. For an Asian-inspired take, try a deep-fried sweet-and-sour chicken wing recipe. Like De Laurentiis' tequila-soaked wings, this hearty recipe doesn't require a dipping sauce, just lots of napkins. These wings are slathered in a sticky, homemade sauce that's sweetened with honey and ketchup, and balanced with tangy rice vinegar and freshly squeezed lime juice. If you want to add extra spiciness, you can even garnish with sliced jalapeños or add a few dashes of hot sauce or sriracha.
For a lighter but equally flavorful chicken wing recipe, Turkish-inspired sumac and oregano wings are a great choice. In this recipe, the chicken benefits from an overnight marinade made with yogurt additionally flavored by Turkish pepper flakes and cumin. After the tangy wings are seared then roasted, they only need a squeeze of lemon juice before serving. 
Tamarind and dark beer-glazed chicken wings are another popular dish that mixes a bit of Indian and European tastes together with a delicious sauce made of tamarind chutney, ginger root, garlic, and some dark ale.
With 18 weeks in the football season, there's plenty of time to try all the chicken wing recipes and find your ultimate champ.