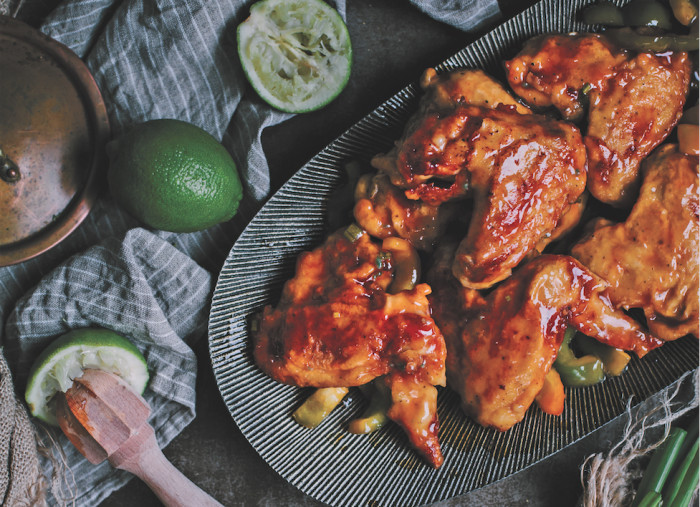 From the popular blog Adventures in Cooking comes our favorite poultry book in recent memory. Adventures in Chicken helps take the world's most beloved meat from "been there, done that" to "I can't wait to cook tonight!" Join author Eva Kosmas in reinventing this humble bird as a thing of true beauty. Invite chicken to the party and watch that hungry crowd descend upon these sweet and sour fried chicken wings.

There's something particularly wonderful about the resounding crunch that accompanies a deep-fried chicken wing, especially when it's coated in a homemade sweet-and-sour sauce. The key sweet components in the sauce are honey and ketchup, which play off the tangy vinegar and lime juice. Garlic, sweet bell pepper, and green onions are tossed into the sauce to add a bit of crisp freshness and flavor to this simple and satisfying appetizer.
Ingredients
Sweet And Sour Sauce
1/2

cup

honey

1/3

cup

chicken stock

1/4

cup

ketchup

1/4

cup

rice vinegar

2

tablespoons

freshly squeezed lime juice

4

garlic cloves, minced

1

bell pepper, cut into 1/4-inch-thick slices

2

green onions, sliced
Chicken Wings
2

cups

all-purpose flour

1

cup

buttermilk

3/4

cup

water

1

large egg

1/2

teaspoon

freshly cracked black pepper

1/2

teaspoon

onion powder

1/2

teaspoon

garlic powder

canola oil, for frying

2

pounds

chicken wings
Directions
For the sauce
In a medium saucepan over medium heat, mix together the honey, chicken stock, ketchup, rice vinegar, lime juice, and garlic. Bring to a boil, then add the bell pepper and green onions, reduce the heat, and simmer for 3 minutes. Let cool while you prepare the chicken.
For the chicken wings
In a large bowl, whisk together the flour, buttermilk, water, egg, black pepper, onion powder, and garlic powder. Set aside.

Add canola oil to a large pot until it is 4 inches deep. Heat the oil over medium heat until it reaches 360°F. Pat the chicken wings dry with a paper towel. In batches if necessary to avoid crowding, dip the wings in the batter and use tongs to gently place them in the frying oil. Fry until golden and cooked through, 7 to 8 minutes.

Remove the chicken wings with tongs and place on a plate lined with paper towels. Make sure the temperature is back up to 360°F before frying the next batch.

When all the wings are fried, toss with the sweet-and-sour sauce and serve immediately.