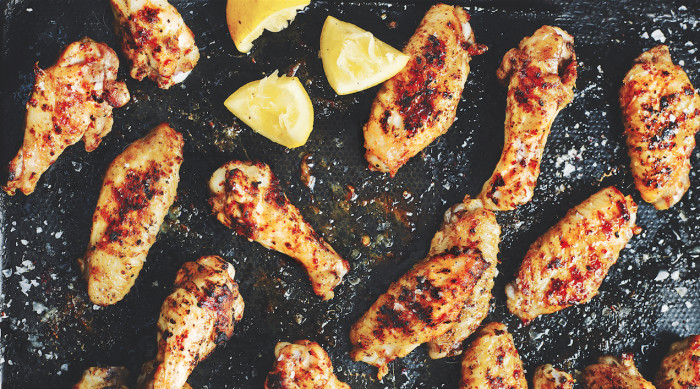 Set aside everything you know about Turkish delights, and pick up a copy of  Turkish Delights. It's a collection of recipes by author and culinarian John Gregory-Smith, who specializes in the cuisine of this vibrant region. These charred sumac and oregano wings need nothing more than a squeeze of lemon and a hungry crowd. 

Tavuk kanat, or chicken wings, are barbecued and served all over Turkey, expertly marinated in fragrant herbs and spices. I have used a traditional Turkish marinade made with Turkish pepper flakes, sumac, cumin, oregano, and yogurt. The yogurt helps to tenderize the meat and bind all the flavors together. These charred chicken wings are ideal served with orange and celeriac salad and plenty of bread to mop up all the juices.
Ingredients
2 1/4

pounds

chicken wings, each wing cut into 2 pieces and trimmed

2

teaspoons

Turkish pepper flakes

1

teaspoon

ground sumac

1/2

teaspoon

ground cumin

1

teaspoon

dried oregano

2

tablespoons

Greek yogurt

2

tablespoons

olive oil

2

tablespoons

vegetable oil

sea salt
Directions
For the wings
Put the chicken wings into a mixing bowl and add the Turkish pepper flakes, sumac, cumin, oregano, and a good pinch of salt. Add the yogurt, and pour in the olive oil. Mix well, cover, and leave to marinate overnight in the fridge.

Preheat the oven to 400°F and take the chicken wings out of the fridge to come to room temperature.

Oil a griddle pan with a little vegetable oil and set over high heat until smoking hot.

Cook the chicken wings for 3 to 4 minutes on each side until charred, and then transfer to a roasting pan.

Roast for 12 to 15 minutes until cooked through. Serve immediately.