Simple Greek Avgolemono Recipe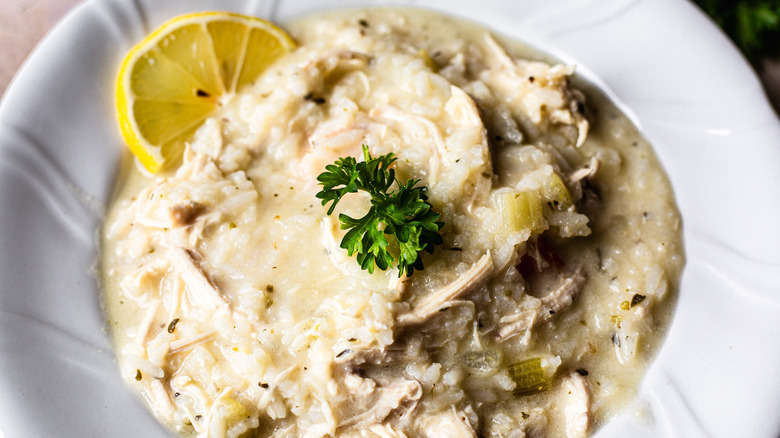 Ksenia Prints/Food Republic
When it comes to comfort food that warms you inside and out, few dishes can rival the classic Greek avgolemono soup. It's like a cozy hug in a bowl! This soothing concoction, known as the Greek answer to chicken soup, combines three simple yet magical ingredients: chicken broth, eggs, and freshly squeezed lemon juice. This classic recipe by Ksenia Prints starts with a homemade yet simple chicken broth made from chicken breasts, celery, carrots, and onion. A golden mixture of eggs and zesty lemon juice gets poured into the hot, rich, savory broth, and that's when the magic happens.
The result? A soup that's so velvety and luxurious, it's like sipping on liquid silk. No need for fancy garnishes here; this dish is all about pure, unadulterated comfort. Whether you're under the weather or are simply craving a taste of Greece, grab a spoon and prepare for a bowlful of warmth and flavor that'll have you coming back for seconds.
Gather the ingredients for Greek avgolemono soup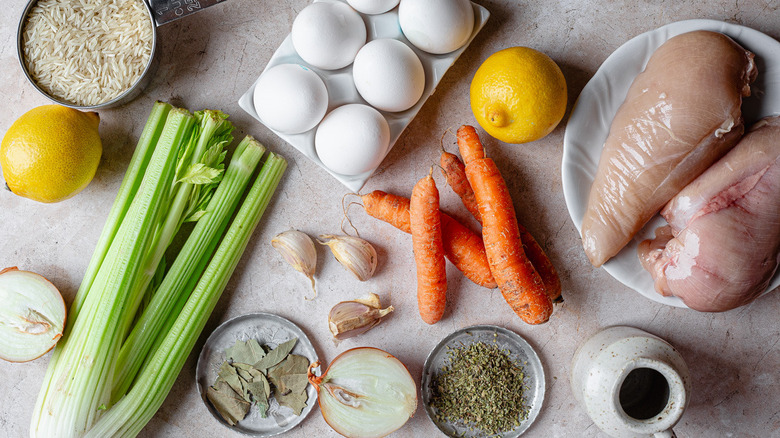 Ksenia Prints/Food Republic
This hearty soup gets its robust body and incredible flavor from a few simple ingredients. Chicken breasts are the soup's core ingredient, while yellow onions, celery, and carrots flavor the broth. The juice of a fresh lemon provides the soup's signature tangy twist — just don't forget to set aside a few slices for garnish.
You'll need extra virgin olive oil to start the cooking process, as well as uncooked white rice to give the soup body. Minced fresh oregano adds a lively earthy note, while freshly cracked black pepper lends a subtle kick. Lastly, you'll need eggs — with the yolks and whites separated — to achieve that creamy texture that defines avgolemono soup. With these essentials ready, you're set to create a comforting Greek classic.
Prepare the broth and chicken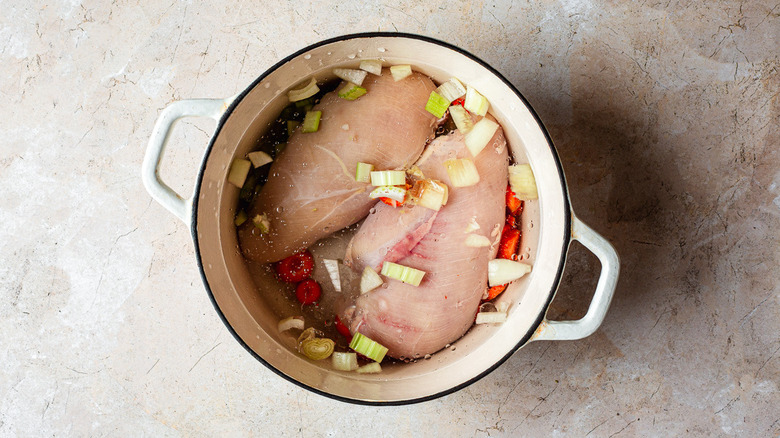 Ksenia Prints/Food Republic
A fragrant broth is the foundation of a good avgolemono soup. Combine the chicken breasts with chopped onions, celery, and carrots in a pot with water and a pinch of salt to create that hearty, savory base. Cover the pot and bring the mixture to a boil, then let the stock bubble gently for about 30 minutes until the chicken is tender and its internal temperature measures 165 F with a meat thermometer. By now, the broth has been infused with the essence of the chicken and vegetables. Turn off the heat, remove the chicken from the pot, and let it cool enough until you can comfortably use two forks to shred the meat into small pieces.
Add the rice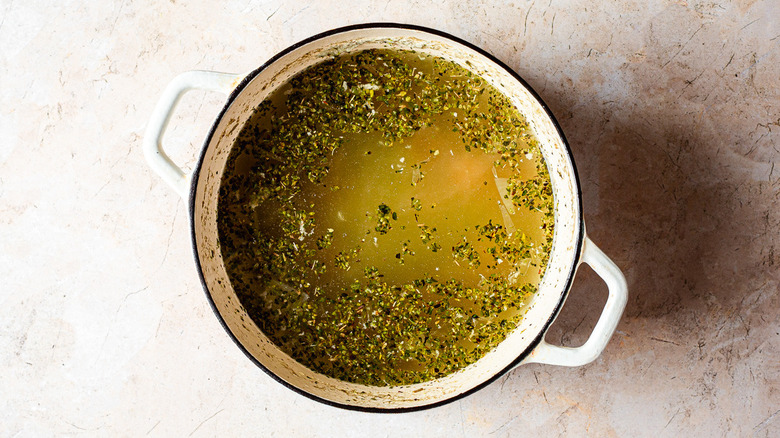 Ksenia Prints/Food Republic
Add the rice and oregano to the pot, cover it with a lid, and bring it to a boil. Once boiling, reduce the heat to low and cook the rice covered for 15 minutes. As the rice cooks, it absorbs the flavors of the broth, becoming tender and imparting its starchiness into the liquid. This starch thickens the soup, giving it the smooth and creamy texture that characterizes avgolemono.
Create the creamy lemon-egg mixture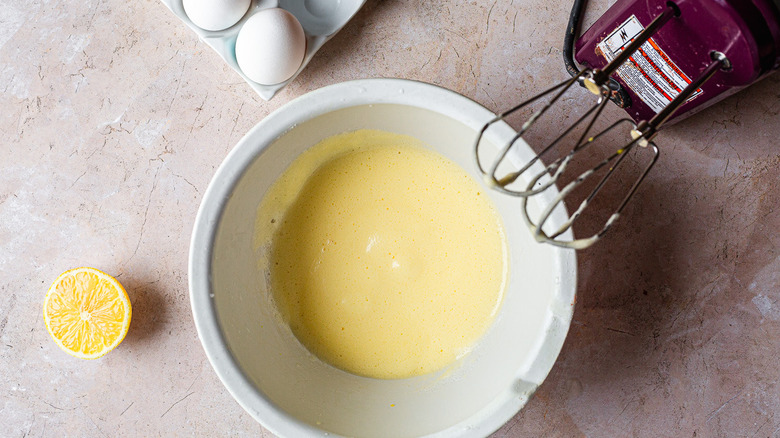 Ksenia Prints/Food Republic
The creamy lemon-egg mixture is the secret behind avgolemono soup's distinctive texture and tangy flavor. In a large bowl and using an electric hand mixer, whisk the egg whites until they form a foam. From there, whisk in the egg yolks and fresh lemon juice to create a velvety, citrus-infused concoction.
With the pot still on the stove and set to low heat, gradually pour this mixture into the hot broth while whisking continuously to thicken the soup and lend it a silky consistency. While this step may sound intimidating, it's much easier than you think, so don't be afraid of over-mixing the soup or curdling the eggs.
Serve your homemade avgolemono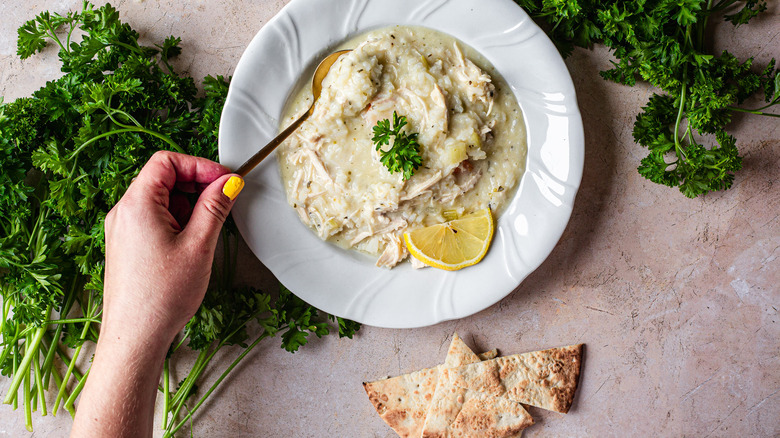 Ksenia Prints/Food Republic
The final step of serving avgolemono soup is where all the flavors and textures come together for a pure bowl of comforting bliss. Season the pot with a dash of black pepper and adjust the salt to taste to ensure a well balanced dish. Lastly, return the shredded chicken from earlier to the pot, and give it one more stir.
Garnish each soul-warming serving of soup with fresh parsley and a lemon slice, and serve — perhaps alongside a traditional Greek salad and a slice of homemade baklava for dessert.
Simple Greek Avgolemono Recipe
This Greek chicken and rice soup is comforting and creamy, yet dairy-free.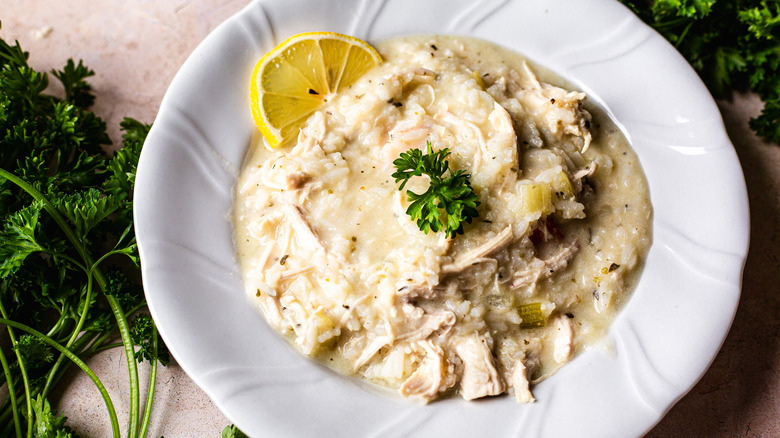 Total time: 1 hour, 5 minutes
Ingredients
2 chicken breasts
1 large yellow onion, chopped
2 celery stalks, chopped
2 carrots, chopped
6 cups water
1 teaspoon salt, plus more to taste
1 cup uncooked white rice
2 teaspoons minced fresh oregano leaves
2 large eggs, whites and yolks separated
Juice of 1 lemon + 1 lemon, sliced, for serving, divided
½ teaspoon black pepper
2 tablespoons chopped parsley, for serving
Directions
In a large pot, combine the chicken breasts, onion, celery, carrots, water, and salt. Bring to a boil, then lower the heat to a simmer. Let cook until the chicken is cooked through, about 30 minutes.
Remove the chicken from the pot, let it cool slightly, and shred it into small pieces using two forks. Set aside.
Add the rice and oregano to the pot, cover, and bring back to a boil. Once boiling, reduce heat to low and cook until the rice is done, about 15 minutes. Remove from heat.
In a large bowl, beat the egg whites with an electric hand mixer until they form a foam. Beat in the egg yolks and lemon juice until well mixed.
Return the pot to low heat, then slowly pour in the egg-lemon mixture, whisking continuously. This should thicken the soup slightly.
Season the soup with black pepper and more salt, if desired, and stir in the shredded chicken.
Serve avgolemono warm with parsley and lemon slices on top.
Nutrition
| | |
| --- | --- |
| Calories per Serving | 414 |
| Total Fat | 6.5 g |
| Saturated Fat | 1.7 g |
| Trans Fat | 0.0 g |
| Cholesterol | 192.3 mg |
| | |
| --- | --- |
| Total Carbohydrates | 48.5 g |
| Dietary Fiber | 2.8 g |
| Total Sugars | 4.0 g |
| Sodium | 733.6 mg |
| Protein | 38.2 g |