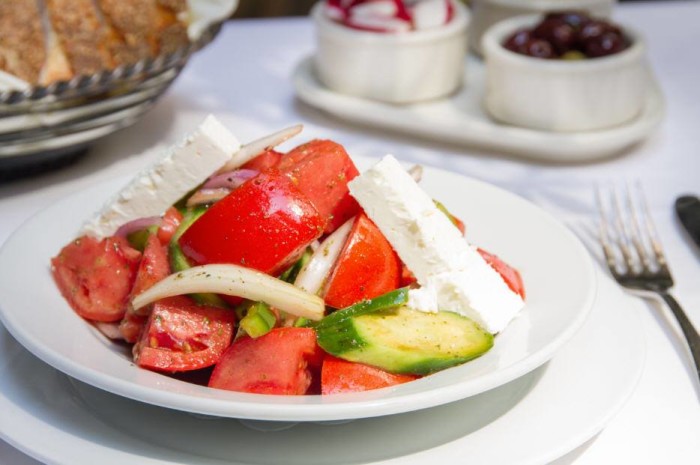 You love a well-made Greek salad. Heck, who doesn't? It's refreshing as a light summer meal or as a perfect complement to heartier dishes in the colder months. It's fresh and colorful, bristling with vibrant flavors and ingredients that mesh together seamlessly. But what exactly are these ingredients? As the popularity of the salad continues to grow worldwide, let a real, live Greek — or better yet, two real, live Greeks — educate you.
A proper horiatiki (which roughly translates to "rustic" or "village") salad starts with the ripest and most aromatic tomatoes available, cut into bite-sized chunks. Sliced cucumbers are also essential — peeling them beforehand is an option, though most Greek restaurants and home cooks choose not to do so. Next comes red onion, which is most often cut into rings. Kalamata olives are frequently tossed into the mix, and crumbled or cubed feta is as crucial as any ingredient, though more and more traditional Greek restaurants will instead choose to top the entire salad with a large block of the cheese. They'll then sprinkle it generously with oregano and drizzle the entire salad with olive oil and salt, and perhaps a bit of freshly ground black pepper.
The addition of green bell peppers and capers is optional; their inclusions are likely the most debated among all ingredients. "I don't mind them," says chef Diane Kochilas, host of Greece's most popular television cooking show, cookbook author and all-around Greek-food expert. Some chefs may choose to dress the salad with a red-wine vinegar or vinaigrette, but don't count Kochilas (or me, for that matter) among them. All that's needed is "just some really good-quality olive oil," she stresses.
You may have noticed the absence of one ingredient that is commonly seen in Greek salads in the U.S.: lettuce! Repeat after an incredulous Kochilas: "Lettuce? Forget about it!" Do you really need another source? "Putting lettuce in a Greek salad is a crime in Greek cuisine," declares Carlos Carreto, executive chef of NYC's storied Greek restaurant Molyvos. That shouldn't leave much doubt for the next time you decide to throw together a Greek salad. Or, as a character in My Big Fat Greek Wedding might say: There you go!