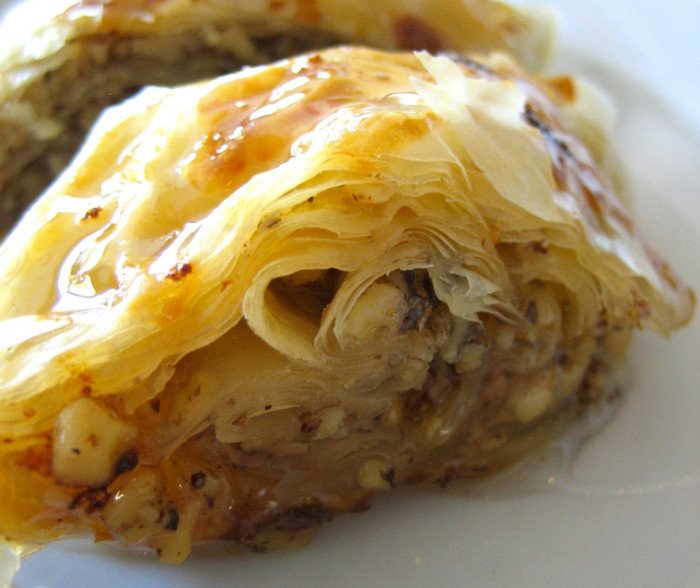 Baklava is a traditional Oriental dessert many ethnic groups have claimed as their own throughout the centuries, from the Middle East to Greece to Turkey. Although the origins remain contested, one thing is certain: Nothing beats homemade baklava.
This recipe has been in my family for generations and is passed on from mother to daughter with great pride and secrecy, like a sacred text. Much to the probable dismay of my ancestors, I'm letting you in on our secret. Don't be intimidated by the dish's many steps, it's surprisingly simple. This recipe is pretty close to foolproof and downright delicious.
Ingredients
Syrup
1 1/4

cups

water

1 3/4

cup

white sugar

1

tablespoon

honey

1/2

lemon, squeezed

1

tablespoon

orange blossom or rose water* (optional)
Baklava
1

16-ounce package

phyllo dough

1 1/4

cups

butter, melted

1 1/2

cup

pistachios or walnuts, coarsely ground
Directions
Syrup:
Add water, sugar and honey to medium-sized sauce pan and bring the mixture to boil over medium heat. Allow to simmer for 15 minutes.
Add the lemon juice and optional orange blossom or rose water* and turn the heat off. Allow to cool.
Baklava:
Preheat the oven to 375 degrees F. Butter the bottoms and side of a 9 x 13–inch dish.
Phyllo dough comes in a package containing two smaller stacks. Each stack contains 20 sheets. Open only one package at a time, as the sheets tend to dry out. Lay two sheets inside the baking dish.
Spread one tablespoon of butter on top of the two sheets of phyllo. Stack two more sheets onto the buttered sheets followed by another tablespoon of butter. Repeat until you've used up 12 sheets.
Spread an even layer of ground pistachios or walnuts on top of the twelfth layer. Using either pistachios or walnuts is up to you, however do not mix both. Brush the top of the nuts with butter.
Repeat the process with another 10 layers and a tablespoon of butter every two sheets.
Using a sharp knife cut the baklava into squares to get 24 pieces. However, don't cut all the way down, only cut halfway until you reach the nuts. This will ensure only the top part rises.
Bake for 25 minutes at 375F, then turn the oven down to 325F and bake for another 30 minutes. Take the baklava out and leave it at room temperature for 10 minutes.
Using a knife, re-cut the baklava all the way down.
With a tablespoon pour the lukewarm syrup evenly along the cut lines. Make sure not to pour it all over, only between the lines.
Garnish with nuts.
Allow the baklava to rest for at least four hours before serving. The syrup should be completely absorbed. Do not refrigerate.
*Orange blossom and rose water are liquids distilled from certain flowers that are used in an array of Middle Eastern desserts. Although they are not crucial to the recipe, they do add an interesting flavor. Try your local ethnic or Middle Eastern store, or order a bottle online.