TikTok Is Turning Ice Cream Into Bread Like Nobody's Business
From hot chocolate bombs to mini pancake cereal, TikTok sure knows how to keep the viral — and at times, mildly questionable — food trends coming. The latest craze of TikTok's cowboy candy, which is essentially candied jalapeños flavored in a sugary syrup, is certainly proof of that. But it seems as though the social media platform has outdone itself yet again because TikTokers are now accomplishing the unthinkable: turning ice cream into bread. (Who knew there was a better way of enjoying ice cream than just straight out of the tub?)
This magical concoction only calls for a handful of ingredients: softened full-fat ice cream, flour, baking powder, and rainbow sprinkles to top it off. And although the ultra-sweet loaf has only recently taken TikTok by storm, ice cream bread has apparently been around for quite some time. Just ask TikToker B. Dylan Hollis — who rose to social media fame by whipping up unique recipes from vintage cookbooks. In a video posted to the platform, which has garnered more than 19 million views, he shares that he got the recipe for the "perfectly sweet and soft and marvelous" loaf from a 1978 cookbook aptly titled, "Cook Book."
With so many different ice creams to choose from, the best part about this recipe is that the flavor options are endless. And, TikTokers are certainly hard at work churning up their own delicious-looking variations of the classic ice cream bread treat.
How to make ice cream bread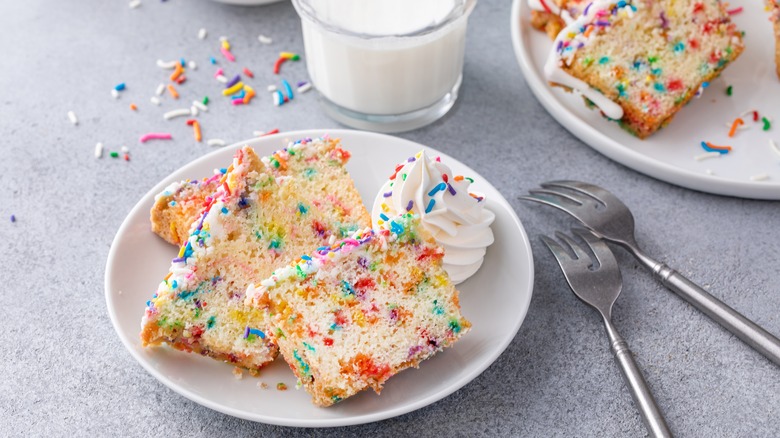 Elena Veselova/Shutterstock
Whipping up ice cream bread is as easy as, well, pie. In a bowl, combine 2 cups of softened full-fat ice cream, 1.5 cups of flour, 1.5 teaspoons of baking powder, mix it all together, and then scrape the mixture into a greased loaf pan. You can also throw on a thin layer of rainbow sprinkles on top, but that's entirely up to you. Put the pan into the oven to bake for about 45 minutes at 350 degrees Fahrenheit for the sweetest loaf of bread you've probably ever had. 
TikTok user @etzoocrew tried her hand at making the classic ice cream loaf and she appeared pleased with the result, saying it tasted "so good." But, you don't have to use a simple vanilla ice cream, as evidenced by other users who got more creative. One whipped up a loaf using cookies and cream ice cream, throwing in extra Oreo crumbles. Another opted for strawberry ice cream, adding in an extra portion of the fresh fruit, cut up into small pieces, of course. 
For those looking for an even simpler recipe, you can forgo the baking powder by swapping out the regular flour in favor of self-rising flour. And be sure to experiment by adding in chocolate chips, extra sprinkles, or even chopped nuts like walnuts, almonds, or peanuts to the batter — the options are truly endless.