TikTok's Cowboy Candy Is A Great Way To Use Extra Jalapeños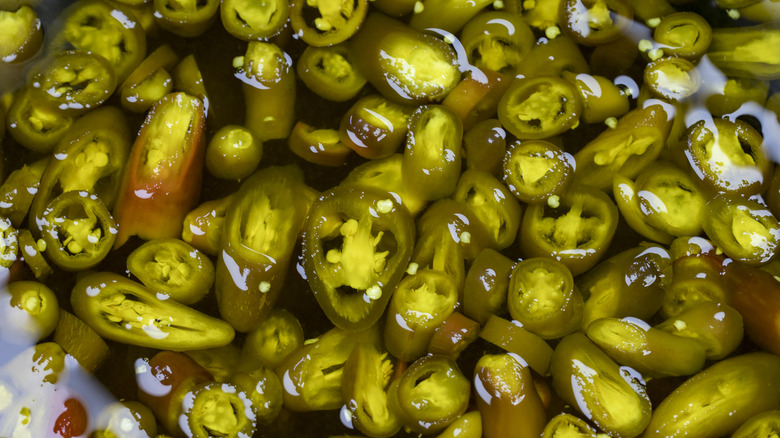 Enez Selvi/Getty Images
Have a bunch of extra jalapeños lying around? You could put them to good use by whipping up an extra-cheesy, deep-fried batch of jalapeños poppers. You could also toss together a finger-licking jalapeño cheddar tater tots recipe. Or, you could make something even better. That's right, take a walk on the Wild, Wild West side with one of TikTok's most tantalizing treats: cowboy candy. More commonly known as candied jalapeños, they're essentially hot chili peppers that are sliced and simmered in a sugary glaze along with various spices, such as cayenne pepper, turmeric, celery seed, or Aleppo pepper — making them an irresistible upgrade to your average pickled jalapeños recipe. 
As legend has it, cowboy candy originated at the WHH Ranch, a family-owned cannery based in Texas, which takes the credit for first inventing the candied concoction back in 1922. Fast forward to today, and social media users are certainly saddling up to this delectable snack. 
How to make cowboy candy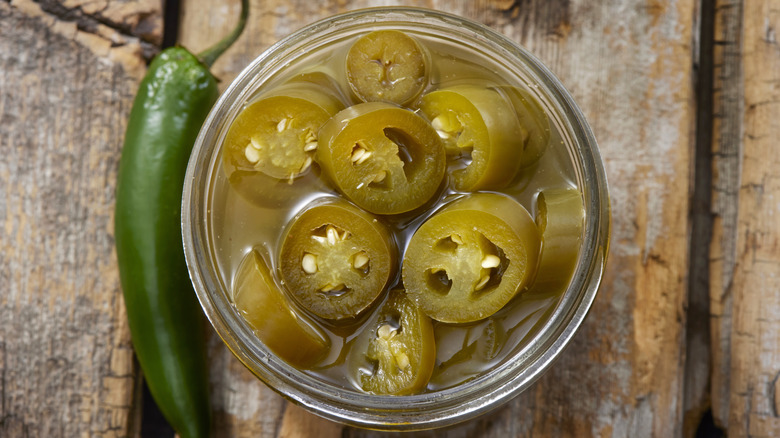 Lauripatterson/Getty Images
Turn up the heat with candied jalapeños. They're sweet, they're spicy, and they're incredibly addictive. Not to mention, they're very easy to make. First step: wash about 20 jalapeños and slice them up. Then, you want to bring about 1.5 to 2 cups each of apple cider vinegar, sugar, and brown sugar to a roiling boil along with your spices of choice, such as cayenne pepper, turmeric, coriander, and celery seed. Reduce the heat and simmer the sauce for about five minutes before adding in the jalapeños. Kick the heat back up and boil the jalapeños for another five minutes before placing them into mason jars along with the sugary syrup for easy snacking.
@traziarae

Giddy up cowboy! We are making cowboy candy and its addicting! (Candied jalapeños)
The best part is that you can customize your cowboy candy to make it even spicier by adding in more sultry seasonings like Aleppo pepper. Or, tone down the heat by removing the jalapeño seeds or substituting a portion of the chili peppers with banana peppers or another sweet pepper. ​​The versatile treat can be enjoyed right out of the jar or added to a variety of foods, from burgers and hot dogs to cornbread and pizza. And, don't toss out the leftover syrup either. It can be used to make a homemade barbecue sauce or to flavor a margarita — the options are endless.