Here's Where Panera's Leftover Bread Winds Up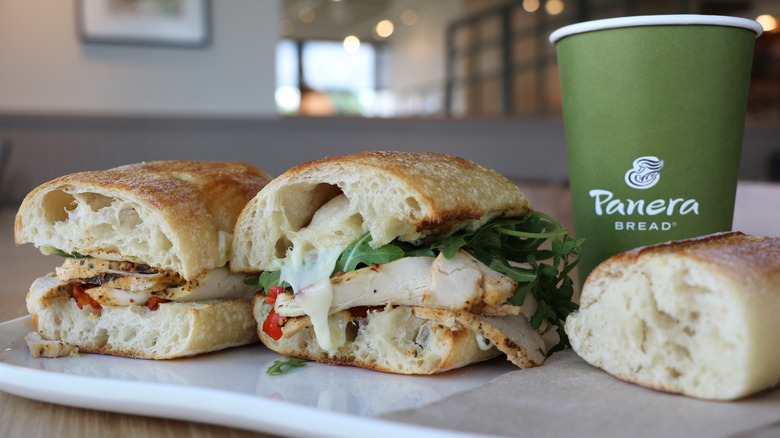 Deutschlandreform/Shutterstock
There's a rather unappetizing problem lurking in the U.S. restaurant industry — food waste. From uneaten meals to spoiled produce, restaurants across the country toss out more than 84% of unused food each year, per a Food Waste Reduction Alliance report. Thankfully, many establishments are trying to rectify the issue, including soup and sandwich chain Panera Bread. Well-known for its freshly baked treats like cookies, bagels, pastries, and, of course, loaves of bread, the company is working to take a bite out of wasted food. In lieu of throwing away leftovers, the chain donates its unsold bakery staples to people in need instead.
At the end of each night, Panera Bread associates package up any unsold baked goods and donate them to charitable non-profit organizations through the chain's Day-End Dough-Nation program. Launched in 2017, the initiative isn't just an effective way of reducing food waste across its supply chain — it also helps to fight hunger in local communities, too.
Panera donates unsold bread to charities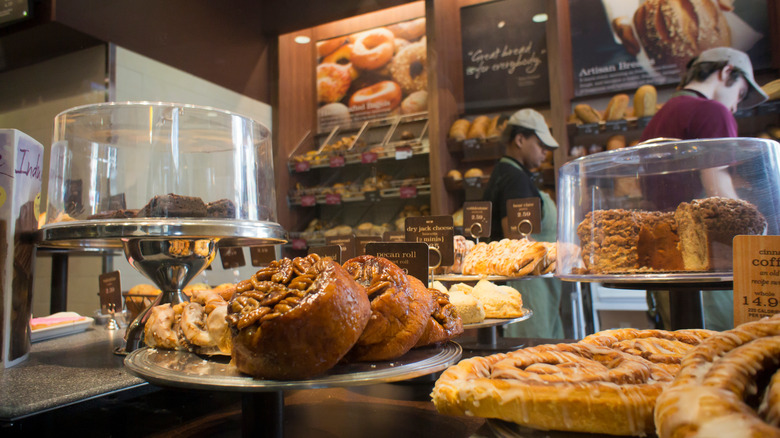 rblfmr/Shutterstock
Panera Bread is "dedicated to feeding neighbors in need," and does so by partnering with a variety of hunger relief organizations, such as soup kitchens and food pantries. The initiative also supports services like after-school programs, mental health centers, domestic violence shelters, homeless shelters, and low-income elderly housing. Through the Day-End Dough-Nation program, the bakery-cafe chain donates an average of more than $100 million of its unsold baked goodies to over 3,500 local charities each year.
Non-profit organizations can apply to join Panera's program online, and applications are accepted on a running basis. In order to be approved, charities must be a registered 501(c)(3) non-profit, religious organization, or public school. Other program requirements include the ability to distribute the donated baked products to those in need and a commitment to picking up and passing out the unsold items on a weekly basis. 
However, when it comes to streamlining the food waste initiative across the entire company, it appears Panera Bread still has more work to do. From Reddit posts to TikToks, social media users have been sounding the alarm online about how some bakery-cafe locations are allegedly still throwing away food.
Some bread may still wind up in the trash
It appears as though Panera Bread allegedly getting rid of nearly half its menu isn't the only unsettling information surrounding the popular soup and sandwich chain as of late. As many social media users are pointing out, some of the bakery-cafe locations are reportedly still throwing away what looks to be perfectly edible food rather than adhering to the donation program the company has initiated. Alongside a picture of bags of loaves of bread, Reddit user @SpartenTie wrote, "I was forced to throw away bags of bread while at work. There is a homeless shelter two miles from where I work. All of this food wasted."
And on TikTok, user @loveinthedumpster made quite the discovery while dumpster diving in trash bins presumed to be located outside of a Panera location. "We got some bread here at Panera," he said in a video uploaded in May. "I see commercials all the time where they say they donate all the bread — not in this one," he continued while pulling out loaves of focaccia and bags of unexpired potato chips.
The Day-End Dough-Nation program is undoubtedly making great strides in reducing the amount of Panera's baked goods that would otherwise go to waste at the end of each day. However, it seems that only company-owned locations currently take part in the initiative, so franchised restaurants may be the culprits for the tossed bread.