4 Effective Ways The World Is Reducing Food Waste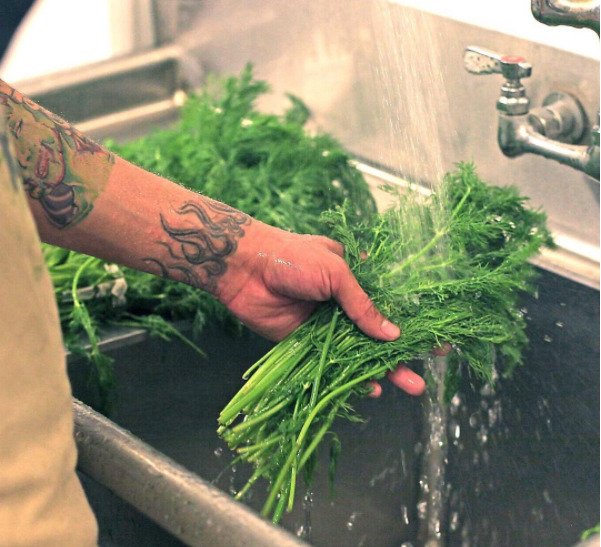 (therealdillco/Instagram
If there's one thing we love talking about at Food Republic, it's how people around the world are reducing food waste, keeping organic materials out of landfills and re-purposing leftovers. Hunger-resolving community fridges, thrifty cocktail bars and education about zero-waste—mindful reduction is all over the place. From Denver to Seoul, food waste is one issue that continues to gain momentum. Check out five of our favorite recent stories on an increasingly important topic, and look at the contents of your fridge in a whole new way.
Pickle Company The Real Dill Achieves Zero-Waste Status
Denver-based pickle company The Real Dill has what many companies only dream about: zero-waste status. According to Fast Company, The Real Dill, founded by friends Justin Park and Tyler DuBois, is operating as close to 100% efficiency as you can get. What's their secret? Sheer insistence.
Seoul Is A Global Hotspot For Food Waste Reduction
PBS NewsHour reports that food waste reduction in Seoul, South Korea is a big deal. The capital city of 10 million has a food waste program overseen by the city's environmental management division, which enforces the separation and collection of food scraps to be processed into animal feed.
Watch A Waste-Reducing Community Fridge In Action
The town of Swadlincote in Derbyshire, England is a great example of how an everyday kitchen appliance placed in the right spot can positively affect your neighbors' lives while reducing your community's food waste.
Trash Tiki Takes The Food Waste Conversation Behind The Bar
Bartenders Iain Griffiths and Kelsey Ramage aren't afraid to say their drinks are made of trash. In fact, they tour the world, popping up in bars and restaurants as a duo named Trash Tiki.