Panera Bread Is Allegedly Getting Rid Of Nearly Half Its Menu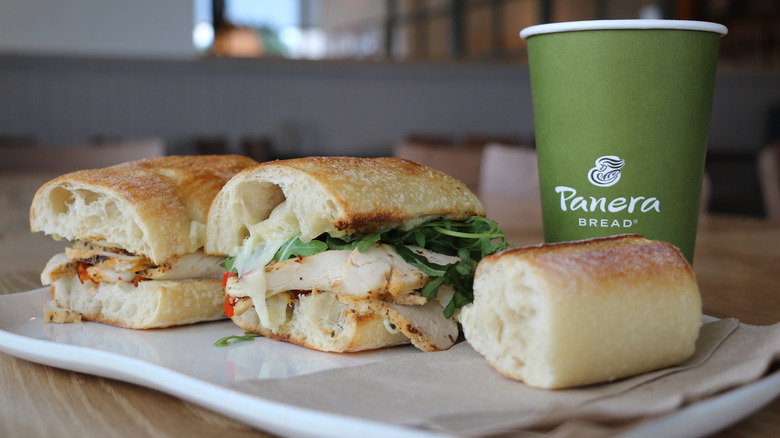 Deutschlandreform/Shutterstock
Panera Bread fans should brace themselves. It sounds like the beloved chain's menu is getting a serious overhaul, and maybe not for the better if one of your favorites is on the list. Just like with many fast food and fast casual chains, Panera Bread devotees have loudly lamented various discontinued products like the Sierra turkey sandwich, chipotle chicken panini, red velvet crinkle cookie, and butternut squash ravioli. Now, many more items are allegedly on the chopping block according to a video from a Panera Bread employee that has since been taken down. They received a list of the soon-to-be discontinued menu items following a meeting with the chief operating officer of the company, and that list is long. 
Panera did not confirm if the list was accurate but shared the following statement with Food Republic: "In service of continually improving upon the guest experience, we are currently testing a streamlined menu in a small amount of Panera bakery-cafes, providing guests with a faster and more convenient experience while also simplifying operations for our associates. We always have a number of tests running across the country to identify new ways to better serve our guests, whether that's by menu innovation, simplification or through new technology."
Which items are supposedly on the way out?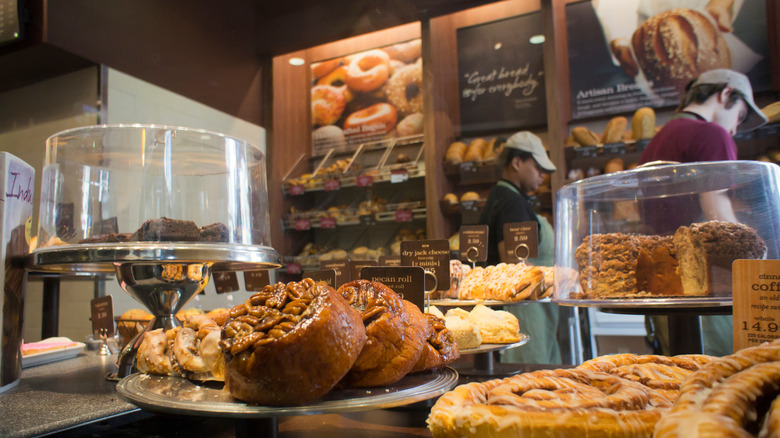 rblfmr/Shutterstock
The toasted steak and white cheddar, Napa almond chicken salad, and both regular and spicy crispy chicken sandwiches are on the list, and you will probably have to say goodbye to several soups including the only vegan soup options — ten vegetable and French onion. All the flatbreads would be out, which in the employee's opinion is for the best since they aren't very popular, and they don't like making them. The video creator also doesn't like making the grain bowls but admits that they are crowd-pleasing and doesn't understand why Panera would take them off the menu. The white whole wheat loaf, asiago cheese focaccia, and the most popular bread — sourdough — are all supposed to come off the menu, as well. 
If Panera Bread is part of your breakfast routine, blueberry, sesame, and chocolate chip bagels as well as the soufflés will no longer be an option, and you won't be able to wash it down with a cold brew coffee, hot chocolate, earl gray tea, mango smoothie, or a decaf espresso. Several baked goods won't be there to satisfy your sweet tooth including the pumpkin muffin, kitchen sink cookie, and vanilla cinnamon roll which are all very popular items.
The video was posted on August 24, 2023, and the employee said that these items would be gone in two to three weeks. They also pleaded with Panera Bread customers not to blame store employees for the changes and to instead direct that anger towards the corporate office.