Anthony Bourdain Found The Best Cheesesteak A Few Miles From Philadelphia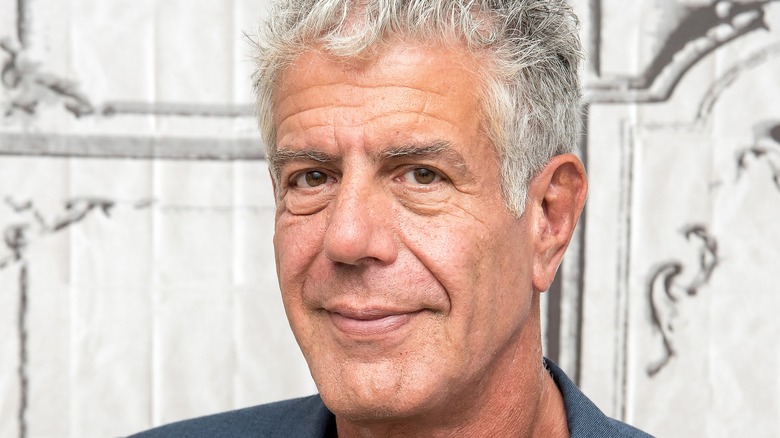 Mike Pont/Getty Images
Philadelphia is known for its cheesesteaks, a local food as iconic as Chicago deep dish, Louisiana po'boys, Maryland crabs, or Seattle coffee. Truly, the greasy, salty, cheesy sub is what Philly does best — you know it, we know it, and Anthony Bourdain certainly knew it.
And yet ... the late food and travel writer shared on an episode of his show, "Parts Unknown" that what Philly does best may be done even better just across the bridge. A few miles from "the center of the cheesesteak universe" (Bourdain's words) sits the home of the purported best cheesesteak in the area, not the Philly one but the Jersey one, and it can be found at Donkey's Place in Camden, New Jersey. 
Opened more than 75 years ago, Donkey's is a quaint sandwich shop with a small menu. But when it comes to cheesesteaks, this place is definitely more than a big deal. 
Jersey cheesesteak > Philly cheesesteak?
The legendary Philly cheesesteak is typically comprised of thinly sliced ribeye steak, grilled onions, and melted cheese on a toasted Italian hoagie roll. It's a tried and true creation. But, the late Anthony Bourdain isn't the only one who claimed that Donkey's Jersey spin on the cheesesteak might be even better — in fact, it's been called "the best cheesesteak in the country" by the New York Post.
What makes it different? It's all in the bread. Grilled steak, seasoned fried onions, and white American cheese are served on a round poppyseed kaiser roll in Donkey's iteration. There's no frills, just a down-and-dirty cheesesteak sandwich executed extremely well. Bourdain was all in at first bite, commenting that the sandwich was so good it "should be a national landmark".
Donkey's cheesesteak comes regular, spicy, or with pickled tomato, and you also have the option to sub in Cheez Whiz or add extra meat, cheese, or onions. Other than that, the only other options on the whole menu are shoestring fries and a basket of dry rub wings. After all, why do you need to offer anything else when you already make the best cheesesteak in the country?
More of Bourdain's New Jersey gems
As a New Jersey native himself, Anthony Bourdain no doubt felt nostalgia filming this episode of "Parts Unknown." The Jersey Cheesesteak wasn't the only thing he savored on his trip to unearth some of New Jersey's hidden gems. So where else in the Garden State is worth visiting?
Bourdain's first stop was Hiram's Roadstand in Fort Lee to feast on their specialty: deep-fried hot dogs. The unassuming roadside joint has been around for over 90 years, serving up counter-service dogs and burgers on the same paper plates that your order is written on. After that, Bourdain enjoyed a classic Italian-style deli sandwich at Frank's Deli in Asbury Park. His order? The #4 (with hot peppers): provolone, salami, boiled ham, capicola, and pepperoni on the restaurant's freshly homemade Italian bread.
In the episode, Bourdain also visited a place that was near and dear to his memories of family summers spent at the Jersey Shore: Kubel's in Barnegat Light, another nearly century-old establishment at the tip of Long Beach Island on the central coastline. Kubel's is a comfy seafood bar and grill on the water where Bourdain and his brother walked down memory lane while enjoying clams every which way: clam chowder, fried clam strips, steamed garlic clams, and clams with drawn butter.