Use Your Favorite Halloween Sugar Cookies As A Tasty Cheesecake Base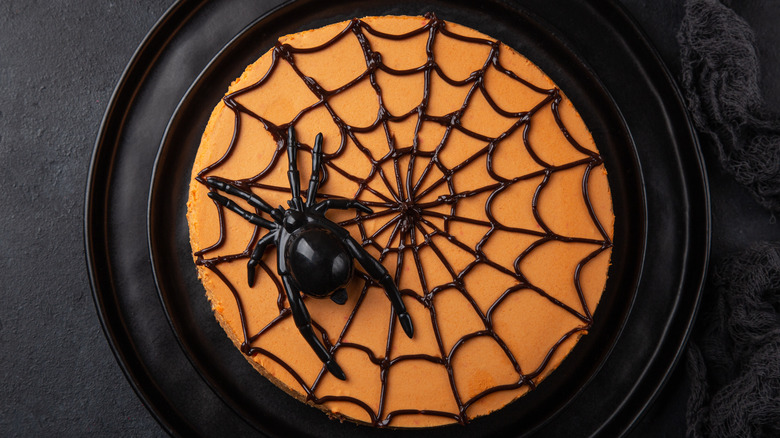 Anna Shepulova/Shutterstock
Once upon a time, Halloween wasn't so much about candy, if you can believe it. Back in the 1800s, Halloween treats included things like apples, nuts, and cakes. It wasn't until the 20th century that packaged candies began being mass-produced and gaining fans of anyone with a sweet tooth. Candy on All Hallows' Eve is here to stay, but why not give a nod to Halloweens of yore and whip up a cake this year, specifically a festive cheesecake? We know what you're thinking: Cheesecakes are fickle and time-consuming, and they include some intimidating elements like "water baths" and "springform pans." But fear not, gals and ghouls, because some cheesecakes can be made in a breeze, especially if they involve pre-cut sugar cookie dough.
TikTok user, thesqueakymixer, posted a brief video of her quick and easy cheesecake which requires no baking time and uses pre-cut circles of Pillsbury cookie dough as a main component. With few ingredients, no bulky kitchen appliances, and zero chance of obtaining unsightly cracking in the top of your cheesecake, the idea of a no-bake version using cookie dough is frighteningly brilliant.
Get creative with your favorite cookie dough
Pillsbury is known for its rolls of slice-and-bake and pre-cut sugar cookie dough, usually available in cheerful, seasonal patterns. Around Valentine's Day, it releases packages of the dough with hearts in the center; Christmas brings reindeer and Christmas tree designs. Near Halloween, the dough is emblazoned with pumpkins or ghosts. All you need to do is take the dough circles from the package and bake them in a springform pan. Thesqueakymixer used pumpkin sugar cookies to line the bottom of her pan. As it baked, the dough spread out to create an even base for the cheesecake. Next, she made a simple cheesecake mixture (cream cheese, sugar, cream, a bit of lemon, etc.), poured it over the crust, and refrigerated the pan until the cheesecake was firm.
After unmolding the cake, she decorated it with whipped cream and more pumpkin cookies. While using the pre-cut cookie dough is genius and saves heaps of time, there's no reason you couldn't use any type of cookie dough to act as a cheesecake crust. Chocolate chip, peanut butter, even your own homemade sugar cookie dough would be delicious. You can really think outside of the box with this concept and come up with your own combinations. A gingersnap cookie crust with no-bake persimmon and goat cheese cheesecake would be wonderful — or a chocolate hazelnut cheesecake with a cinnamon-kissed Snickerdoodle cookie dough crust might be just what you need.