No-Bake Persimmon And Goat Cheese Cheesecake Recipe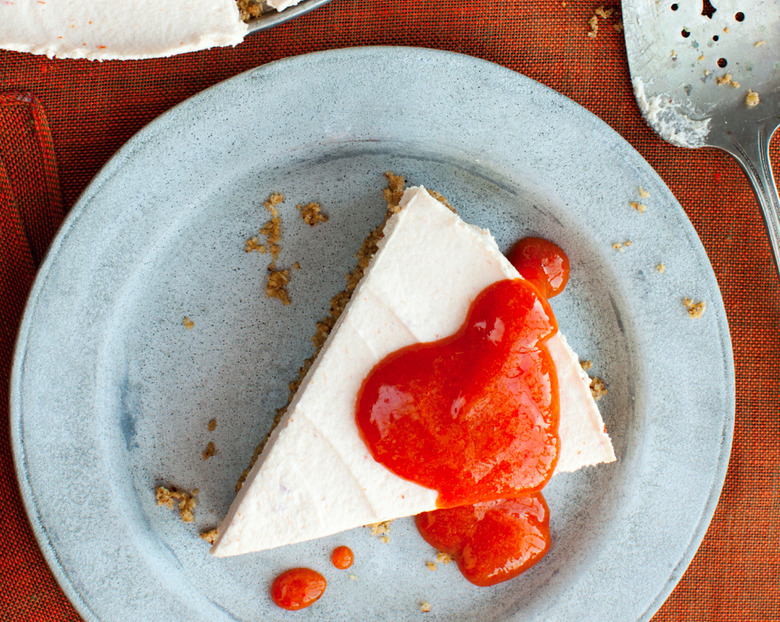 We may receive a commission on purchases made from links.
Chef and cookbook author Louisa Shafia's The New Persian Kitchen is filled with traditional and modern takes on Persian cuisine. You've seen cheesecake in every flavor and variation — except persimmon, right? Tangy, creamy goat cheese pairs perfectly with sweet, earthy persimmons for a truly impressive dessert.
No-Bake Persimmon And Goat Cheese Cheesecake Recipe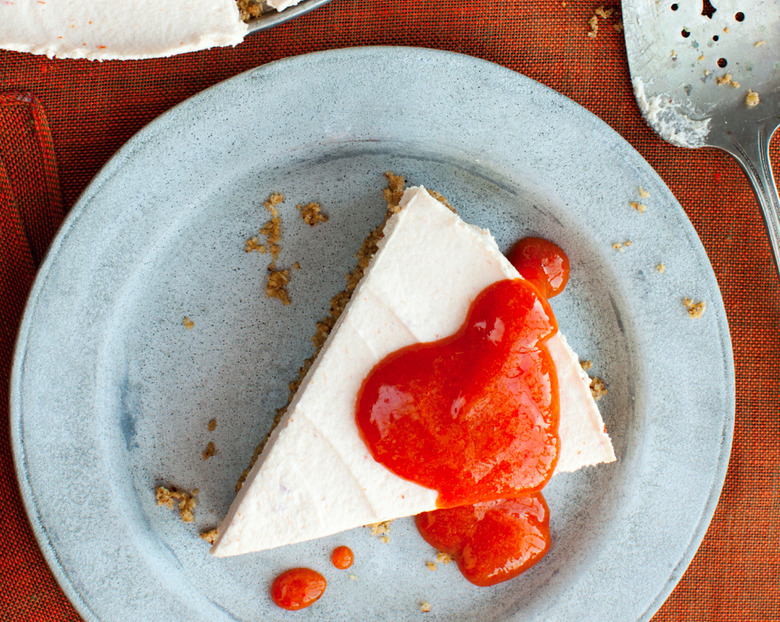 Ingredients
1/2 cup heavy cream
1 1/2 cups pistachios
1 cup crushed graham crackers
3/4 cup plus 3 tablespoons unrefined coconut oil
1/2 teaspoon ground cinnamon
1 1/2 teaspoons ground cardamom
1 cup plus 2 tablespoons organic cane sugar
sea salt
5 very ripe hachiya persimmons
1 pound fresh goat cheese
1 tablespoon freshly squeezed lime juice
Directions
Lightly oil a 10-inch springform pan with coconut oil.
In the bowl of an electric mixer fitted with the whisk attachment, whip the cream into stiff peaks. Transfer to a small bowl and set aside in the refrigerator. Replace the mixer bowl without washing.
In a food processor, combine the pistachios and graham crackers with 3 tablespoons of the coconut oil, the cinnamon, the cardamom and 2 tablespoons of the sugar. Add a pinch of salt and pulse until the mixture clumps easily. Transfer to the springform pan and spread evenly over the bottom. Press down with the bottom of a juice glass to pack it down evenly.
Scoop the flesh from the persimmons and purée in a blender until smooth. Set aside 
1/2 cup of the puree and store the rest in the refrigerator.
Combine the goat cheese, the remaining 3/4 cup coconut oil, and the remaining 1 cup sugar in the mixer fitted with the whisk attachment and beat for 2 to 3 minutes, until smooth. Fold in the 1/2 cup persimmon purée, the lime juice and a pinch of salt. Fold in the whipped cream. Pour the mixture into the springform pan and smooth the top. Chill in the refrigerator for at least 4 hours, until firm.
To serve, remove the pan sides and cut the cheesecake into wedges. Garnish each serving with a generous spoonful of the persimmon purée. The cheesecake will keep in the refrigerator for up to 4 days.
Chocolate Hazelnut Cheesecake Recipe
Pumpkin Gingersnap Cheesecake Recipe
Simple Ricotta Cheesecake Recipe