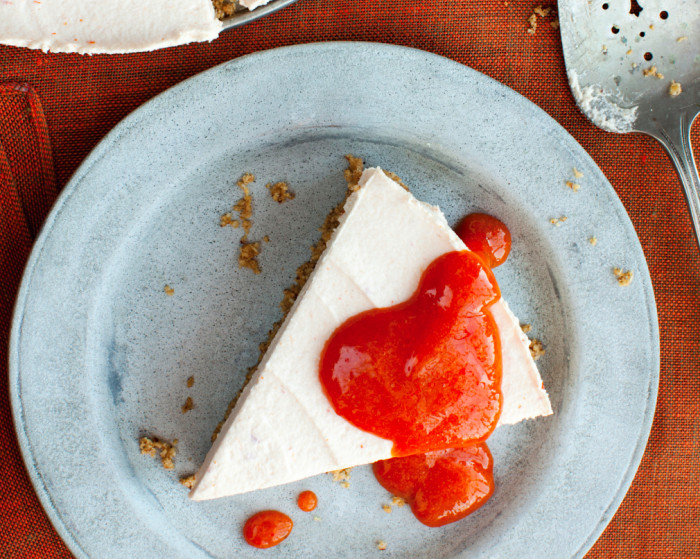 Chef and cookbook author Louisa Shafia's The New Persian Kitchen is filled with traditional and modern takes on Persian cuisine. You've seen cheesecake in every flavor and variation — except persimmon, right? Tangy, creamy goat cheese pairs perfectly with sweet, earthy persimmons for a truly impressive dessert.
Ingredients
1/2

cup

heavy cream

1 1/2

cups

pistachios, toasted

1

cup

crushed graham crackers

3/4

cup plus 3 tablespoons

unrefined coconut oil, melted and cooled

1/2

teaspoon

ground cinnamon

1 1/2

teaspoons

ground cardamom

1

cup plus 2 tablespoons

organic cane sugar

sea salt

5

very ripe hachiya persimmons

1

pound

fresh goat cheese, at room temperature, crumbled

1

tablespoon

freshly squeezed lime juice
Directions
Lightly oil a 10-inch springform pan with coconut oil.
In the bowl of an electric mixer fitted with the whisk attachment, whip the cream into stiff peaks. Transfer to a small bowl and set aside in the refrigerator. Replace the mixer bowl without washing.
In a food processor, combine the pistachios and graham crackers with 3 tablespoons of the coconut oil, the cinnamon, the cardamom and 2 tablespoons of the sugar. Add a pinch of salt and pulse until the mixture clumps easily. Transfer to the springform pan and spread evenly over the bottom. Press down with the bottom of a juice glass to pack it down evenly.
Scoop the flesh from the persimmons and purée in a blender until smooth. Set aside 
1/2 cup of the puree and store the rest in the refrigerator.
Combine the goat cheese, the remaining 3/4 cup coconut oil, and the remaining 1 cup sugar in the mixer fitted with the whisk attachment and beat for 2 to 3 minutes, until smooth. Fold in the 1/2 cup persimmon purée, the lime juice and a pinch of salt. Fold in the whipped cream. Pour the mixture into the springform pan and smooth the top. Chill in the refrigerator for at least 4 hours, until firm.
To serve, remove the pan sides and cut the cheesecake into wedges. Garnish each serving with a generous spoonful of the persimmon purée. The cheesecake will keep in the refrigerator for up to 4 days.
More cheesecake recipes on Food Republic: